By Fernando Posadas
This year was originally expected to be one of divergent monetary policies among developed nations with the U.S. increasing interest rates and Europe and Japan walking in the opposite direction. We have not observed this. Currently, Europe and Japan are reducing the pace of expansion of their monetary policies and the US Fed is (probably) questioning if the reversal of its policy rate came too soon. In sum, interest rates will continue to offer close to zero or even negative returns for the time being.
And then we have Ecuador offering 10.7% for a 5-year $1 billion bond a couple of days ago. Brazil, Chile, Colombia, Mexico and Peru-LatAm's Big Six excluding Argentina- have been forced to offer risk and inflationary rate premiums. Argentina is the only one tightening for the moment, with the not minor caveat that it has its LEBAC 35-day reference interest rate at 30.25%.
Table 1. Reference Interest Rates in Latin America's Largest Economies
| | | | |
| --- | --- | --- | --- |
| Country | Reference rate (%) | Change in 2015 and 2016 (bps) | Expected direction |
| Argentina | 30.25 | 1025 | Easing |
| Brazil | 14.25 | 300 | Easing |
| Chile | 3.5 | 50 | Easing |
| Colombia | 7.75 | 325 | Easing |
| Mexico | 4.25 | 125 | Tightening |
| Peru | 4.25 | 75 | Easing |
Source: LATAM PM
For all countries excluding Mexico, analysts are expecting the reversal of their tightening cycles and are trying to predict the beginning of rate cuts. The reasoning is that inflation is either low or decreasing, but the truth is that volatility and the level of depreciation in Latin American currencies make it hard to expect a quick reversal in Latin American monetary policies.
In Colombia, for example, although some central bankers stated in May that the tightening cycle was over, they delivered a 50bps hike and they might increase rates again in August amid higher than expected inflation and a widening current account deficit.
Mexico is an even better example of a monetary policy driven by volatility. For the 18th consecutive month, inflation will continue to be below Banxico's 3% target in August. While inflation expectations continue to be well anchored at 3.2% for 2016, the central bank has stated in recent minutes that reversing monetary policy is out of the question for the time being. In Banxico's eyes, volatility is a serious concern. Brexit triggered a 50bps hike and a hawkish stance. Banxico is now preparing for the US presidential election, where Trump is a significant headline risk.
But risk in its macroeconomic, political or financial form is present across Latin America. Still low oil and commodity prices, uncertainty in Chinese economic growth, the U.S. presidential election and an open presidential impeachment process are likely to maintain Latin America spreads high, delaying and/or reducing the pace of rate cuts and forcing sovereigns to tap international markets with higher yields.
Even bonds considered extremely toxic could offer an interesting opportunity. Recently, asset managers such as Nomura Securities have recommended certain Venezuelan bonds as Maduro's recall referendum advances together with the possibility of a regime change. Certainly, it is not the short end of the curve what we are talking about; but the long end, which could see a significant reprising with regime change.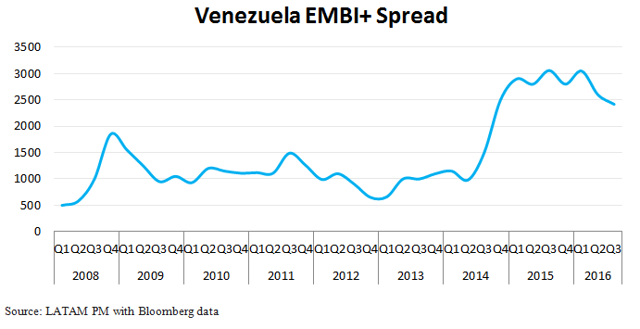 Click to enlarge
There are analysts that go even further. According to Jan Dehn (Ashmore Group), the price of Venezuelan bonds is so low that under most scenarios there is an upside, even in the event of default. Venezuela's EMBI+ index is currently about 2,670bps over U.S. Treasuries.
Last week, the United States' Census Bureau released a disappointing GDP estimate for Q2 revealing a weakening economy. The annualized figure (+1.2%) was not even half of the 2.5% estimate expected by economic analysts. Growth in Q1 was also revised downwards from 1.1 to 0.8%.
LATAM PM's Take: The figures almost immediately triggered revisions from banks and analysts, which not only reduced U.S. growth estimates for 2016, but also the pace that the Fed was likely to adopt this year. And in this context, Latin America is likely to continue offering attractive returns for the time being in order to compensate investors for the region's inherent risk.
APPENDIX: Performance of Latin America's long-only ETF (NYSEARCA:ILF)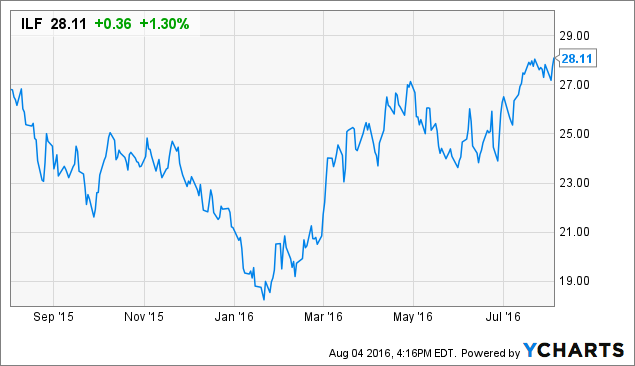 ILF data by YCharts
Disclosure: I/we have no positions in any stocks mentioned, and no plans to initiate any positions within the next 72 hours.
I wrote this article myself, and it expresses my own opinions. I am not receiving compensation for it (other than from Seeking Alpha). I have no business relationship with any company whose stock is mentioned in this article.