Note: To get these Biotech Forum Daily Digests as soon as they are published, just click on my profile and hit the big orange "Follow" button and choose the real-time alerts option.

Biotech continues to grind its way higher this week. The 290 level on the iShares Nasdaq Biotechnology ETF (NASDAQ:IBB) which has acted as a stubborn upward resistance level throughout 2016 now appears to be a technical floor at the moment.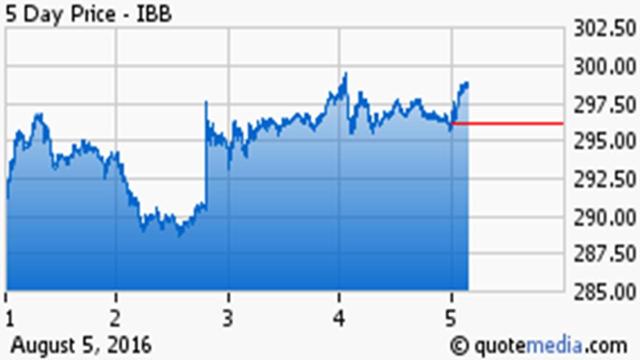 Click to enlarge
I think we still need an uptick in M&A activity in the sector for a significant rally further from here. However, with earnings coming in better than expected across the sector and the rhetoric around drug price "gouging" lessening since the parties settled on their nominees, sentiment on this industry looks like it has taken a turn for the better.

Exelixis (EXEL) continued its amazing three-month run in trading on Thursday, adding another 20% to its recent huge gains. The trigger for the next leg up of this impressive rally was a quarterly earnings report that showed revenues jumped thanks to the commercial launch of Cabometyx, its cabozantinib treatment for patients with advanced renal cell carcinoma, as well as higher revenues from its Cometriq product. Cabometyx launched in late April.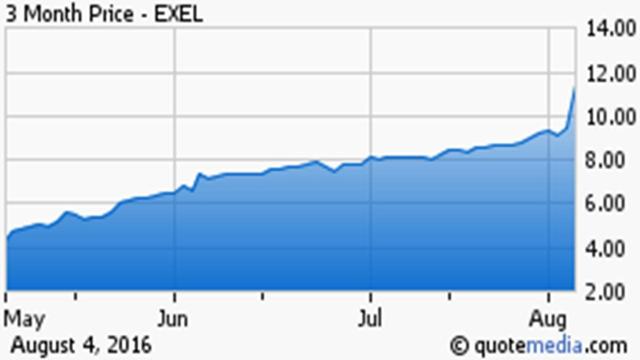 Click to enlarge
We had Exelixis as one of first "Spotlight" features in a very positive profile on the Biotech Forum Daily Digest in late April, but the company has exceeded our most optimistic projections. We continue to hold but are culling profits some using the Jensen Rules.
Aratana Therapeutics (NASDAQ:PETX) posted earnings of 37 cents a share after the bell Thursday, 30 cents above estimates. This is an example of never reading much into the headline numbers of a Tier 3 or Tier 4 stock in this sector. The "beat" had to be due to the timing and recognition of a $45 million upfront payment the company received from Elanco for the marketing and distribution rights to Galliprant. This was approved in the first quarter and is Aratana's first approved drug. In addition to the upfront payment, the company will receive regulatory and sales milestone payments up $83 million as well as royalties on Galliprant as it rolls out across the nation.
However, that being said, there was a lot to like about the company's conference call. Entyce which was approved for appetite stimulation in dogs should roll out in early 2017 and I would not be surprised if the company signs another significant marketing and distribution deal on that compound before year end. Nocita should be approved on August 28th and both it and a vaccine Aratana are doing a field study - it should be on the market by the end of the year.
Although the stock opened near $8.50 a share in early trading, 40% above where I did a positive deep dive on it in late May (You are welcome) it is still a buy. I would probably wait to add incrementally as some of the enthusiasm might temporary die as investors realize the headline numbers were due to the timing of the upfront payment.
ANI Pharmaceuticals (NASDAQ:ANIP) has been ripping late in the week after reporting blowout earnings. The company beat bottom line consensus by a whopping 34 cents a share on a better than 60% surge in revenues year-over-year.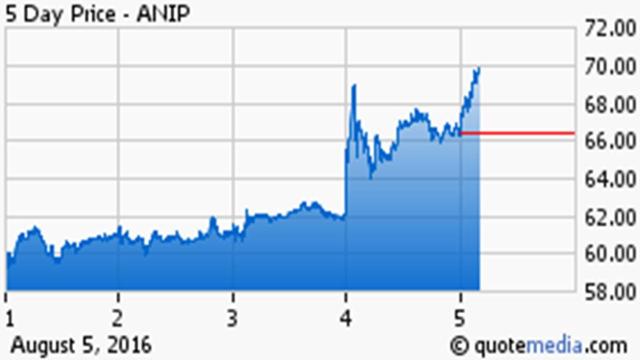 Click to enlarge
ANI Pharmaceuticals is the only small-cap specialty pharma play I and the Biotech Forum portfolio hold at the moment. Unlike a lot of its brethren it has no net debt, has made small, strategic product acquisitions and is not nearly as dependent on price increases for growth.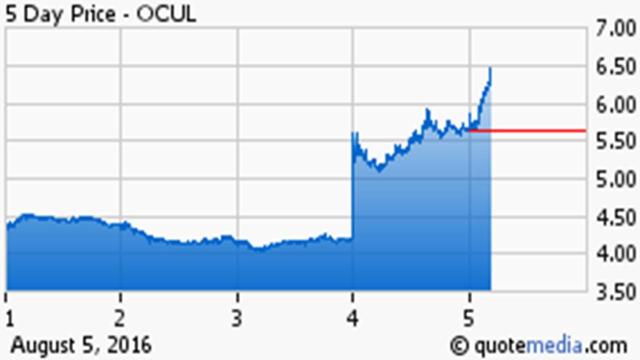 Click to enlarge
As I speculated as a likely outcome on a July 25th Biotech Forum Daily Digest post, the complete response letter that Ocular Therapeutix (NASDAQ:OCUL) recently received around its proposed candidate Dextenza due to manufacturing concerns looks like it is only a temporary setback. The stock has surged since the FDA stated yesterday that its concerns had been addressed.

Cara Therapeutics (NASDAQ:CARA) saw its first analyst activity today as Cantor Fitzgerald reiterates Buy rating and whopping $24 price target. The stock is down more than 10% in early trading to just above $5 a share as it missed on top and bottom expectations. This company has no approved products yet! Plain silliness to trade small "Tier 3" and "Tier 4" development stocks on headline numbers, but investors and "trading algorithms" still do it consistently. I doubled my stake this morning as the company has had recent insider buying and a promising pipeline.
Cantor's analyst noted the reason for her enthusiasm "Expect R&D Ramp Through 2016: CARA announced its 2Q:16 numbers, with EPS of ($0.48) greater than FactSet consensus of ($0.41). With multiple clinical programs underway, we anticipate to see R&D ramp through year end. CARA finished the quarter with $84.8M in cash, which the company believes is enough to fund operations through 1Q:18." If you are looking for a good entry point an on an attractive high risk/high reward stock within a diversified biotech portfolio, here it is.
Speaking of trading silliness, Acadia Pharmaceuticals (NASDAQ:ACAD) traded down sharply in after hours after releasing quarterly numbers that showed higher costs and minuscule sales from its just approved drug Nuplazid which just hit the market right before the quarter was out. The stock has already crawled its way back to even.
Drug roll outs from small cap concerns on just approved products almost always cost more and have lower sales trajectories than the consensus. We have seen the same recently at BioDelivery Sciences (NASDAQ:BDSI), Merrimack Pharmaceuticals (NASDAQ:MACK) and at Relypsa (NASDAQ:RLYP) before it was bought out at 60% premium by Galencia. One of the few exceptions that I know of in recent years is the aforementioned Exelixis, which is just crushing it.
This is why these "Tier 3" stocks get bought out so often by larger established players with existing sales forces. Acadia ended the quarter with over $400 million in cash so they can bide their time and continue Nuplazid in trials for other indications and ramp up sales. That being said, this mid-cap has to be on the "short list" of possible acquisitions for the rest of 2016.
JPMorgan, Needham and Piper Jaffray have all reiterated Buy ratings since Acadia released quarterly numbers. Both JPMorgan and Needham have $49 price targets on Acadia.
Note: New analyst ratings are a great place to start due diligence, but nothing substitutes for deeper individual research in this very volatile sector of the market. Many of the small-cap names highlighted in the "Analyst Insight" will eventually appear in the "Spotlight" section, where we do deeper dives on this type of promising but speculative small-cap concern.

Today's "Spotlight" feature is on a small ocular focused concern that is an "off the radar" play and has a key trial milestone upcoming.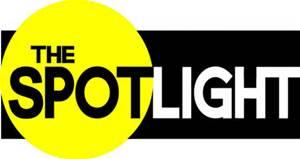 Company Overview:
pSivida Corporation (NASDAQ:PSDV) develops miniaturized products that deliver drugs at a controlled and steady rate over time to treat eye diseases in the United States and the United Kingdom. The company was founded in 1987, has a market capitalization of under $150 million and trades just under $4.00 a share.
Pipeline:
pSivida offers a solid product portfolio and pipeline with three products in the commercial stage, one in Phase III trials with expectations to submit multiple market approval requests over this year and the next, one in Phase II trials, and several pre-clinical efforts with a solid focus to continue to re-leverage existing technologies into the future.
The company's technology platforms Duraser and Tethadur currently treat eye diseases but are being explored for applications outside of ophthalmology. Tethadur is a BioSilicon-based, injectable micro-insert protein delivery system that relies on nano structuring and is designed to provide sustained release of antibodies, and a bioerodible neuroprotective agent. Durasert is a miniaturized, injectable, sustained-release drug delivery system designed to advance the treatment of medical conditions in critical areas, such as ophthalmology.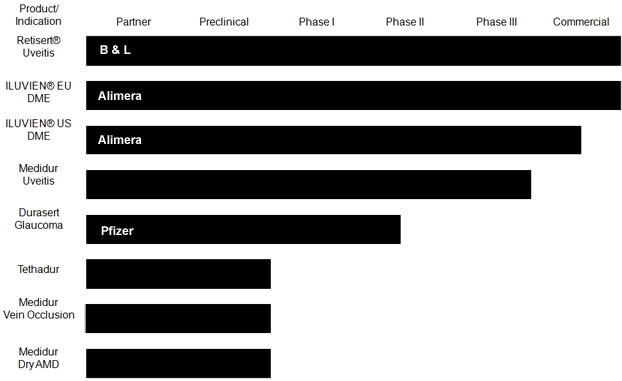 The company's three FDA approved products, Vitrasert, Retisert and Iluvien all have strategic collaboration agreements in place for production and sales support in the UK and US markets.
The company's key product in development is Medidur which is an injectable, sustained-release micro-insert designed to treat chronic non-infectious uveitis affecting the posterior segment of the eye. It uses the same drug delivery device as used in ILUVIEN.
Medidur is a bio-erodible, administered in an office visit, sustained-release overdays, weeks, months, or years, injectable via tiny needles, highly efficient drug loading (up to 80%). Orphan drug designation will provide up to 10 years of market exclusivity in Europe, access to the centralized marketing authorization procedure and other regulatory and financial incentives following approval.
Pivotal Phase III clinical trials are underway. The first Phase 3 clinical trials showed high statistical significance in achieving its primary endpoints of prevention of recurrence of posterior uveitis at six months, with end point data to be released this summer. Received orphan designation in Europe. The company expects to file the marketing authorization application in Europe, based on the results of the first Phase 3 study by the end of 2016, and to file the NDA in the U.S. around mid-2017. Over two million people suffer from posterior uveitis in the United States.
The company gets little in the way of revenues from its current approved products so the success or failure of Medidur will be the company's key catalyst in the near and medium term.
Analyst Support And Balance Sheet:
Given its small size pSivida gets little in the way of analyst support. FBR Capital did reiterate a Buy rating earlier this week as the first analyst activity of 2016. Ladenburg did lift its price target to $12.50 from $8 previously in late December. The company ended the last quarter with $33 million in cash so it is well funded.
Outlook:
I have a small stake in pSivida even as its violates my rule of not investing in a small cap concern that has been public for over 10 years without tasting commercial success. Medidur addresses a significant market and looks likely to be approved. Given that the stock at under $4 has a favorable risk/reward profile at this level and deserves consideration within a well-diversified biotech portfolio.

Thank You & Happy Hunting
Bret Jensen
Founder, Biotech Forum
Disclosure: I am/we are long ACAD, ANIP, BDSI, CARA, EXEL, MACK, OCUL, PETX, PSDV.
I wrote this article myself, and it expresses my own opinions. I am not receiving compensation for it (other than from Seeking Alpha). I have no business relationship with any company whose stock is mentioned in this article.