IBM (NYSE:IBM) launched its Blockchain as a Service (BaaS) platform on Bluemix earlier this year in February. The service allows developers to create blockchain applications on the IBM Cloud. Recently the company announced a cloud service in a secure environment for blockchain networks. In addition to IBM, Microsoft (NASDAQ:MSFT) also launched its BaaS platform on Azure in November last year.
Both IBM and Microsoft have jumped on the blockchain bandwagon by offering BaaS on their respective cloud network. Blockchain is far from mainstream, and it will take time for a widely acceptable industry standard to emerge. Investors, who are interested to profit from the nascent blockchain technology, can invest in either IBM or Microsoft (or both). However, I believe that IBM's simple yet robust blockchain initiative has made the company ideal for profiting from the blockchain revolution.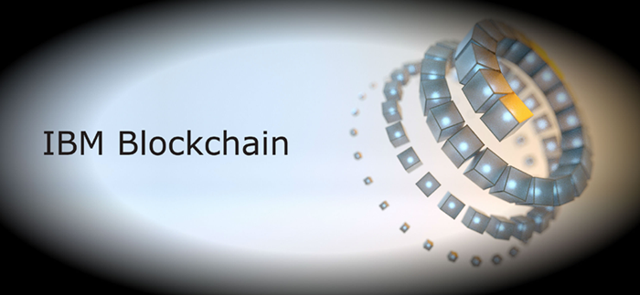 Click to enlarge
How Blockchain Can Revolutionize Business?
Blockchain, the underlying technology of Bitcoin, is a peer-to-peer technology that can permanently record transactions on a distributed ledger. A transaction or a set of transactions constitutes a block, which is placed in the blockchain in a linear and chronological order. Once the transaction is over, the block is complete and a new block is ready to be created. In order to remain connected with the previous block, the new block contains a hash of the previous block. The ledger is called distributed because it resides across a network of servers instead of a single server with multiple replicas. The recorded transactions aren't erasable, and for modifying a particular transaction another compensating transaction is required.
Blockchain transactions aren't necessarily financial transactions; non-financial transactions can also be recorded on the distributed ledger. For example, a business agreement signed online can form a transaction, which the parties to the agreement can't alter without signing another agreement. Since every transaction is traceable, it would be difficult to commit fraud on a blockchain network. The primary advantage of a blockchain network is, therefore, security.
IBM's Blockchain Initiative: An Overview
IBM's launch of BaaS is aimed at helping organizations build their blockchain test networks. In order to learn more about IBM's foray into blockchain, I contacted the company via email with a couple of questions. I was fortunate that Jerry Cuomo, VP IBM Blockchain, responded to my questions.
Alpha Max: How would IBM's new blockchain service via cloud allow clients to run blockchain projects? The latest version of IBM Blockchain is available via Bluemix (Blockchain as a Service on Bluemix). Does this mean that developers need to build apps for client specific blockchain projects?

Jerry Cuomo: IBM's blockchain services on Bluemix allow clients to quickly set up a blockchain test network on the cloud. This allows developers to focus on creating the right blockchain apps and selecting the right use cases for blockchain, rather than focusing on setting up the network. Developers can build the apps and client specific blockchain projects on their own, but IBM also provides this for our clients. To help, IBM provides a wealth of educational material, samples and demos for developers to start with. Also IBM has established four garages around the world, where companies can begin to build business-focused blockchain applications. Located in New York, London, Singapore and Tokyo, IBM provides fast, agile, lean-startup services using IBM Bluemix services and IBM Blockchain services to help clients determine a use case and then build blockchain solutions in the cloud.

Alpha Max: How does IBM plan to monetize its blockchain initiative? Since blockchain is far from mainstream, I believe an ecosystem around blockchain is what the industry needs. Is IBM planning to build such an ecosystem?

Jerry Cuomo: IBM is the leader in blockchain, actively working with hundreds of clients to understand what it takes to make blockchain ready for business. IBM is the only company that can provide the entire stack for blockchain including the software fabric based on the Linux Hyperledger code, a platform for rapid development, secure and scalable cloud infrastructure, and blockchain solutions designed to solve specific business problems.

Blockchain ecosystems are critically important and IBM is willing to help our clients in this area as well. Today's enterprises can become more efficient and new business entities and ecosystems that don't fit traditional enterprise definitions could emerge, creating more amorphous and highly frictionless business networks.

As blockchain-enabled business transactions become more sophisticated, business networks or ecosystems as a whole could achieve greater levels of autonomy, reducing the human governance needed and ultimately evolving into self-governing cognitive business networks. IBM's recent Institute for Business Value study on blockchain goes into more detail on this topic.
IBM: The Frontrunner In Commercializing Blockchain
Two blockchain protocols are currently dominating the world of distributed ledgers, which are Hyperledger and Ethereum. Microsoft's blockchain initiative is primarily based on Ethereum, although the company said that it will be open to Hyperledger also. IBM, on the other hand, has embraced Hyperledger which is managed by the Linux Foundation.
Hyperledger is based on the UTXO (unspent transaction output) model of blockchain technology, the de facto standard of Bitcoin system, whereas Ethereum is based on the "smart contract" model which is more complicated. Although Hyperledger and Ethereum are gradually becoming interdependent, I believe IBM's adoption of Hyperledger has some specific advantages, which are as follows:
Since Hyperledger is less complicated than Ethereum, Hyperledger will be more acceptable to the developer community in the initial stages of blockchain technology development.
Since the underlying technology of Hyperledger is UTXO, which runs the Bitcoin system, developers using IBM's blockchain tools will benefit from the ongoing innovation happening in the Bitcoin economy.
IBM has donated its own codebase to the Hyperledger project, which has made the project more aligned and compatible with IBM's blockchain vision. Since IBM is the only company providing the entire stack for blockchain including the software fabric based on the Linux Hyperledger code, as Mr. Cuomo pointed out, developers using IBM's blockchain service on Bluemix have more options to build right blockchain apps after selecting right use cases.
IBM's blockchain approach is simple, which in essence is helping developers build apps via providing them necessary tools and education. In addition, the company's expertise in the fields of cognitive computing will be an added advantage for the company's blockchain endeavor. IBM will certainly allow developers at some point in the future to incorporate the necessary elements of IBM Watson into their blockchain apps.
As I mentioned above, the primary advantage of a blockchain network is security. To provide the highest level of security to the organizations, IBM has made its blockchain applications deployable on IBM z Systems. For organizations in regulated industries which handle private data, IBM announced a blockchain cloud environment based on IBM LinuxONE, which I mentioned at the beginning of the article.
By contrast, Microsoft's blockchain approach involves building sophisticated blockchain networks. Microsoft recently introduced Project Bletchley for this purpose. I am not saying that Microsoft's approach makes no sense. However, as an investor I believe IBM's approach is more compelling due to its all-pervading nature.
Conclusion
Blockchain has immense prospects to thrive as a medium of business in future. Therefore investing in a company that is best-positioned to create the infrastructure of the blockchain economy is the best way to profit from the upcoming blockchain revolution. IBM is the best company not only for its simplistic approach towards blockchain but also for its cognitive computing expertise along with Linux-leadership.
Disclosure: I am/we are long IBM.
I wrote this article myself, and it expresses my own opinions. I am not receiving compensation for it (other than from Seeking Alpha). I have no business relationship with any company whose stock is mentioned in this article.