Adidas (OTCQX:ADDYY) has been an investing nightmare over the past decade. Having been thoroughly dominated by larger athletic apparel rival Nike (NYSE:NKE) and seeing young upstart Under Armour (NYSE:UA)(NYSE:UA.C) overtake it as the No. 2 athletic apparel brand in the United States, Adidas has been mostly forgotten and disregarded by the market. Now, however, is the time for investors to take notice and buy this increasingly attractive turnaround story.
Let's start with the most recent evidence of Adidas' turnaround, its second quarter 2016 results released on Thursday. Adidas saw record quarter sales of €4.4 billion in local currencies, an increase of 21% year over year. This record second quarter was thanks to its revenue growth of 30% in Greater China, 29% in Western Europe, and 26% in North America.
Not only was the second quarter great, but the company has raised their financial outlook for the remainder of 2016. The company is now guiding for a full-year sales increase in the high teens in local currencies (up from a previously stated 15% full year sales increase). Even that revised guidance might be a bit conservative considering the exposure Adidas and the entire athletic apparel industry will receive during the 2016 Olympic Games.
Reebok: From 2006 Disaster to 2016 Success
Adidas has had some well-publicized disasters over the last couple of years. The $3.8 billion acquisition of Reebok in 2006 could certainly be described as one such disaster. Overpaying for the struggling business, Adidas was forced to divert money and mind share away from its namesake Adidas brand to help Reebok. Ten years after the debacle of an acquisition, the Reebok brand has finally turned a corner posting its 13th consecutive quarter of growth thanks to double-digit revenue growth in Greater China, Japan, Western Europe and Russia.
It has been speculated that Adidas' soon-to-be CEO Kasper Rorsted might divest the Reebok brand so the company can concentrate fully on Adidas. With Reebok growing at double digits in high-growth emerging markets such as China, Mr. Rorsted could demand a far higher premium for the company from any possible acquirer than he could have just four years ago.
Today's Endorsements Leading to Tomorrow's Profits
Endorsements are the name of the game in the world of athletic apparel. In 1984, Adidas had the opportunity to sign a 21-year-old NBA rookie by the name of Michael Jordan. Perhaps you have heard of him. Adidas passed and Jordan signed with Nike. So, 32 years and several billion dollars later, Nike is still reaping the rewards from Adidas' colossal blunder.
Not willing to make the same mistake again, this year, Adidas signed five of the 2016 NBA Draft's biggest names: Brandon Ingram, Jaylen Brown, Dragan Bender, Kris Dunn, and Jamal Murray - the second, third, forth, fifth and seventh overall draft picks respectively.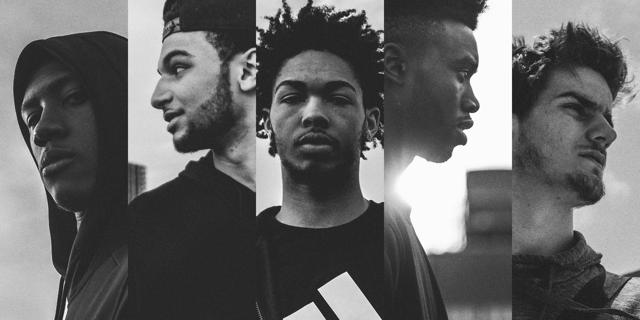 Adidas 2016 Draft Class - Source: Adidas News Stream
Adidas is betting that these young men could be the next Stephen Curry (under contract at Under Armour), LeBron James (under contract at Nike) or dare they dream, the next Michael Jordan. Young men with the basketball skills and personality to attract and influence the next generation of consumers in the United States and around the world.
Bottom Line
Adidas has now clearly shown their ability to turn around the company. And Adidas has demonstrated this ability at a time when other athletic apparel companies are having difficulty this year. Under Armour, a personal stock holding of mine, is one such company with a challenging 2016. Last quarter, Under Armour was forced to take a $23 million impairment charge related to the bankruptcy of Sports Authority. This is an impairment charge that decreased Under Armour's operating income by 39% to $19 million last quarter.
The differences in performance has been apparent in the big three athletic apparel companies' share prices this year. The US-traded Adidas ADRs have appreciated 68% year-to-date vs. Nike and Under Armour's share price depreciation of 3.36% and 12.34%, respectively.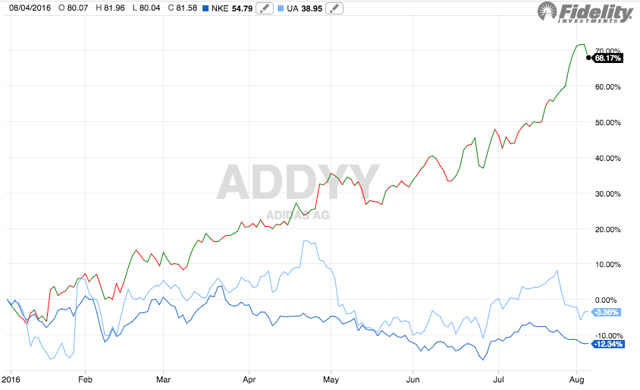 Click to enlarge
Adidas's turnaround has caused me to consider it as a likely addition to my stock portfolio as a sort of athletic apparel diversification. Its strong performance in its namesake Adidas brand, growth and possible future sale of its Reebok brand, and moves made in sports endorsements arena have me seeing a far stronger company compared to just a year ago.
While I still believe in the long-term growth potential of my personal stock holding Under Armour and have no plans to sell my shares in that company, I also believe that the Adidas turnaround story is only just beginning. Any overall market selloff would have me as a possible buyer of Adidas.
Disclosure: I am/we are long UA.C.
I wrote this article myself, and it expresses my own opinions. I am not receiving compensation for it (other than from Seeking Alpha). I have no business relationship with any company whose stock is mentioned in this article.
Editor's Note: This article discusses one or more securities that do not trade on a major U.S. exchange. Please be aware of the risks associated with these stocks.