LinkedIn (NYSE:LNKD) posted a strong second quarter with impressive growth across key operating metrics and segments. Sales increased 31% year-over-year, beating estimates by more than $34 million, and adjusted EPS came in at $1.13, beating estimates by $0.35. Each segment performed better than expected on the top-line, and LNKD significantly improved profitability at the same time through greater scale and operating leverage. Strong growth in Hiring Solutions and the Sales Navigator platform was especially encouraging, as these products will be key integration areas for the Microsoft (NASDAQ:MSFT) ecosystem. However management did not provide any outlook on future performance due to the pending Microsoft merger, and we don't expect shares to deviate from the acquisition price of $196 before the end of the year.
LNKD posted strong growth in cumulative members, unique visitors, and member page views, which has important implications for future growth and the value MSFT can extract from its acquisition. Cumulative members increased 18% in Q2. This metric is an important indicator of the growth of the platform and the ability to benefit from network effects (as more people use the network it becomes more valuable to other professionals and recruiters, which in turn attracts more users, and with that, more user data, the company's key monetizable asset. Unique visiting members grew 9%. This number measures the extent to which the company is providing value to members by enhancing product offerings and growing brand awareness. It serves as a proxy for user engagement and the potential for future monetization as higher traffic contributes to a richer data ecosystem. Growth in the membership base and unique visiting members naturally translated to impressive growth in member page views, which increased 32%. More importantly, page views per unique visiting customer increased 21%, which suggests users are spending more time on the platforms and deriving more value from the services. Microsoft will be enthusiastic about these figures, and MSFT should be able to capture meaningful synergies by joining LNKD's growing database of millions of professional profiles with its Office Productivity suite and CRM software. LinkedIn's users are MSFT's main customer demographic, and MSFT can leverage insights from LNKD's vast pool of user data to create more targeted, and more productive solutions.
Despite continuing to invest heavily in its workforce and in sales and marketing, LNKD significantly improved profitability through greater scale and operating leverage. Adjusted EBITDA as a percentage of revenues increased from 23% in Q215 to 31% in the latest quarter. With the exception of depreciation and amortization, each operating line item (COGS, Sales and Marketing, Product Development, and General and Administrative) decreased as a percentage of sales (Figure 1). I have been cautious with LNKD because I believed that as the US economy slowed and business activity declined, user growth would drop off, as would recruitment activity and ad spending. Because of high capital intensity and fixed cost leverage this would weigh on margins and profitability. The US economy has slowed but so far it has not translated into inferior operating metrics. We suspect this is because that, while LNKD traditionally targeted the white-collar office worker, more and more workers in lower-paying service sector jobs are using LinkedIn to advance their professional careers. LinkedIn is increasingly seen as an essential platform for career development, regardless of career. Thus, while the vast majority of US job gains in recent quarters have occurred in the service sector, this has not had a negative impact on LinkedIn. In fact, it could be argued that as long as the economy is adding net jobs, LinkedIn benefits.
Figure 1: Improved Profitability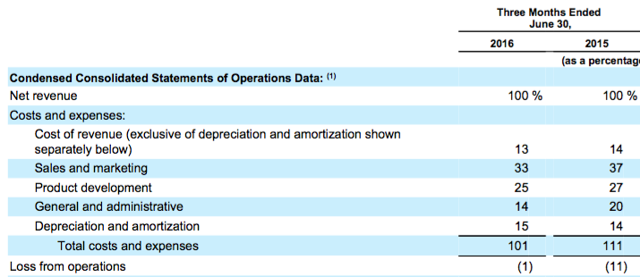 Click to enlarge
Source: 10-Q
Conclusion:
LinkedIn posted solid results on the top and bottom line. The ability to grow the network and increase engagement while the economy continued to slow is a testament to the platform's growing relevance across industries and powerful network effects. Microsoft should be able to capture significant revenue synergies by merging its productivity solutions with an expanding database of professionals that comprise MSFT's core customer demographic. The acquisition price of $196 is a steep price to pay, and we don't expect LNKD to deviate from this price until the acquisition falls through, which should happen later this year. However, we are more optimistic about the integration potential than we were before the quarter.
Disclosure: I/we have no positions in any stocks mentioned, and no plans to initiate any positions within the next 72 hours.
I wrote this article myself, and it expresses my own opinions. I am not receiving compensation for it (other than from Seeking Alpha). I have no business relationship with any company whose stock is mentioned in this article.