Golden Star Resources (NYSEMKT:GSS) is a small gold company with mining operations in Ghana, one of the more stable African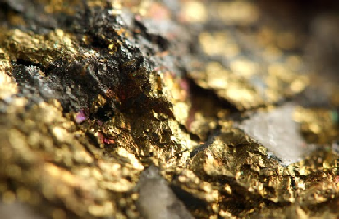 countries. Unfortunately, stability of the host country hasn't been enough to make this a particularly good investment. It has been under-capitalized and made numerous mistakes over the years.
In a prior article, I noted that the company was a poster child for Murphy's laws:
If anything can go wrong, it will.
If more than one thing can go wrong, it will inevitably be the one that does the most damage.
It could also be the subject of a black comedy if it wasn't for investors suffering losses. GSS suffered when Ghana was experiencing a drought and limited the company's ability to use low-cost hydro-electric power. It suffered from too much rain when the company's mining operations were flooded and it was unable to operate at full efficiency. It sold gold futures, and gold prices rose. It didn't sell futures, and gold prices fell. It suffered from the cost of diesel fuel and didn't seem to benefit when the costs fell.
Some things never seem to change. As the company continued taking core samples, it discovered a significant amount of new gold. Unfortunately, it didn't have sufficient capital to access the new underground mine deposits at Wassa and Prestea (as opposed to the open-pit mines it also operates). It eventually entered into a contract where a capital infusion was to be secured with future production. The $150 million Streaming Agreement was a complex arrangement completed last year and tied to the future delivery of gold as follows:
RGLD will provide Golden Star with a $130 million advance payment to be used for the development of underground mines and general corporate purposes

Golden Star will initially deliver 8.5% of all production to RGLD at a cash purchase price of 20% of spot gold until 185,000 ounces have been delivered
A further 5% of all production at a cash purchase price of 20% of spot gold will be delivered thereafter until an additional 22,500 ounces have been delivered
Thereafter 3% of all production at a cash purchase price of 30% of spot gold will be delivered
This Streaming Agreement has an initial term of 40 years. This capital allowed Golden Star to pay off a prior loan and proceed with development of the mines, but the company wasn't through raising money. In May of this year, the company issued 22,750,000 common shares at a price of $0.66, raising approximately $15 million. Not great news for investors since just a few weeks earlier the shares had traded at was then a new 52-week high - near $0.84. The shares would go from ~$0.70 at the start of the month to a low of $.047 on May 24th (although still well above its 52-week low of less than $0.14). They gradually began moving higher, and by July 11th, the shares were once again pushing towards $0.80.
On July 12th, the company announced that it had started limited production at Wassa Underground, one of two underground mines financed with the Streaming Agreement, noting:
...that pre-commercial production has commenced at its Wassa Underground Mine in Ghana as scheduled.

The first stope is ... one of the more moderate grade areas of the deposit. The higher grade areas within the B Shoot are scheduled to be accessed in early 2017.

Wassa Underground is expected to achieve commercial production in early 2017, at which time it is expected to deliver 2,000-2,500 tonnes of ore per day. ...

Wassa Underground has Probable Mineral Reserves of ... 796,000 ounces of gold. Wassa Underground is forecast to produce 20,000-25,000 ounces of pre-commercial gold production in 2016 and it remains on track to achieve this. Production from the combined Wassa Main pit and Wassa Underground operations is expected to be 120,000-135,000 ounces of gold in 2016 and average life of mine combined production is anticipated to be 163,000 ounces of gold per annum.

Golden Star's total production in 2016 is expected to be between 180,000-205,000 ounces of gold with cash operating costs of US$815-US$925 per ounce...
The market reacted favorably to the news, and by July 19th, the shares peaked at $1.13, the highest point since April of 2013 (In the interests of full disclosure, following the news about Wassa Underground, I chose to sell November $1 covered calls (a few days too early) against my entire position at prices ranging from $0.15-0.20 between July 12th and July 14th). The shares closed at $1 on Friday, July 22nd, but the good news wouldn't last. On Monday, July 25th, Golden Star reported earnings and once again announced that it would be diluting shareholders, this time by issuing at least $30 million of common stock and issuing $65 million of Senior Convertible Notes in a private placement. The Notes would be used primarily to pay off previously issued 5% Convertible Debentures.
As might be expected, the shares immediately plummeted, closing at $0.77. Later, the pricing of the new Notes (due 2021) showed that it carried a 7% coupon and a conversion rate of 1111.1111 shares per $1,000 Note, the equivalent of $0.90 per share. $40 million of the new Notes went to two large holders of the 5% Debentures and an additional $2 million went to other holders of those Debentures due June 1, 2017. The 5% Debentures had an initial conversion option based on $1.65 per share, although at redemption the provisions allowed for other options.
On maturity, the Company may, at its option, satisfy the repayment obligation by paying the principal amount of the 5% Convertible Debentures in cash or, subject to certain limitations, by issuing that number of the Company's common shares obtained by dividing the principal amount of the 5% Convertible Debentures outstanding by 95% of the weighted average trading price of the Company's common shares on the NYSE MKT for the 20 consecutive trading days ending five trading days preceding the maturity date (the "Current Market Price") provided that the aggregate maximum number of common shares to be issued may not exceed 19.99% of the issued and outstanding common shares as of the closing date. If the Company elects to repay the principal amount of the 5% Convertible Debentures at maturity by issuing common shares, and the Company is limited under the terms of the indenture from issuing a number of common shares sufficient to fully repay the 5% Convertible Debentures outstanding at maturity, the Company is required to pay the balance owing in cash, based on the difference between the principal amount of the 5% Convertible Debentures outstanding and the value of the common shares (based on the Current Market Price) delivered in repayment of the 5% Convertible Debentures.
Obviously, the company must see a significant benefit to extending the time to pay off the 5% Debentures at a significant premium.
On the $30 million share offering, 40 million shares were to be issued for $0.75. After fees and commissions, the company expected to raise $28 million from the stock and ~$22.5 million from the Convertible Notes, and...
...intends to use the net proceeds ... to strengthen its balance sheet by retiring certain of its outstanding indebtedness, including through the repurchase of its 5.0% Convertible Senior Unsecured Debentures due June 1, 2017 in privately negotiated transactions, repayment of its secured medium term loan facility with Ecobank Ghana Limited and any remaining funds for general corporate purposes.
Eventually, the underwriter exercised the full extra allotment and Golden Star issued 46 million shares. For those attempting to keep track, that's a total of up to ~118.2 million new shares. This ignores the complex redemption features of the previously issued and outstanding 5% Convertible Notes.
Following the earnings and these multiple announcements, the shares have traded between $0.71 and $0.83.
The recent capital raises and extending the debt out five years, even with a higher interest rate and worse conversion ratio, are positives for Golden Star. It gives the company more than enough time to bring new and expanded commercial production from both Prestea and Wassa Underground mines on line. The higher-yielding ore and the lower cost of production will expand margins and profits. Now, if only the price of gold continues to cooperate...
It's just unfortunate that long-term investors now have to share these benefits with so many more stakeholders.
Disclosure: I am/we are long GSS.
I wrote this article myself, and it expresses my own opinions. I am not receiving compensation for it (other than from Seeking Alpha). I have no business relationship with any company whose stock is mentioned in this article.
Additional disclosure: In addition to my long position I have $1 November covered calls written against the position.
Editor's Note: This article covers one or more stocks trading at less than $1 per share and/or with less than a $100 million market cap. Please be aware of the risks associated with these stocks.