It's a Bird, It's a Plane, It's… Amazon?
It's no secret that Amazon (NASDAQ:AMZN) would be involved in leasing its own planes to improve its logistics operations. But that plan is now set to go into action Friday, with the company primed to launch the Amazon One.
The plane is an Amazon-branded Boeing (NYSE:BA) 767-300 and will be unveiled at Seattle's Seafair Air Show. And no, CEO Jeff Bezos won't be the pilot. Instead, Atlas Air (NASDAQ:AAWW) will be doing the honors.
It's among 40 of the planes that the e-commerce giant has leased from Atlas and Air Transport Services Group (NASDAQ:ATSG). So why is Amazon doing this? Surprising to imagine, but the company believes its logistics operations can improve.
Okay, okay, of course, it can improve. But its delivery capabilities, particularly for Prime members, are already pretty impressive.
But honestly, the move is just for Amazon to continue cementing itself in our everyday lives. The more efficient the supply chain, the faster (and potentially cheaper) it can get products from Point A to Point B. The faster it moves the products, the quicker it can deliver, and in the end, (hopefully) the more products its customers will buy.
The end goal is to soak up not just one-time or occasional purchases, but staple products as well. That's why the company has launched and continues to add to its bevy of Dash buttons.
It also sends a message to UPS (NYSE:UPS) and FedEx (NYSE:FDX) that before it gets to drone deliveries and other futuristic methods, Amazon isn't afraid of anyone. Including its delivery service.
Mercedes-Benz to Take on Tesla
Tesla (NASDAQ:TSLA) is perhaps the most well-known producer of electric cars, but that hasn't prevented others from entering the race. General Motors (NYSE:GM) and BMW (OTCPK:BMWYY) have introduced electric vehicles, but there's another player entering the race: Mercedes-Benz (OTCPK:DDAIY).
Reportedly, Mercedes will produce four cars in total, two SUVs and two sedans. The company plans to roll out the new vehicles before 2020, with the first prototype being introduced in September at the Paris Auto Show. It's expected that the vehicle will be an SUV, with a driving range of roughly 310 miles.
This is an interesting development, as more automakers start to take the EV industry more seriously.
Would Mercedes be a competitive threat to Tesla? Of course. Add in BMW and the California-based Tesla will have its work cut out in Europe, particularly in Germany. But it seems as if Tesla CEO Elon Musk is welcoming to competition - and even encourages it, after he made TSLA's patents more widely available.
Why more competition? The assumption is that it will drive interest and public awareness to the industry. If Tesla is able to hold down the reputation for having the best electric car, the thinking (I believe) goes along the lines of having BMW, Mercedes-Benz and others drive interest with their ad dollars and branding power, which will ultimately boost Tesla.
For what it's also worth, Mercedes and Tesla could also be battling for market share in the electric trucking market as well.
Potential Buyout for Rackspace
Shares of Rackspace (NYSE:RAX) have been a disappointment for quite some time. Before Thursday and Friday's big gain, shares were down 22% and 33% over the past one and five years, respectively.
But investors have got a bit of good news to end this week: Rackspace could be a takeover target for Apollo Global Management.
Shares have been flying since, up 25% from Thursday's open. Reports suggest the deal may happen around $3.5 billion, but a Wells Fargo analyst made the case that the stock could be valued at $32 per share in a takeover attempt, a little higher than current levels.
While the stock initially traded towards that figure on Friday, it has since backed off and fallen to around $29. Perhaps investors are hopeful, but leery, as buyout talks for Rackspace have surfaced before.
Given that this situation has happened before, it really wouldn't be surprising to see nothing come of it. But given that Rackspace has struggled against gigantic cloud competitors like Microsoft (NASDAQ:MSFT) and Amazon, among many others, perhaps a sale makes the most sense for management. Likewise, Apollo is reportedly looking to up its exposure to tech, and given the relatively low market cap, perhaps Rackspace would be a good fit.
After all, Rackspace is trading at its lowest valuation in some seven years. Buyers in previous years may have been turned off by the high valuation, but with a low valuation, it's likely more attractive.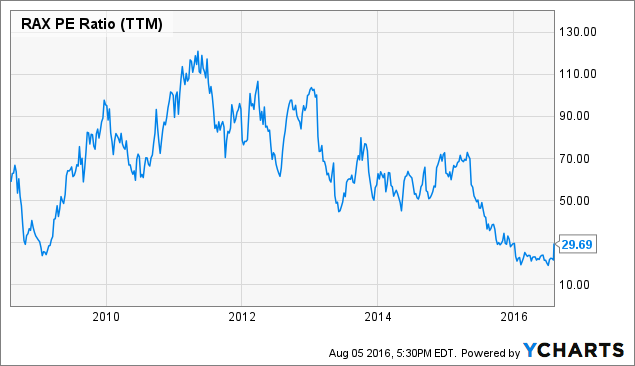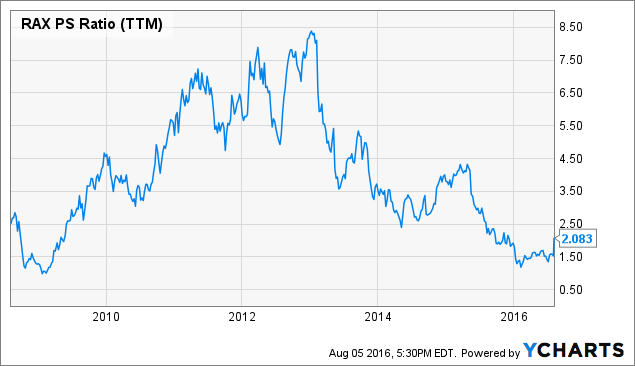 Apple's Got a Bounty Program
Apple (NASDAQ:AAPL) has always been serious about security. So serious in fact, that rather than build a backdoor operating system for a specific case involving the FBI (although it doesn't sound easy, you know Apple could do it), the company refused to do so. The fear, it said, was that it could be used to jeopardize the security of other users' phones.
The company was ready to fight all the way to Supreme Court if it had to. And whether you agree with the company or not, it doesn't change the fact that when faced with nearly all imaginable situations, Apple will side with user privacy.
In that light, it seems unsurprising that the company is now offering rewards for those who can find security flaws.
But it's not open to just anyone. First, Apple will start with hackers that have previously notified the company of a potential issue. Then, the hacker or group will need to show proof, and upon satisfaction, Apple will dole out a reward between $25,000 and $200,000. The size of the payout depends on how severe the flaw is.
If the tactic sounds familiar, it's because a number of big-name tech companies already use similar tactics, including Alphabet (NASDAQ:GOOG) (NASDAQ:GOOGL) and Facebook (NASDAQ:FB).
There's not much to dislike here. The company is finding alternative ways to keeping its most valuable asset safe, and that's the customer.
I'm not sure why, but it sort of reminds me of an exchange between legendary NFL quarterback Peyton Manning and teammate cornerback, Tracy Porter.
"In one spring 2012 practice, Porter intercepted Manning on a series, then got burned by a pass a few plays later. [ESPN The Magazine's Ryan] McGee added:

As he walked off the field, the defensive back felt a hand on his shoulder. It was the quarterback, who said: 'You tell me what I did wrong on that first play and I'll tell you what you did wrong on that next play. That's the only way we're going to get better. Deal?'"
I guess I'm not sure why it reminded me of that exchange. But it did. Only this is more of a, "tell us what we did wrong, and we'll pay you" scenario. Either way, I think it's good for Apple. Or at least, not bad.
Tech Tidbits
The NASDAQ hit a new 52-week on Friday, as the better-than-expected jobs report propelled the stock markets to new highs.
Disclosure: I/we have no positions in any stocks mentioned, and no plans to initiate any positions within the next 72 hours.
I wrote this article myself, and it expresses my own opinions. I am not receiving compensation for it (other than from Seeking Alpha). I have no business relationship with any company whose stock is mentioned in this article.