Oil markets started off with some intense volatility earlier in the week. WTI (NYSEARCA:USO) prices fell below $40 before bouncing back to around $42 to end the week.
Looking at the data John Kemp, Reuters Senior Commodities and Energy Analyst, short sellers are just 13 million bbls below the record short of 261 million in February this year.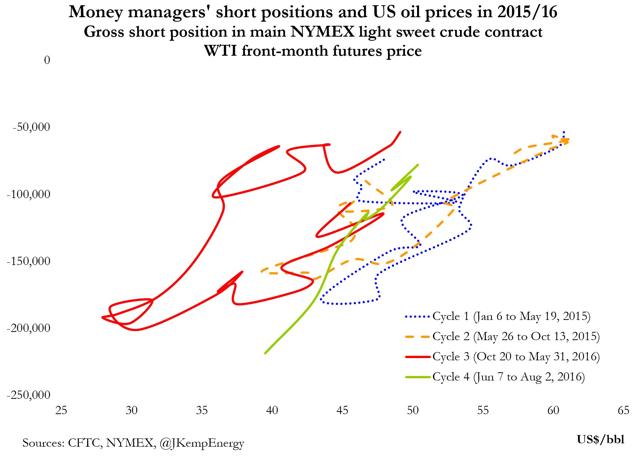 Click to enlarge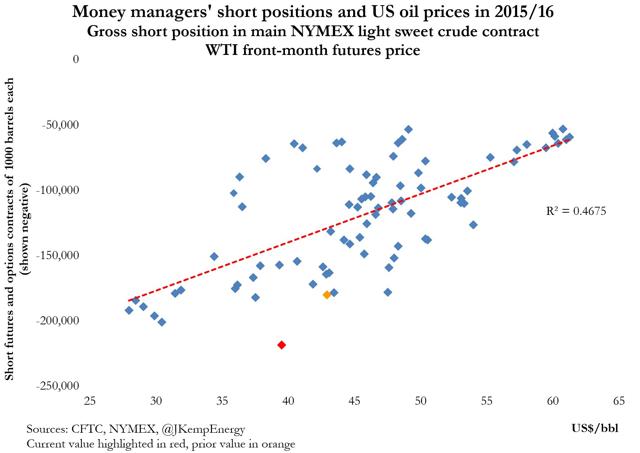 Click to enlarge
Looking at these charts, it's easy to see how this is one of the steepest increases in short positions. Long positions however are actually up over the same period, but the net exposure has sharply decreased.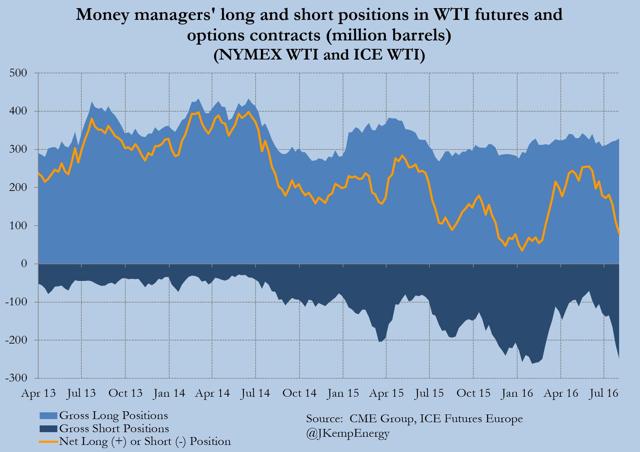 Click to enlarge
This begs the question: could we see another big short squeeze here?
What's particularly interesting to us is that despite such a large increase in short positions in such a short time frame, oil prices have largely stayed resilient. We know that non-OPEC countries are seeing decreases in supply, and US oil production continues to decrease. Petro products demand have been strong, but thanks to refinery overcapacity, there's now a refined product glut along with a crude glut.
Market participants began worrying about what the gasoline glut could do to crude demand during the fall maintenance season. If refineries cutback more than expected, then it could really hammer crude demand which would lead to crude builds.
At the same time, the storage picture has been largely misrepresented as offshore floating storage is brought back onshore. Crude imports into the US spiked over 8.5 million b/d this year and won't normalize till the end of this year.
Overall, it's easy to see how the near-term presents a pretty bearish scenario for oil prices. Crack spreads are low, rigs are being brought back online, and OPEC production is increasing thanks to Iran. But market participants need to balance the near-term view with the longer term view. Despite all these bearish headlines, will the world have enough supply in 2018 if oil prices continue to lag?
Now we go back to our earlier question: could we see another short squeeze here?
We think it's very possible given that extreme market positioning leads to extreme volatility, and we saw that earlier this year. Short-sellers here are taking on a lot of risk given that most of the concerns are only in the short-run. Who knows what OPEC might do? Maybe they do agree on a production freeze deal this time, which we doubt. But oil prices move more on sentiment in the short-run than fundamentals, so headline risk is an issue.
Let us know what you think about the short sellers' positioning. Do you think there could be a short squeeze?
Thank you for reading our Oil Markets Daily. If you want to read more of our articles, please be sure to hit the "Follow" button above. For investors interested in what E&P names we are buying, please check out the HFI Research premium service. We also write a weekly HFI portfolio update for premium subscribers. You can read a sample weekly update here and view our delayed one-month portfolio update here. We hope you can join the HFI community.
Disclosure: I/we have no positions in any stocks mentioned, and no plans to initiate any positions within the next 72 hours.
I wrote this article myself, and it expresses my own opinions. I am not receiving compensation for it (other than from Seeking Alpha). I have no business relationship with any company whose stock is mentioned in this article.