A US district judge has dismissed part of lawsuit filed last year by a group of luxury brands accusing Alibaba (NYSE:BABA) of promoting the sale of counterfeit goods on its e-commerce platforms, citing a lack of evidence that BABA and 14 other merchants colluded to sell counterfeit goods online. The ruling does not affect other counterfeit-related claims filed against the company. Counterfeiting issues have plagued BABA for years, and while the company has taken steps to ensure greater quality control, luxury knockoffs are becoming more difficult to detect. We suspect these issues won't go away anytime soon.
Counterfeiting is a big problem in e-commerce, particularly in China and Alibaba has long been accused of tolerating sales of fake goods on its websites. According to Xinhua, a news agency, 40% of the goods sold online in China in 2015 were counterfeit. The UN claims that from 2008 to 2010 almost 70% of worldwide counterfeit goods came from China. The acceleration in e-commerce has brought about a proliferation in counterfeiting. Customers purchasing goods online cannot see the products in person before buying them, and are forced to trust the vendor's word that the products being offered are authentic. Low labor and materials costs in China have made the practice of counterfeiting more profitable. BABA is not the only firm to be associated with counterfeiting. Jumei (NYSE: JMEI), China's largest online seller of cosmetics, was recently forced to restructure its business to ensure greater control of the goods sold through its websites. Alibaba is taking steps to crackdown on counterfeiting and restore reputation, but recent developments in the Chinese manufacturing industry mean that BABA has much more work to do.
The problem now is that fake goods are more difficult to detect than in the past. This is the result of China developing its garment manufacturing industry and investing in new technologies and training for workers. The industry has become highly specialized and productive, and many luxury brands now source their products from China. As luxury goods production has increased, the knowledge of how to produce such goods has become widespread. Counterfeiters have started to mimic the production processes of the luxury brands, and even use the same raw materials. The end result is that the products are essentially identical, the only difference being the label. Counterfeiters have started marketing their products at the same price points as the luxury brands, which creates an additional challenge for companies that use price-based algorithms to detect fake goods. BABA is taking steps to address this issue through the adoption of new technologies that place digital tracers on various garments to ensure authenticity, but we question how successful this technology can be given the lack of distinction between the materials used in real and fake goods.
Figure 1: China Manufacturing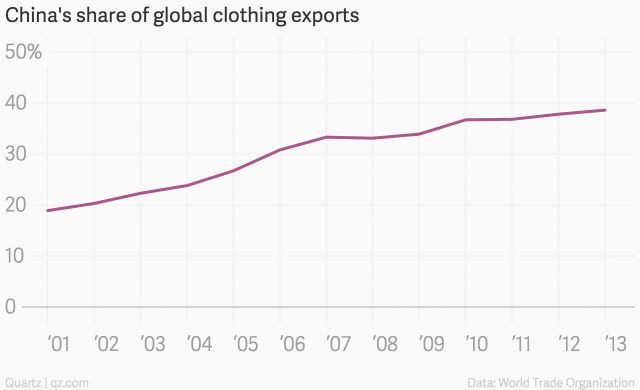 Source: quartz.com
Conclusion:
The implication for Alibaba investors is that counterfeiting will continue to be an issue for the company, despite all the investments BABA has made in recent years to ensure better quality control. Investors can expect more lawsuits and legal costs, and additional investments in counterfeit detection technologies. The luxury goods market in China has massive potential due to the secular up-trend in middle class incomes, and BABA should do everything it can to establish a reputation as a reliable platform that customers can trust. This would attract more luxury brands (who have been hesitant to partner with BABA due to the counterfeiting) to the company's platform and provide a boost to long-term growth.
Disclosure: I/we have no positions in any stocks mentioned, and no plans to initiate any positions within the next 72 hours.
I wrote this article myself, and it expresses my own opinions. I am not receiving compensation for it (other than from Seeking Alpha). I have no business relationship with any company whose stock is mentioned in this article.