Weekly Recap
REITs suffered their worst weekly decline since May despite a better than expected earnings season. The REIT Index (NYSEARCA:VNQ) was down 2.24% compared to a 0.47% gain for the S&P 500 (NYSEARCA:SPY). It was the first down week for REITs in nearly 2 months, which have gained over 17% over the past 6 months.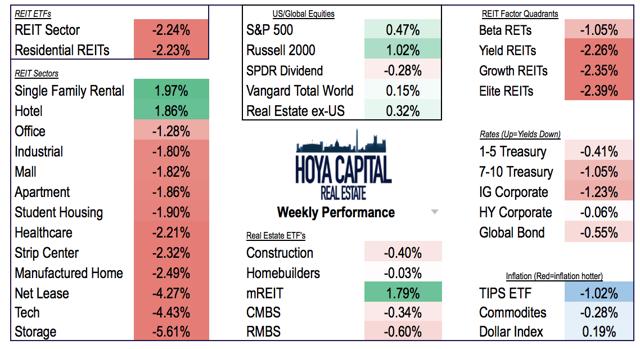 Click to enlarge
As we approach the end of a strong earnings season, the price action appears related more to fund-flows than to fundamentals. The GICS sector breakout is now just weeks away, and we expect heightened volatility as mutual funds and ETFs rebalance. For context, a 2.24% move is not unusual: over the last 52 weeks, the average weekly move in the REIT index is 1.95%.
On the earnings season, roughly 50% of REITs met expectations, with 40% beating and 10% falling short on FFO. Guidance was strong as well. 50% maintained guidance, while 36% raised and 14% lowered guidance.
We'd give this earnings season a B+. REITs have been perennial high achievers, and perhaps investors expected another blowout A+ earnings season. Despite expectations of increased supply in the multifamily sector, the market has been slightly surprised by weakness in the NYC and San Francisco markets. Based on permitting and starts data which peaked in mid-2015, we expect supply issues to get slightly worse as those projects come online in mid to late 2016 before improving in 2017.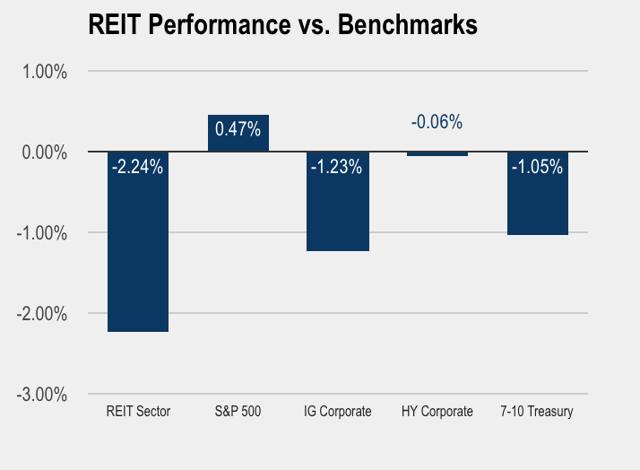 Click to enlarge
There was significant volatility in corporate bonds this week, which may have contributed to the weakness in REITs. Investment grade bonds (NYSEARCA:LQD) fell 1.23%, a significant move amid renewed worries about the solvency of lower quality oil companies. The high yield bond index (NYSEARCA:JNK) finished down only modestly on the week after a sharp rally higher on Friday after the jobs data.
Mortgage REITs (NYSEARCA:REM) gained nearly 2% as the yield curve steepened after Friday's "grand slam" jobs report which exceeded expectations.
Despite weaker than expected building data and significantly tighter labor conditions in the construction sector, the commercial construction ETF (NYSEARCA:PKB) and the homebuilder ETF (NYSEARCA:ITB) were down only modestly for the week.
Interestingly, we saw a significant divergence between the REIT sector and the SPDR High Dividend ETF (NYSEARCA:SDY), which have been trading with high correlations over the past several years. While both were down for the week, REITs underperformed SDY by nearly 200 bps. Clearly, the weakness in REITs this week can not be pinned only on rising yields.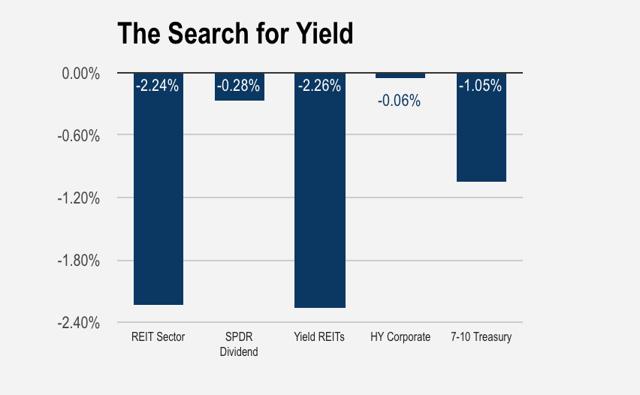 Click to enlarge
International real estate (NASDAQ:VNQI) gained 0.32% for the week despite higher global bond yields.
Sector Performance
This earnings season has been unkind to self-storage REITs despite 2 beats, 1 in-line, and 1 miss. Priced for perfection entering earnings season, concerns of oversupply in key markets has put significant pressure on the sector, which is now down over 9% over the past month.
Another high-flyer entering earnings season was the data center sector, which has seen similar declines despite strong earnings reports. Concerns over slightly weaker than expected leasing activity from DLR contributed to the weakness. The sector is now down over 6% for the month.
Hotels have seen a strong reversal amid a highly volatile year. The sector has gained over 9% for the month despite rather downbeat earnings reports. Strong earnings data from online travel providers, combined with a more positive economic outlook, has helped the sector emerge from the basement of the REIT universe. Despite the recent outperformance, hotels remain the weakest REIT sector over the past 52 weeks.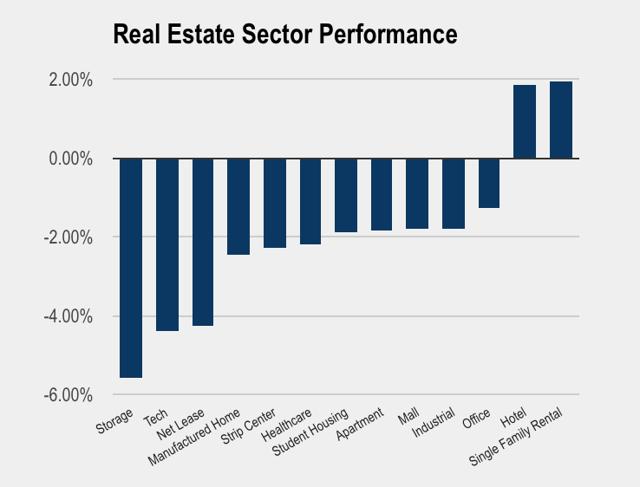 Click to enlarge
Below is the monthly performance data, which sheds light on the market's reaction to Q2 earnings.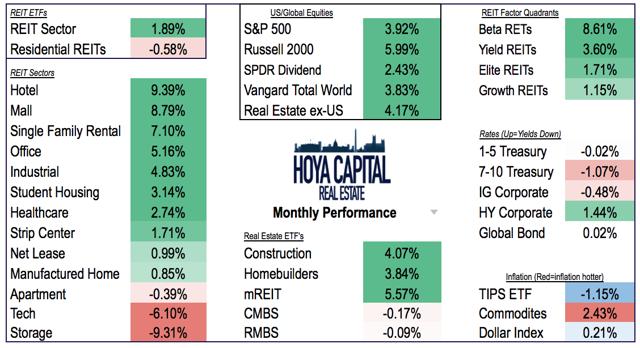 Click to enlarge
Quadrant Performance
Elite REITs, those REITs included in the S&P 500 index, were the worst performers, falling 2.4%. Elite REITs have serially underperformed the broader index this year, perhaps related to the rebalancing of the GICS sectors, as well as the high weighting of residential REITs in the sector.
Beta REITs, an index of the most highly leveraged REITs, were the best performers on the week, but still finished down 1%.
Yield REITs, a proprietary index of the most yield-sensitive REIT names, were next with a 2.26% decline on the week.
Growth REITs, an index of high growth and low payout names, fell 2.35%.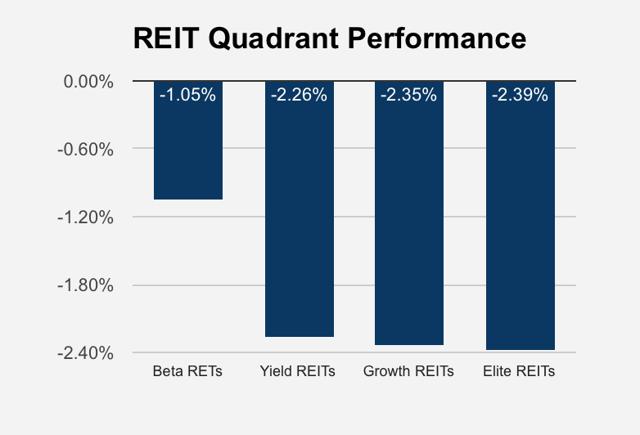 Click to enlarge
Deeper Dive
This week, we published an article on the tax efficiency of REITs, "The Taxman Cometh." We attempted to correct much of the misinformation online that argue that REITs should not be held in taxable accounts. We showed that, for the average investor, REITs were only marginally less tax efficient than domestic equities that pay qualified dividends. This is a result of the fact that, contrary to common perception, REIT distributions are not 100% ordinary income. In fact, only about 65% is ordinary income, while the remaining 35% is taxed at lower rates, including an average of 15% that is a return of capital. We also clarified a misconception that REITs introduce new complexities to tax returns. REITs are not MLPs and do not require a K-1.
Last week, we published an article, "Beat the REIT Index Using This Contrarian Strategy" where we found that a simple sector-rotation strategy was able to outperform the All Equity REIT index by nearly 2% per year. The strategy involves rotating into the four weakest REIT sub-sectors from the prior year. We point out that this strategy likely requires sector-specific ETFs to achieve optimal results, but that we are continuing to study stock-specific strategies related to sector rotation. We conclude that there is a "value-factor" at play in the REIT sector, and also a "momentum-factor" to a lesser extent.
We also wrote about how REIT investors can diversify their real estate portfolios and hedge some interest rate risk by investing in international real estate. Our article, "REIT Investors Can Avoid Home Country Bias" discusses the three ETFs that investors can use to invest in non-US REITs. We point out that domestic REITs are almost entirely US-focused, and that modern financial theory holds that foreign diversification critical to achieve an optimal portfolio that maximizes risk adjusted returns. We discussed that investors need to be careful with choosing their ex-US REIT ETF because the composition of the three major indices is quite different. Foreign real estate ETFs have underperformed US REITs, but outperformed foreign stocks over the past three, five, and ten years.
Next week, we will publish an article in which we analyze recent economic data related to construction. Stay tuned for, "Grab A Hard Hat, It's Never Been A Better Time to Be A Construction Worker."
We are also going to revisit a theory we proposed earlier this year that the "Elite REITs" would underperform the mid-cap REITs this year as a result of the GICS sector realignment.
We encourage readers to follow our Seeking Alpha page to continue to stay up to date on our weekly recaps and analysis on the REIT and broader real estate sector.
Disclosure: I am/we are long DLR.
I wrote this article myself, and it expresses my own opinions. I am not receiving compensation for it (other than from Seeking Alpha). I have no business relationship with any company whose stock is mentioned in this article.