In another update to our article series on layoffs (links below), we have a handful of new companies to add to our watch as well as two returning companies back on our radar.
Caterpillar Inc. (CAT):
Caterpillar Inc. notified the state of Wisconsin the other day that they would be closing down their Prentice, WI facility that produces forest products. This facility will be shutting down soon, starting September 30th. This move will end up cutting about 150 jobs in the area, and is part of CAT's "global restructuring and cost reduction efforts." The facility's forest products production will be taken over at CAT facilities in Georgia and Texas.
FireEye Inc. (FEYE):
FireEye Inc. missed their sales targets this week and announced some cost reduction measures to help combat metrics such as cost per share and loss per share which came in above estimates, which is in addition to missing revenue and total billing estimates. As a part of this cost-cutting plan, FireEye's board approved a cut of nearly 12% of their workforce. This means FEYE will be cutting roughly 400 of its total 3400 employees in the coming months.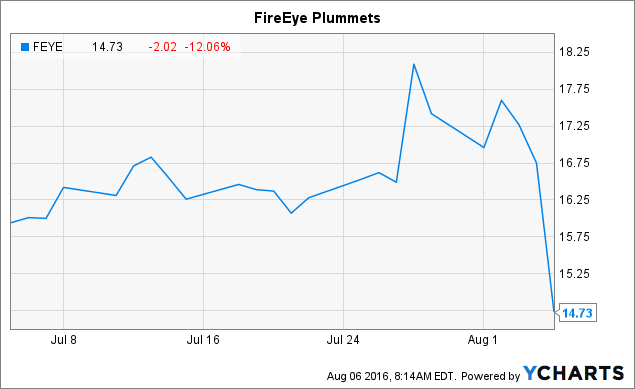 Daimler AG (DDAIF):
Daimler AG's Freightliner trucks division is back on the layoffs radar with another round of job cuts. This time cutting roughly 115 jobs at its Gastonia, NC plant, Freightliner has now announced nearly 300 job-cuts to date. These cuts are in expectation of fewer truck-build orders for Freightliner, and are going to start as soon as August 12th.
Bank of America Corp. (BAC):
Bank of America Corp told the state of Illinois that they would be cutting approximately 141 employees come September of this year as a part of greater "consolidation" efforts.
Dollar Tree, Inc. (DLTR):
As some readers will recall, Dollar Tree acquired its rival, Family Dollar last year (link below). Now it is time for Dollar Tree to start cutting costs and unlocking synergies between the companies. The first of such synergies will be the cuts of 370 of the Matthews, NC Family Dollar corporate headquarters jobs. These cuts are "part of an effort to eliminate redundancies in [their] support functions."
Time Inc. (TIME):
Time Inc. just announced the other day that they would be cutting approximately 110 jobs as a part of "major corporate reorganization and a retooling of its sales and marketing staff." As marketing and advertising competition cranks up with digital ad giants like Facebook Inc. (NASDAQ:FB) and Alphabet Inc. (NASDAQ:GOOG) (NASDAQ:GOOGL), Time has felt the pressure in this space. By creating more focused and categorized teams, they hope to better help advertisers and marketers through all of the 90+ Time Inc. titles such as Sports Illustrated, Golf Magazine, and Fortune. According to the WSJ, these job cuts are equal to approximately 1.5% of Time's workers.
Huntington Bancshares Inc. (HBAN):
As some investors may remember, Huntington Bancshares recently acquired FirstMerit Bank for a mix of cash and stock (link below) back in January. While the number of jobs affected is unclear at this point, it has been reported that notices are starting to be given out to employees of either layoffs or of continued employment with the new combined bank holding company. The jobs affected are likely not branch level cuts, but rather support and upper level positions deemed redundant in the post-merger company. The Beacon Journal reported that HBAN spokesman Brent Wilder, said some of the job cuts will be hitting Q1'17, but others in the near-term too.
Cliffs Natural Resources Inc. (CLF):
Cliffs Natural Resources announced that they would be idling their Empire Mine in Michigan's upper peninsula. There will be a total of 266 employees cut on August 28th, a mixture of hourly and salaried employees. These cuts will follow a transfer of assets to CLF's Tilden Mine nearby.
Capital One Financial Corp. (COF):
Last week, Capital One Financial's brokerage division announced a restructuring of its Seattle, WA office. The restructuring will lead to roughly 187 job cuts in an effort "to focus on digital and tech talent supporting our Investing business" says Sie Soheili, spokesman for COF. These cuts will take effect starting in October and will continue through 2017.
Pfizer Inc. (PFE):
Pfizer Inc's vaccine production unit announced another 151 layoffs at its Pearl River, NY location. These cuts will take effect starting August 20th and will continue through October. Pfizer announced back in 2010 that they would be slowly stopping vaccine manufacturing at their Pearl River facility.
Conclusion
We publish this series of articles for two reasons:
1) We believe that they provide a contrasting view on the labor market compared to widely followed statistics such as jobless claims. As jobless claims are backward looking, we wanted to give investors a view into upcoming cuts in the labor force from major publicly traded companies. Watching announcements of future job cuts is a great way to get a jump on lagging indicators. Also be sure to read Advisor Perspectives' Research Director Jill Mislinski's thorough explanation of jobless claims and the business cycle.
2) We believe it is important for shareholders to pay attention to job-cuts (no matter how big or small) at the companies they own. Job cuts are one of many useful signals an investor can track to shed light on the future of the company they hold shares in.
Be sure to check back soon, as we will be sure to update investors on job cuts as they are announced.
References:
"Caterpillar notifies state of Prentice closure"
"FireEye shares plummet after missed sales target and announced planned layoffs"
"More Layoffs at Freightliner's Gastonia Plant"
"Illinois employers warn of 956 layoffs in July"
"Dollar Tree to cut 370 Family Dollar jobs in Matthews"
"Dollar Tree completes purchase of Family Dollar"
"Time Inc. Plans to Lay Off Over 100 Workers"
"FirstMerit, Huntington employees begin getting layoff notices, job offers for proposed merged bank"
"Huntington Bank acquires FirstMerit in merger"
"Empire Mine stops production; More than 200 employees to be laid off"
"Capital One online brokerage plans 187 layoffs in Seattle"
"Pearl River: Pfizer notifies 151 of layoffs"
Disclosure: I/we have no positions in any stocks mentioned, and no plans to initiate any positions within the next 72 hours.
I wrote this article myself, and it expresses my own opinions. I am not receiving compensation for it (other than from Seeking Alpha). I have no business relationship with any company whose stock is mentioned in this article.
Editor's Note: This article discusses one or more securities that do not trade on a major U.S. exchange. Please be aware of the risks associated with these stocks.