Third quarter operational execution
For the first time this FY RCI Hospitality (NASDAQ:RICK) in the third quarter has shown both increasing revenues and same-store-sales (SSS) YoY. Sales have trended up 1.5% on the back of slightly increasing SSS and two nightclub units coming back in mid Q3 from closure due to refurbishment. The increase in SSS was driven by a YoY increase in Bombshell revenues of $600 thousand and offset by a YoY decrease in nightclub sales of $350 thousand.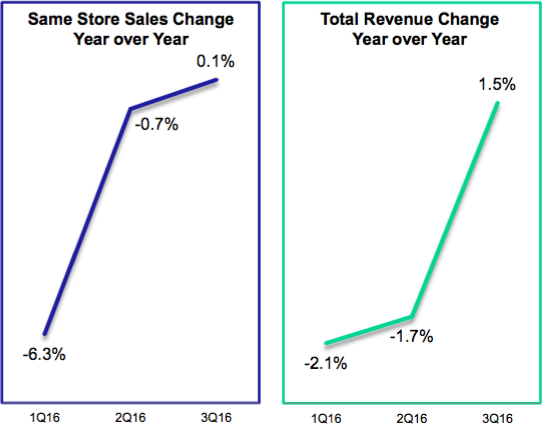 Assuming continuing SSS momentum I assume revenues to be up around 2%-2.5% on refurbished clubs operating the entire quarter, flattish nightclub SSS and further strong Bombshells performance.
On first glance there is also good things to report from the cost side of the business with operating margins increasing 170bps YoY. This has largely been a result of reduced rent payments due to the acquisition of an underlying club property.

However, the increase in EBIT margin has not translated into an equally large increase in net margin, since a decrease in rent payments was offset by an increase in interest payment for the mortgage to finance the property, the formerly rented R/E. Hence the proclaimed cost reductions have to be taken with a grain of salt. To be fair the net impact is still beneficial to net income with overall occupancy (rent plus interest expenses) costs going down.
The most important metric to value RICK currently is free cash flow, since net income incorporates overstated D&A expenses that mask the cash generation abilities of the company. I estimate maintenance CAPEX will come in at around $2.5 million for the full year including the cost for refurbishing clubs (this is a little higher than earlier predicted here). Compared to that D&A expenses have been $1.8 million in this quarter alone, explaining why FCF is constantly topping net income.
The company has upped its FCF guidance from $16-19 million to $19-21 million (Excluding financing of R/E). This could still prove to be conservative with the company having already generated $17 million in FCF during the first 9 months in the year. With the fourth quarter being seasonally weaker than Q3 I still expect RICK has the potential to exceed FY FCF Guidance. I wouldn't be surprised if RICK beat the top end of its raised FCF guidance, and FCF came in a good deal above $21 million. This again could result in a nice upside move in share price upon the announcements of the results.
Debt Reduction
Much has been talked about RICK´s high debt-load. In the recent quarter some movement seems to have occurred on this front. The company paid down some high yielding and potentially dilutive convertible debt instruments. Further, management guided that it would pay off the remaining convertibles of $1.6 million in the fourth quarter of this year. Given that these instruments yielded in excess of 8% the reduction not only protect shareholders from an eventual dilution but also brings down the average interest that RICK pays on its long-term debt. Some might argue that these are only a few basis points, I am encouraged that the trend goes in the right direction. The following graphs show the change in composure of RICK´s long-term debt from Q2 to Q3.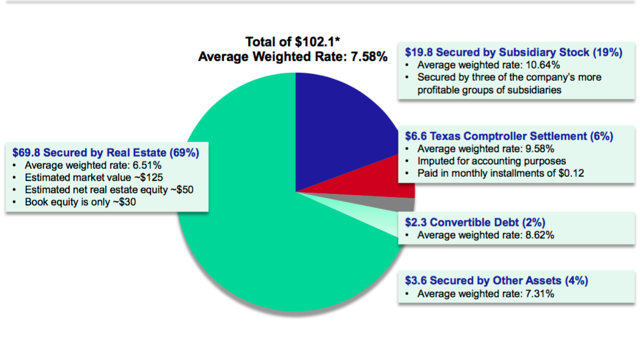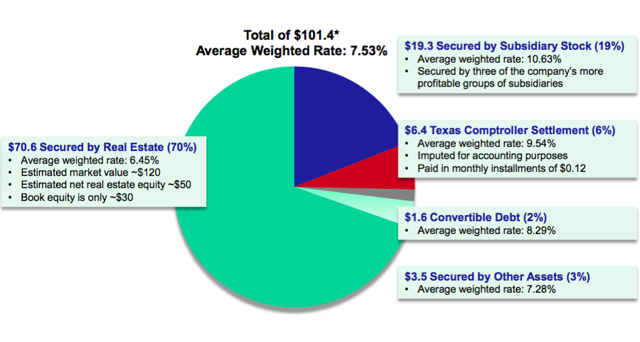 While RICK has not only reduced its debt the mix has also shifted towards more secure, lower yielding R/E backed debt. I encourage this trend since this debt is as secure as it gets given that RICK has additionally proved hidden reserves in their R/E holdings. Hence, LTV ratios should be satisfyingly low and there will be ample room to cheaply refinance.
RICK reveals more of those actions will take place. E.g. a 13% $2.5 million loan will be paid down instead of being refinanced. Going forward we will therefore see net income increasing based on growing sales, operating margin expansion as well as lower interest burden.
Share Repurchases
Talking share buybacks. I have stated that I was underwhelmed about the amount of shares that have been repurchased in the third quarter (only 106 thousand). I still feel that way. Third quarter´s conference call has delivered explanations for this while also raising some new questions.
First, CEO Eric Langan stated that repurchasing shares will be a long term effort. And the company will not buy shares hand over fist and thus force the share-prices upward due to low overall liquidity in the shares. He continued by saying that the company will be aggressive whenever the price falls below $10.5 per share, which could create a lower bound for share prices. While this reminds me of the 1.2 times book value threshold that Berkshire Hathaway (NYSE:BRK.B)(NYSE:BRK.A) has communicated, it also raises a question of consistency. RICK has claimed that for them share repurchases are essentially risk free. This is also why they prefer to buy back stock up to a level of $22 per share before they would start paying down debt. Because at this level they claim that FCF yield is lower than the yield on debt. The company talking about a $10.5 threshold when shares are what I believe undervalued up to a price of at least $15 for me delivers the wrong signal. However, taking a different point of view, introduced discipline regarding capital allocation, which RICK has lagged in the past, could be a positive. It prevents paying excessive prices for the shares and therefore protects us shareholders. Still I would prefer an approach of dollar cost averaging and a little less timing when buying back equity. This would constantly and reliably reduce share count while ensuring a good average repurchase price.
Conclusion
Third Quarter results have definitely shown us that the company intelligently manages its operations. Sales and margins are up and Q4 shapes up to be a winner with the possibility of exceeding an already raised FCF guidance. Further, the highest yielding portions of debt are being paid down, which will reduce interest income. Share buybacks are still a question mark, since it seems management is a little uncertain as to how to effectively communicate its buyback program to shareholders. For incumbent shareholders the stated $10.5 buyback threshold serves as downside protection.
Disclosure: I am/we are long RICK.
I wrote this article myself, and it expresses my own opinions. I am not receiving compensation for it (other than from Seeking Alpha). I have no business relationship with any company whose stock is mentioned in this article.