So far everything in the gold market is proceeding according to plan. In my last update - back on July 7 - I talked about how the SPDR Gold Trust ETF (NYSEARCA:GLD) was now in my 130-135 target zone and this was the first real area of resistance that I saw for the precious metal. One that could be tough for gold to bust through on the first try. July was also a seasonally weak month for the gold complex in general, as the majority of the time over the last 20 years it has posted a loss for this period. So my stated belief was that:
GLD will put in a short-term peak here over the next few days and then we will see some consolidation for the rest of July - with possibly a swift $50-$75 sell-off in the precious metal.
GLD did in fact peak in that July 6-8 timeframe, with gold declining $65 from its $1,375 high, to $1,310 just 8 days later.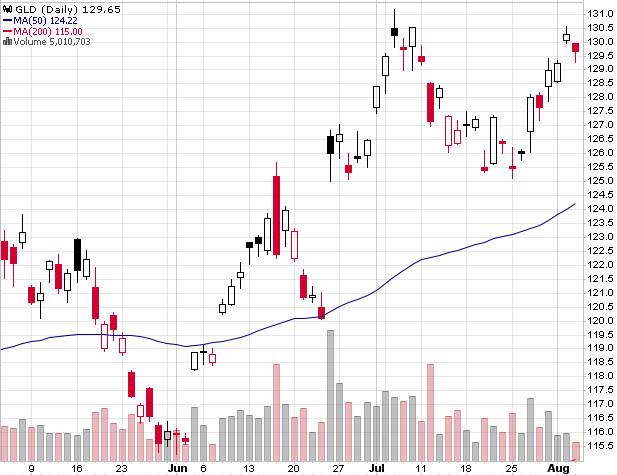 (Source: StockCharts.com)
The HUI has also performed inline with expectations, as my forecast that it would retest 250 at minimum sometime in mid-late July came to fruition. The HUI tried to hold onto its momentum earlier in the month even as gold started to decline, but it eventually succumbed to the pressure and went below 250 a few times in the process.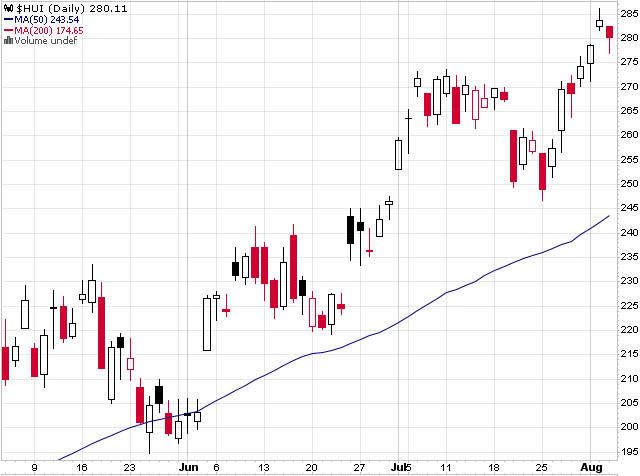 (Source: StockCharts.com)
On July 25-26, I covered all of my hedges that I established earlier that month as they had done their job and protected profits over those 2-3 weeks. The HUI had reached my "under 250" price objective, and with the FED on tap the next day, the wise move was to cover short positions and start buying what I had sold/avoided just a few weeks earlier. I began (re)establishing positions in names such as Argonaut (OTCPK:ARNGF) and Pretium (NYSE:PVG).
I have only hedged my large gold sector exposure two times during the last 6-7 months - once in early May and again in early July. Both trades worked out well. It's important to understand that in a raging bull market, hedging is fine as long as you pick your spots wisely and don't overextend your stay.
The correction might have seemed paltry when looking at the chart above, but it still amounted to a 10% decline in the HUI (with many gold stocks having 15-20% corrections or more). That was enough to work off a lot of the excess froth that had accumulated from the last run-up, and allowed for compelling entry points for many stocks (which I had been anticipating).
For example, on July 9, I stated in a comment that:
Argonaut is fairly valued now, and its stock price is very overbought at the moment. I have rotated out of it and moved into other names. What would compel me to re-enter the shares is either a sharp correction or some positive news on San Antonio or Magino.
On July 26, I posted that I covered my gold stock hedges, along with the following comment:
Bought some Argonaut today and a few other names that I sold and was avoiding because of excessive froth in their stock prices. These have had large corrections since early July and it seems like a good re-entry point for a lot of these names.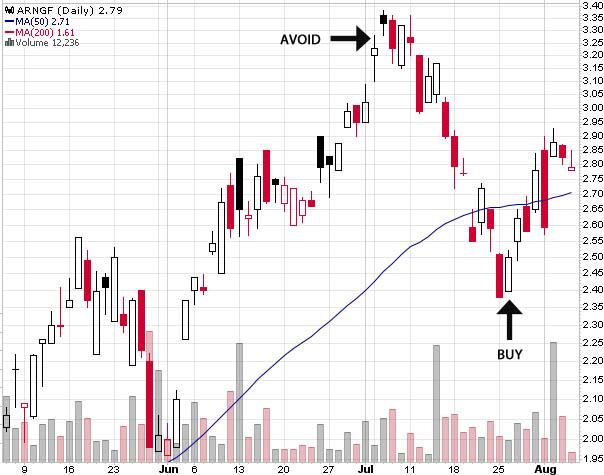 (Source: StockCharts.com)
I actually sold those shares in Argonaut earlier this week after the quick 15% pop, but kept the other companies I bought such as Pretium. I might buy those shares of ARNGF back in a few days, but I'm undecided at this point. Argonaut isn't one of my favorite companies, it's more of a bolt on position, not a core holding.
Where To From Here?
Outside of Q3 (or the July-September time period), I don't pay much attention to seasonality in the gold sector. Frankly, it's a coin flip the majority of the time as to what this industry will do depending on the month. But the seasonal cycle is obviously apparent in the gold market during mid-late summer. A dreadful July in the precious metals is usually followed up with a very bright and bountiful August, with some potential follow-though into September.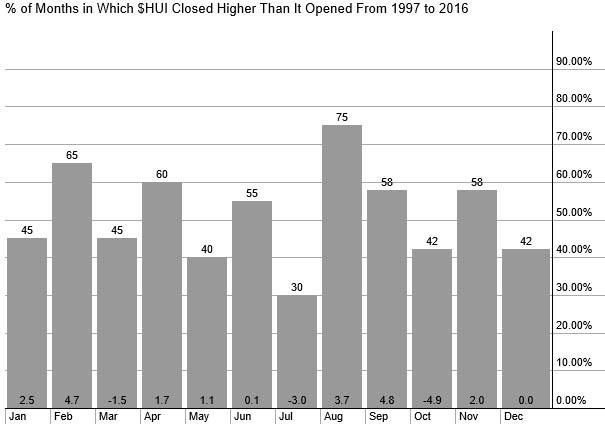 (Source: StockCharts.com)
Last month, I said that if July plays out as I forecasted and we get some consolidation, then by mid-to-late August GLD could be retesting that 130-135 level. If it hasn't by then, it will eventually surpass it sometime in the Fall.
Here we are in early August, and GLD is already knocking on that 130-135 level once again. It has been turned away slightly and is just under 130 at the moment, so it hasn't managed to break above this key resistance yet. It's tough to say if this will take a few more tries and GLD will drift back down to 125, or if it breaks out over the next week or two.
The same goes for the HUI. It has rebounded nicely, is now sitting at multi-year highs, and seemingly wants to launch up to that 350-360 region that I have been showing as a possible scenario that will play out over the next few months. However, I'm not so sure that is the ultimate path it will take.
Most of the time the picture to me is clear, but occasionally it's a bit muddled. If I'm fairly certain how a move is going to play out I will give a definitive prediction, just like I have since the beginning of this run and well before it started. But we are at a tricky juncture at the moment, so I'm a little hesitant to say with a high degree of certainty "this is what I believe will happen." I will explain my thought process a little more on the current situation in the gold market.
Let me first just start off and show a forecast I made for GLD over a year ago, back in June of 2015. The left chart below shows my prediction for the path GLD would take over the next year. The chart on the right shows what has occurred since. Other than GLD bottoming just slightly higher than I expected, the rebound off the lows has played out almost exactly as predicted, both in terms of timeframe and price objectives. And we have most certainly seen a 200-300% gain in gold stocks on average during this time as well, as I noted would occur in the left chart.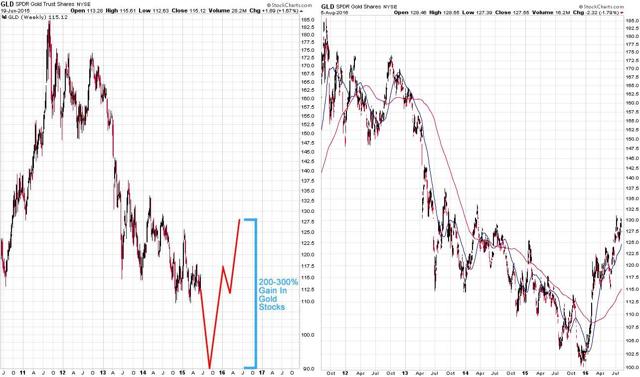 Click to enlarge
(Source: StockCharts.com)
But I always knew the "what happens next" would be more difficult to decipher, as the middle run of a bull market is not as easy to predict. There are many possible ways things can play out, so it's not as cut and dry as a bottom formation would be, or a top for that matter.
First we have to determine if things are overbought. If you look at a long-term chart, GLD most certainly isn't, and it's the same for the Gold Bugs Index. Below is a chart of the HUI from 1997-2016. While the move so far this year seems to have taken this index into overvalued territory, a big-picture look reveals an entirely different story. What this chart shows is how much upside remains over the next 1-2 years. I see no major stopping points until 500-525. That's a long way from current levels, but let's keep it all in context. Does the chart below look frothy from a long-term perspective? No, in fact, it still looks very oversold.

(Source: BigCharts.com)
What I keep going back to is the Nasdaq in 2008-2011. While the entire gold complex was also being ravaged by the financial crisis, the bottom in the Nasdaq (and the subsequent rise off of those lows), matches well with the recent bottom in the HUI. We are seven months into this current bull run in the Gold Bugs Index, the Nasdaq didn't put in a major short-term peak until 14 months after the lows were struck. While I don't expect this to play out exactly the same, it could be possible that we will see something similar occur in the HUI. The Nasdaq recouped almost all of the gains it lost by May of 2010. I wouldn't completely take it off the table that the HUI could do the same and be at 500 by the spring of next year. At that point, it would most likely experience the largest correction of this bull run. Right now there are very few investors that believe that this index will almost double over the next 7 months, but how many thought it would go from 100 to 285 in 7 months either? As a side note, the "We could be here" is in terms of time frame and general trend, not in terms of percentage gained or percent upside that remains.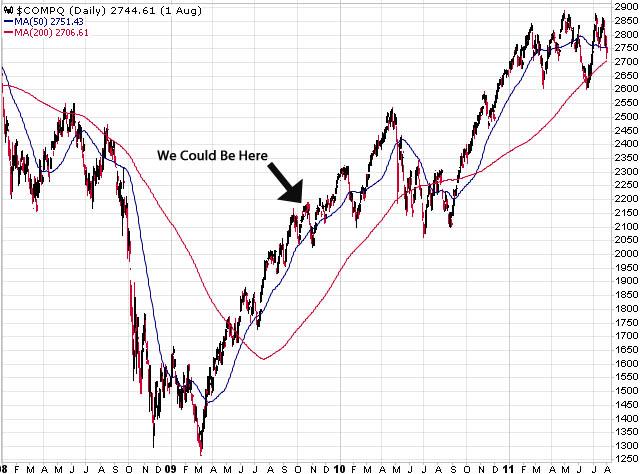 (Source: StockCharts.com)
If you also notice above how the Nasdaq chopped around at the 7 month mark, making slightly higher highs and then having a quick sell-off before it repeated the process once again. I could envision this happening as well in the HUI over the coming weeks. I'm actually not even convinced that August will end up in the plus column for the gold sector, which would be the perfect sort of irony given the current powerful bull market. If this month does end up on a high note, the HUI could easily give all those gains back in September just like the Nasdaq chopped around.
The point I'm trying to make is the Gold Bugs Index is really in no mans land at the moment: not exceptionally overbought, standing at the door of a potential surge back to the 500 level, but not much support at current levels either.
There is still the slight possibility of a retest of 200, but that becomes less and less likely the higher we go in the short-term.
For now, the HUI is still following the "Scenario 2" forecast (almost to a "T") that I made back in early May of this year. Which is a continued upward trend with sharp pullbacks along the way (shown in the left chart below). The right chart shows how this has unfolded since. My 350 target by October for the HUI remains a very real possibility, but I'm just not convinced it's going to remain on this path. I believe there is a chance it will deviate, with the HUI taking a chopping pattern over the next few months instead. I will say that if 350 is achieved in that time-frame, 500 by the spring is looking very strong.

Click to enlarge
(Source: StockCharts.com)
We are now entering the heart of a bull market, and we are at a point where short-term direction becomes a bit "iffy." It really depends on momentum players and how fast they want to buy the dips.
Some Updated Positions
I beefed up some core positions after the sell-off late last month, including New Gold (NYSEMKT:NGD), Kinross (NYSE:KGC), Gold Fields (NYSE:GFI), Yamana (NYSE:AUY), and Sandstorm (NYSEMKT:SAND) to name a few. These are holdings I don't plan on selling for a long-time, unless there is negative news that I think warrants a pruning of shares.
I mentioned in the last few updates that I was adding more Eldorado Gold (NYSE:EGO) on the dips, as there was a tremendous amount of value in the stock as it was lagging the sector. However, I have been warning each time about political risk from Turkey and Greece as being a concern. The attempted coup that played out in mid-July in Turkey - and the subsequent actions by the Turkish Government to gain more control - has increased the headline risk to Eldorado. Curiously enough, the stock didn't react too negatively at first when the news broke of the coup, but it has since come under pressure.
I used this initial nonchalant attitude to the news as an opportunity to lighten up considerably on the stock. I wasn't too concerned about these developments in Turkey, but I knew that the herd could eventually panic, which would allow me to re-load at a steal in the coming weeks. In other words, I'm really hoping this thing tanks.
If that occurs with a dearth of news, then this is just another time the street got it wrong. I see huge upside for EGO once their operations in Greece come online. This will still be a 500,000-600,000 ounce gold producer by the end of next year, as production lost from the sale of their Chinese assets will be made up when Skouries and Olympias are fully up and running. But because of the negative cash costs at Skouries, company wide AISC's will be under $500 per ounce by that time compared to $900-$1,000 now. Couple that with a rock solid balance sheet and this is a very compelling opportunity. I'm looking at key support/resistance at $4 a share for EGO, below that and I'm light on the stock waiting and hoping for the low $3's. If it breaks back above $4 and gets close to $5, I will increase my position. This will be a core holding when it's all said and done, assuming it all doesn't go sideways in Turkey and/or Greece between now and then.
I bought some Primero Mining (NYSE:PPP) in late June as it was on the verge of breaking out (it successfully accomplished that feat a few days later) and I liked the risk/reward at that time. But after the disastrous earnings report was released a day ago, I decided to sell a good part of this position.
Other than this purchase, I have been watching Primero from the sidelines since the beginning of this year, as the tax issue with the Mexican Government has been weighing the stock down significantly. I thought we could see a resolution last month as the Canadian Government seemed to be somewhat getting involved, but nothing came about. I still expect any day now the company will announce news on this matter, whether it's positive or negative is to be determined. It depends on the Mexican Government's stance. Primero is so low in price that if they announce an amicable resolution to the tax issue, then the stock will probably double on the news.
I was willing to hold the shares even with the risk of a negative tax ruling, as most of that was built into the stock price and a favorable ruling would result in a 100% gain in a matter of days. However, now we have Primero really struggling with both operations (San Dimas and Black Fox), and nothing is going right for them at the moment. A negative outcome on the tax issue could really take this stock for a ride. I still believe that a large amount of money can be made on Primero, but the risk is too high at the moment and it's best to wait for some positive developments.
I have labeled Goldcorp (NYSE:GG) a core holding in previous articles, but I have always been light on the shares as the upside wasn't as enticing as many of the other companies in the sector. Goldcorp wasn't going to quadruple in value in 6 months like some other stocks, simply because of its size and market cap. However, GG has been significantly underperforming other major producers in the sector due to issues at several operations. I have been nibbling and plan to keep buying if this declines further. I'm licking my chops on this and hope we get a severe over-reaction to the downside over the next few weeks.
As a side note, I have been paying attention to copper lately, as it is appears on the verge of entering a bull market as well. This will help many gold producers that use copper as a by-product credit. I expect companies such as New Gold, Yamana, and others (that rely somewhat on copper sales to lower cash costs) to still do very well even if gold rises but copper remains stagnate. However, should copper join the party, then these aforementioned stocks will start to outperform as their gold margins expand even further with a rising copper price.
Greenspan Calls For Stagflation
I'm not a fan of former Fed Chair Alan Greenspan. Notorious for his "Fed-speak," the continual obscure statements and responses to questions in interviews and during testimonies (while he was Chairman) was always met with a groan by me. Now that he is out of the financial limelight - and since his voice doesn't hold nearly as much sway on the markets as it did a decade ago - he is free to express his views without fear of causing wide-spread panic. And his opinion is bond prices are way too high/yields too low, and stagflation is on the way:
"Greenspan also said the U.S. may be heading toward stagflation -- a slow-growth economy coupled with high inflation. There's a significant amount of uncertainty and "general sluggishness" in the economy, which is tied to low productivity, he said.

"What I'm concerned about mostly is stagflation, meaning I think we're seeing the very early signs of inflation beginning finally to pick up as the issue of deflation fades," Greenspan, 90, said. "We're just in a stagnation state."
The deflation camp has been wrong for a long-time now, and with gold where it is at the moment, the case for deflation becomes harder and harder to make. To me, the only question for the last year or two is "How bad will inflation get?" You can't have this type of growth in the money supply over the last several years without it eventually working its way into the CPI, PPI, and PCE.
The core CPI has seen a very large jump in H1 2016 compared to the last 3 years. We are now at the same inflation rates that we had just before the financial crisis started. Only instead of the Fed funds rate being in the 3.00-5.25% range, it's at 0.50%.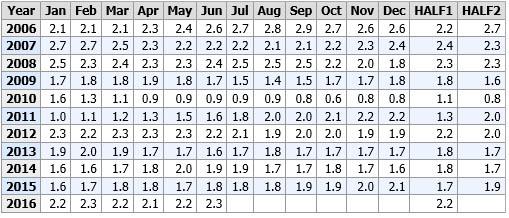 Rates are too low, and the longer the Fed remains behind the curve, the higher the price gold will command. Gold will feed off of this highly negative interest rate environment.
I don't usually like to agree with Greenspan, but I'm of the opinion as well that we will experience some degree of stagflation here in the U.S. It's not a question of "if," rather the question is "how bad will it get?" It could be like the 1970's, or possibly worse.
The Gold Bulls Will Continue To Outperform
Finally, it was brought to my attention that I'm currently ranked #35 out of over 5,000 bloggers on Tipranks.com (or #87 out of over 9,000 if you include analysts from major investment banks as well as hedge funds). The website analyzes the performance of stock recommendations from individuals and then ranks them accordingly, and those ranking are updated on a daily basis. I recall seeing the CEO of TipRanks on CNBC before, but I don't know how accurate this website is or their rankings (there could be some discrepancies).
That's not really the point. The point is anybody that has been focused on the gold market (and bullish) over the last 6-12 months has been far outperforming every other analysts/financial blogger that has not recommended this sector. I expect gold bulls will continue to climb up the ranks over the coming year.
When I first started writing on Seeking Alpha almost 2 years ago, I told readers that basically 100% of my attention is on the gold market because I foresaw what is occurring right now. I didn't think the bottom was in when I first began posting articles on the precious metals sector, but I knew we were close and the gains off of that bottom would be extraordinary.
It's not easy going against the herd, but if you have conviction in your call and are ultimately proven correct, then the rewards are substantial. The gold bulls are now being rewarded for their conviction.
Disclosure: I am/we are long KGC, AUY, EGO, SAND, GG, GFI, PVG.
I wrote this article myself, and it expresses my own opinions. I am not receiving compensation for it (other than from Seeking Alpha). I have no business relationship with any company whose stock is mentioned in this article.