Back on July 12th I wrote an article about natural gas pipeline partnership Williams Partners (NYSE:WPZ) and its parent company Williams Companies (NYSE:WMB). In that article I saw an increasing likelihood that Williams Companies would have to cut its dividend, and cut substantially.
Well, in the latest quarterly guidance Willaims Companies announced it would reduce its quarterly dividend from 65 cents to 20 cents, a cut of around 70%. That drastic cut is similar to the magnitude of what Kinder Morgan Inc (NYSE:KMI) had to do in 2015. The reasoning is similar as well: Williams Companies needs to improve its credit rating, and is doing so by paying for capex via what used to be the dividend. This article looks at Williams Companies' latest move to reduce dividends, and whether it means one can invest in Williams Companies again.
Picking up the pieces
Williams Companies was supposed to have been acquired by Energy Transfer Equity (NYSE:ETE), a deal that fell apart when Energy Transfer decided to find ways to exit the deal in the face of dropping oil and gas prices. Ultimatley, Energy Transfer was successful in terminating the merger agreement in a Delaware court, leaving Williams Companies on its own once again.
First quarter dividend-to-distributable cash flow coverage was .89 times last quarter, the company had been downgraded to below investment grade, and was on review to be downgraded again in the wake of the failed merger. As of last quarter, Williams Companies' debt was just over six times EBITDA. The likelihood of a dividend cut was pretty high, and that's exactly what ended up happening.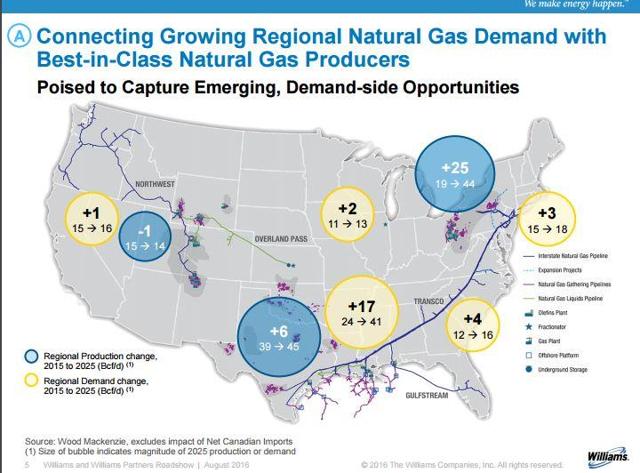 Click to enlarge
Courtesy of Williams Companies Investor Relations.
Williams Companies and Williams Partners' both deal in midstream transportation of dry gas, and both share essentially the same assets. At the heart of both companies' operations is the Transco Pipeline, which moves dry gas between New York, the Gulf Coast and many points in between. Transco is a great long-term growth asset because petrochemical facilities (dry gas consumers) are under construction all along the Gulf Coast, and the Northeast has recently-discovered dry gas that is some of the cheapest in North America and perhaps even the world. In addition to that dynamic, natural gas is becoming more and more common for electricity needs.
A long road to recovery
Right now Williams Companies yields 3.2%, and frankly, it's going to be awhile before Williams Companies will be able to make any steps to restore that dividend. Management estimates it will not be able to raise that 20 cent dividend until 2018. Williams will spend the rest of this year and all of next year deleveraging. If Willaims Companies' leverage goal is anything similar to that of Kinder Morgan Inc (and I suspect that it is), then Williams Companies new leverage goal should be something around 5 times debt/EBTIDA.
As for the better investment, I continue to favor Williams Partners. Williams Partners' debt, as of last quarter, was 4.6 times EBITDA, and unlike Williams Companies, Williams Partners does not need to cut its distribution. Early last year the distribution-to-DCF coverage ratio was in the low .90s, but is now 1.02 times. Williams Partners expects to maintain its distribution throught 2017 (and likely to improve its coverage ratio to 1.10 tiems or so), and once again begin increasing the distribution in 2018 and beyond. That's the plan, at least. Williams Parnters is also still rated investment grade at Baa3, and it is not on any Moody's watch for a downgrade.
The partnership's distributable cash flow was up 5% year-on-year over the quarter, mostly on fee-based midstream revenue growth and also by full operations at the Geismar NGL plant in Louisiana.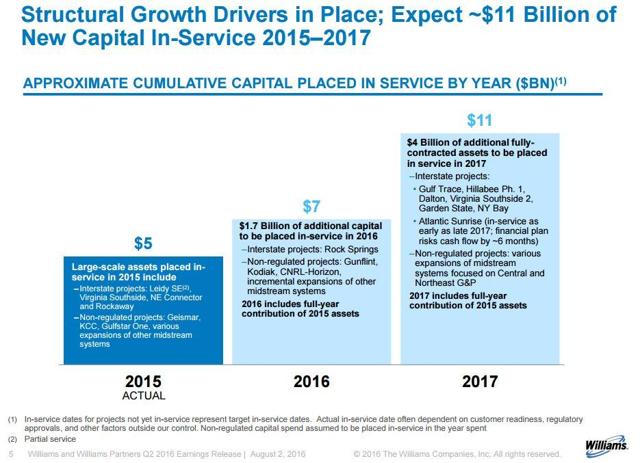 Click to enlarge
Courtesy of Williams Companies Investor relations.
As you can see, both Williams businesses have quite a few projects coming online over the next two years. Most of these, particularly those coming online next year, are midstream dry gas projects. Also, according to management, most of these are demand-driven, which makes me a lot more confident about them. I say this because dry gas prices in the US are very competitive, and long-term demand for dry gas is set to rise steadily for some time. These midstream infrastructure projects are critical to that long-term story.
Williams Partners a buy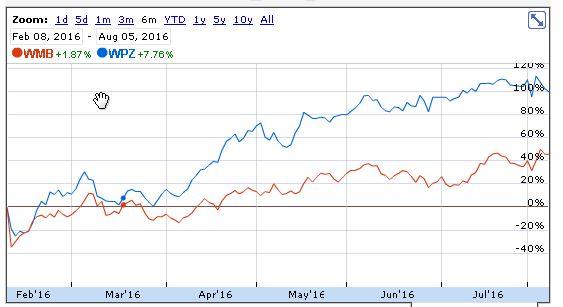 Despite recovery of both shares, Williams Companies lags far behind Williams Partners.
Williams Partners remains a buy at these levels. Units are still fairly cheap, and they still yield a nice 9.45%, which I continue to believe is sustainable. Based on this quarter's results, Williams Partners trades at 10.4 times distributable cash flow. As for Williams Companies, I will continue to shy away because there are no immediate catalysts higher. However, the dividend cut could be a good indication of a turnaround. Despite the dividend cut, I still like Williams Partners better because as a company it is exactly where it needs to be, while Williams Companies has a long ways to go.
Disclosure: I am/we are long WPZ.
I wrote this article myself, and it expresses my own opinions. I am not receiving compensation for it (other than from Seeking Alpha). I have no business relationship with any company whose stock is mentioned in this article.