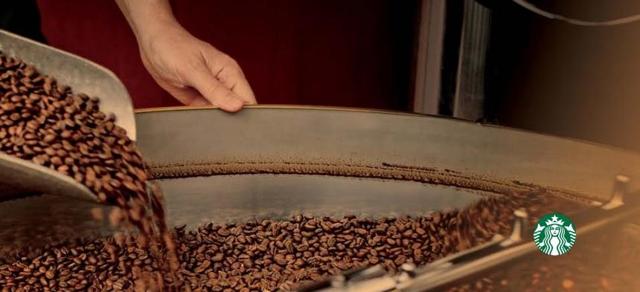 Click to enlarge
Source; Starbucks
While the S&P 500 continues to set new all time highs, Starbucks (NASDAQ:SBUX), has struggled in 2016, with shares badly underperforming the broader market.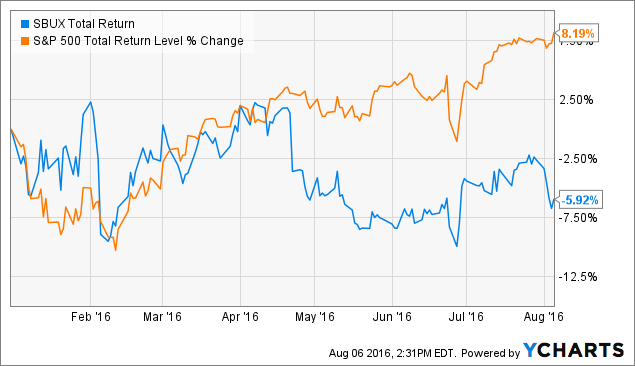 SBUX Total Return Price data by YCharts
Read on to find out why Wall Street is dead wrong to have punished Starbucks in this manner. More importantly, discover why shares of this high-quality, fast growing dividend growth stock remains incredibly undervalued, which makes today the perfect time to add Starbucks to your diversified dividend portfolio.
Q2 Earnings were a blowout no matter what analysts say
The fact that Starbucks shares sold off 5.2% after its latest earnings announcement just shows how crazy Wall Street really is. Due to missing revenue estimates by $130 million, and posting "disappointing" same store comps, most analysts consider Starbucks' latest quarterly results to be a failure.
Source: Earnings release

| | | | |
| --- | --- | --- | --- |
| Metric | Q2 2016 | Q2 2015 | Year-Over-Year Change |
| Revenue | $5.228 Billion | $4.881 Billion | 7.3% |
| Net Income | $754 Million | $627 Million | 20.3% |
| EPS | $0.51 | $0.41 | 24.4% |
| Free Cash Flow | $720 Million | $441 Million | 63.3% |
| FCF/Share | $0.48 | $0.29 | 65.5% |
| Quarterly Dividend | $0.20 | $0.16 | 25.0% |
| FCF Payout Ratio | 40.7% | 54.4% | -25.2% |
However, from any logical, and objective standpoint Starbucks' latest results were fantastic, especially coming off a comparison to 2015's record results.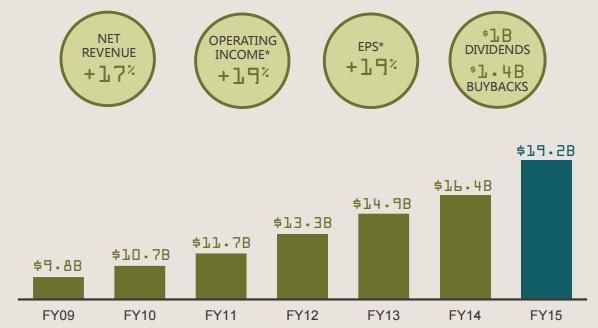 Source: Starbucks investor presentation.
For example, despite a moderate increase in sales, the company was able to ring up its first non-holiday quarter with operating income of over $1 billion. In addition, net income, and EPS growth more than three times as strong as sales growth. Meanwhile, the most important metric for dividend investors, free cash flow, or FCF, per share grew at an truly astounding rate.
This allowed the company's FCF payout ratio to decline by an excellent 25%, despite an equally impressive increase in its year-over-year dividend.
Strong, long-term growth runway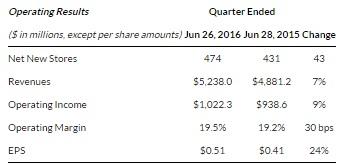 Source: Starbucks earnings release
The biggest reason I think Wall Street is dead wrong about Starbucks' latest results being "disappointing" is because of the company's continuing strong execution on its long-term growth plan. For example, despite operating nearly 24,000 stores worldwide, Starbucks continues to grow it as if it were a much smaller company. In the last quarter alone store count increased 2%, all while increasing operating margins.
With store count growing at an annual rate of around 8%, and same store sales growth of 4%, that means long-term revenue growth of 12% is within the company's grasp, assuming Starbucks continues to "disappoint" the market with ongoing "weak" results such as this.
And given the fact that management has an excellent track record of squeezing impressive margin growth, and thus EPS, and FCF increases, from top line improvements, Starbucks' dividend growth prospects remain as bright as ever.
Wide moat means superior profitability…
Thanks to one of the strongest brands in the restaurant sector, which is strengthened by an extremely large, and fast growing customer loyalty card program, Starbucks has been able to generate highly impressive margins, and returns on shareholder capital over the years. Better yet, it has an exceptional track record of growing that profitability over time.
Source: Morningstar, Gurufocus76.5

| | | | | |
| --- | --- | --- | --- | --- |
| Metric | TTM | 2006 | 10 Year Change | Annual CAGR |
| Gross Margin | 59.8% | 21.3% | 180.8% | 10.9% |
| Operating Margin | 19.1% | 11.5% | 66.1% | 5.2% |
| Net Margin | 13.01% | 7.25% | 79.4% | 6.0% |
| Free Cash Flow Margin | 13.87% | 4.63% | 199.6% | 11.6% |
| Return on Assets | 19.99% | 14.21% | 40.7% | 3.5% |
| Return on Equity | 46.11% | 26.13% | 76.5% | 5.8% |
| Return on Invested Capital | 42.02% | 20.99% | 100.2% | 7.2% |
Now Starbucks bears will point out that there's been some controversy regarding changes in the loyalty card program, specifically the change from rewards becoming based on dollars spent instead of number of visits. However, management's decision to make that change was the right long-term choice. That's because it improved customer service, by eliminating line splitting, increasing the speed of line turnover, and thus boosting store efficiency.
Better yet, it gave loyal customers the incentive to spend more money, which is, after all, why the company started the program to begin with. And as far as concerns over angry customers abandoning the program or even Starbucks itself? Well 18% year-over-year growth in loyalty card membership which now stands at 12.3 million, indicates that those fears were overblown.
In addition, I find concerns over US store comps falling to "just 4%" as opposed to Starbucks' historical 5+%, to be equally laughable. After all, most US restaurants would kill for such "weak" comps. Plus, Starbucks has often seen comps fall below 5% only to rebound back above this level in later quarters.
And don't forget that the company's long-term growth potential overseas is just massive. For example, Starbucks is opening a store a day in China, which has 2,300 locations, and same store comps of 7% this quarter. Over the coming decades I wouldn't be surprised to see Starbucks grow its Chinese store count to 25,000, more than its entire current global store count of 24,000.
...which makes for potentially fantastic dividend growth
There is a reason that dividend growth stocks usually do so much better than most equities. Historical market studies show that a good long-term rule of thumb for estimating total returns is yield + dividend growth.


Source: Gurufocus
SBUX Dividend data by YCharts
And as you can see Starbucks, since it began paying a dividend in 2010, has grown its payout at a truly spectacular rate.
Source: Yahoo Finance, Fastgraphs, Morningstar, Factset Research, Multipl.com, Moneychimp.com

| | | | | |
| --- | --- | --- | --- | --- |
| Company | Yield | TTM FCF Dividend Payout Ratio | 10 Year Projected Dividend Growth | 10 Year Projected Total Return |
| Starbucks | 1.4% | 38.4% | 15.6% | 17.0% |
| S&P 500 | 2.0% | 39.1% | 5.8% | 9.1% |
Better yet, analysts estimate that Starbucks will continue rewarding dividend lovers with excellent payout growth over the next decade. In fact, analysts are currently forecasting a 2025 dividend of $3.42/share; a 6.1% yield on shares bought today.
Now don't get me wrong. You always have to be skeptical of long-term analyst forecasts. However, in this case I believe Starbucks should be able to hit that dividend growth target and generate market crushing total returns far in excess of the S&P 500's historical 9.1% CAGR since 1871. In fact, I think this dividend growth projection might actually prove excessively conservative.
That's because, my own dividend model indicates that Starbucks might actually be able to actually continue its recent track record of 25% payout growth over the next decade. What kind of insanely bullish assumptions am I making to make such a claim?
A mere 10% CAGR revenue growth, and FCF margin expansion of 5.8%, which is half the growth rate of the company's FCF margin improvement over the last 10 years. If Starbucks can hit these targets, which I think won't be too hard given its: immense growth catalysts, store count growth, and ongoing strong comps, then in 2025 Starbucks should be able to generate:
24.3% free cash flow margin
$52.3 billion in sales
$13.0 billion in FCF
FCF/share of $8.95
Source: Morningstar, Fastgraphs

| | | | | |
| --- | --- | --- | --- | --- |
| FCF Payout Ratio | 2025 Projected Dividend/Share | 10 Year Dividend Growth Rate (OTCPK:CAGR) | 10 Year Projected Total Return | Yield On Shares Bought Today |
| 40% | $3.58 | 16.2% | 17.6% | 6.4% |
| 50% | $4.48 | 18.8% | 20.2% | 8.0% |
| 60% | $5.37 | 21.1% | 22.4% | 9.6% |
| 70% | $6.27 | 22.9% | 24.3% | 11.2% |
| 80% | $7.16 | 24.5% | 25.9% | 12.8% |
| Analyst Consensus | $3.42 | 15.6% | 17.0% | 6.1% |
As you can see, depending on how much FCF management wants to retain for growth capex or buybacks, Starbucks could grow its dividend remarkably quickly, resulting in a potential yield on shares purchased today as high as 12.8%.
28% margin of safety makes Starbucks a screaming buy
Given how incredibly profitable Starbucks is, how quickly it's growing now, its immense long-term growth runway, and most of all, the historical dividend hyper-growth, you'd expect shares to be trading at crazy expensive valuations. Especially in today's increasingly frothy market.
Source: Yahoo Finance, Fastgraphs

| | | | | | | |
| --- | --- | --- | --- | --- | --- | --- |
| Yield | 5 Year Average Yield | PE | 20 Year Average PE | P/Operating Cash Flow | 20 Year Average P/OCF | Average Historical Discount |
| 1.4% | 1.2% | 29.7 | 41.3 | 20.2 | 24.3 | 19.8% |
Yet Starbucks trading at a seemingly reasonable valuation. In fact, on a yield, PE, and Price/operating cash flow basis, but it's actually trading at a substantial discount to its historic norms.
Source: Morningstar

| | | |
| --- | --- | --- |
| Morningstar Fair Value Estimate | Current Share Price | Discount To Fair Value |
| $63 | $55.90 | 11.3% |
Better yet, according to Morningstar analyst R.J Hottovy, the company's shares are 11.3% undervalued, relative to its five year intrinsic value. While I put zero faith in Wall Street analysts' one year price targets, as the share price performance of any company in the short-term is essentially random, I view Morningstar's fair value estimates as the gold standard of five to 10 year intrinsic value estimates.
That's because they are based on conservative, fundamentals driven, two stage discounted cash flow analyses, that can be of immense value to long-term, buy and hold, dividend investors.
In this case Mr. Hottovy's model is built around Starbucks' strong brand, and wide economic moat, which allows it premium pricing power, and industry leading margins. In addition to Starbucks' immense overseas growth potential, Morningstar also believes Starbucks could see continued strong domestic growth, thanks to ongoing innovations such as: drive-thrus, express stores, additional menu options, (such as smoothies, and larger lunch/dinner offerings), and ongoing improvements to its digital pay platform.
And don't forget the fast growing, and incredibly profitable consumer packaged goods business, as well as channel diversification through partnerships with VIA, K-Cups, and Nespresso. These potentially represent immense opportunities to greatly increase both domestic, and international sales, and cash flows.
In addition, Starbucks' investments in Teavana, La Boulange, and Evolution Fresh, represent excellent potential new brands which themselves might end up growing like a weed, both at home, and abroad. Specifically I think Starbucks' already successful entry into large, and or fast growing potential markets such as China, India, Japan, and Brazil could prove to be immense long-term growth catalysts to drive decades worth of strong dividend growth. Especially if its newly acquired brands prove to be fast casual hits with consumers, just as its core coffee store concept has been.
Meanwhile, potential synergies between its joint venture partners such as Lyft, Spotify, and the New York Times, in combination with continued strong growth in its rewards program, could further help drive further sales, and margin expansion. As could strong potential growth in the company's higher margin, premium "reserve" sub-brand, which offers consumers higher cost fair trade, and Arabic coffees.
Overall, Morningstar expects Starbucks to grow its global store count at 6% annually over the next decade, which comes to 20,000 new locations by 2025. With operating margins rising to 24%, thanks to ever improving economies of scale, and strong ongoing premium pricing power, Morningstar forecasts 9% CAGR long-term top line growth.
While my own sales projections are slightly less conservative (10% annual sales growth through 2025), overall Mr. Hottovy's assumptions coincide pretty close to my own valuation model. However, since I am a long-term investor who plans to eventually buy shares of Starbucks, and own it for decades, my fair value estimate is based on a longer, 20 year time frame. With an extra 10 years of growth priced in, I estimate Starbucks shares to be 28% undervalued relative to their 20 year intrinsic value.
Sources: Morningstar, Fastgraphs, Gurufocus

| | | | | |
| --- | --- | --- | --- | --- |
| TTM FCF/Share | 10 Year Projected Growth | Estimated Fair Value | 10 Year Growth Priced Into Current Share Price | Margin of Safety |
| $1.91 | 18.7% | $77.82 | 13.4% | 28% |
Now I'll be the first to admit that the longer out you model a company's growth the larger the margin of error. In addition, a discounted cash flow analysis should never be the sole reason for buying or selling a stock. After all, long-term growth assumptions, and the random nature of the discount rate you use, (in this case the market's historical 9.1% CAGR), can give the impression of false precision.
On the other hand, Starbucks' immense growth potential, strong pricing power, and well managed diversification into so many new sales channels, gives me confidence that the 18.7% growth rate over the next 10 years, and then 9% growth over the next 10 years, should be easily achievable.
Which means that, despite shares being just 12% off the all time high hit in late 2015, I think that long-term dividend investors who buy Starbucks at today's price are likely to do very well over the coming decades.
Risks to consider
Despite my extremely bullish long-term stance on Starbucks there are three risks that investors need to consider before buying or adding shares.
First, commodity risk in the form of coffee and milk prices might ding Starbucks' future short-term results. And as we've seen, while these brief margin declines don't mean a thing in the long run, Wall Street's short-sighted focus means that shares could take it on the chin in the short run if results are seen as "a failure".
That's especially true given that, though the current PE and P/OCF ratios are reasonable for a fast growing company, they also remain elevated on an absolute basis. And with the stock market at an all time, and the Federal Reserve potentially set to raise interest rates in September or December, Starbucks shares could very well be facing a short-term price correction, as occurred after the Fed's most recent rate hike in December of 2015.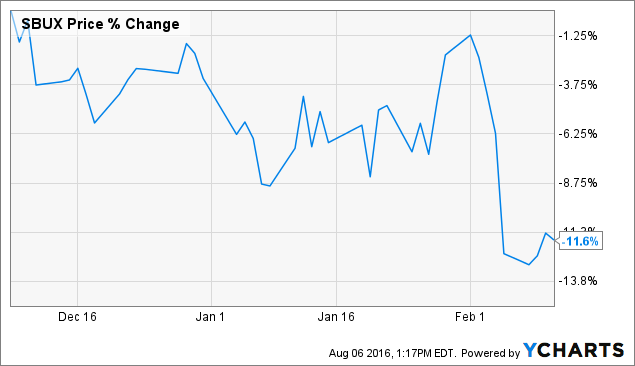 SBUX data by YCharts
Finally, the biggest potential risk to Starbucks' glorious long-term dividend growth future is execution risk. Right now the company has a large number of growth opportunities, across numerous channels. However, each opportunity comes with the risk that management fails to execute properly, and thus the company might fall short of its full growth potential.
For example, international expansion, though highly successful thus far, could run into trouble with various local, or national governments, should they decide to attempt protectionist tactics to limit the growth of foreign firms such as Starbucks.
Bottom line: ignore Wall Street expectations, Starbucks dividend growth engine continues to fire on all cylinders
Despite Wall Street's disappointment in the company's latest results, Starbucks remains one of America's high-quality, fastest growing dividend stocks. With shares currently trading at a deep discount to their long-term intrinsic value, I recommend dividend growth investors take advantage of the market's short-sighted mispricing to add shares today.
With an exceptionally strong brand, and quality management team that continues to improve the company's already stellar profitability, I have little doubt that Starbucks will continue to reward long-term dividend investors with exceptionally strong payout growth, and market crushing total returns in the years, and decades, to come.
Disclosure: I/we have no positions in any stocks mentioned, and no plans to initiate any positions within the next 72 hours.
I wrote this article myself, and it expresses my own opinions. I am not receiving compensation for it (other than from Seeking Alpha). I have no business relationship with any company whose stock is mentioned in this article.