Royal Dutch Shell's (NYSE:RDS.A) (NYSE:RDS.B) dividend is safe, even without a recovery in the price of oil. Oil prices slipped below $50 in recent weeks on record crude and refined product inventories, and after another poor quarter from Shell investors have grown more concerned about the sustainability of the dividend. In the latest quarter OCF declined from $6.1 billion to $2.3 billion year-over-year, and management expects normalized cash flow of approximately $5 billion per quarter. While we expect oil prices to remain within the $45-55 range over the next year, we believe the dividend is safe thanks to a new capital plan that will make Shell a more disciplined company.
Rather the cut the dividend, management plans to generate sufficient cash flow through 2020 using a mixture of divestitures and cost cuts, and by restraining capital spending. In the past when oil prices where high Shell and other oil majors spent heavily on exploration and production assets in pursuit of growth, and the competitive bidding for scarce resources undermined the returns they were able to generate. Now Shell is focusing on returns rather than growth, a decision that should create more value for shareholders in the long run than if the firm decided to maintain spending levels to acquire assets in preparation for the next cyclical upswing. Shell can afford to trim its capital budget because the company has a strong portfolio of long-term assets (approximately 40% of total assets) that it can exploit for years, lessening the need for incremental capex. This is largely thanks to last year's acquisition of BP Group, a UK natural gas company. The acquisition also gives Shell plenty of room to cut costs. Management expects the BG deal to result in $4.5 billion worth of operating expense cuts and reduced exploration expenditures by 2018.
Figure 1: Cash Flow Forecast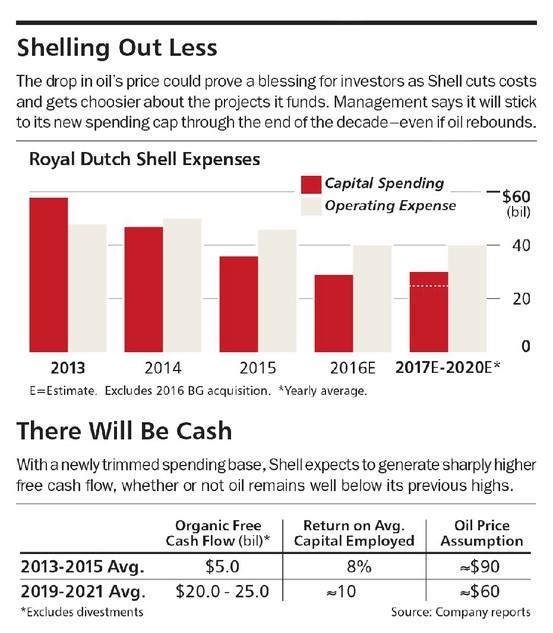 Source: Barron's
According to Shell, capex will come in around $25-$30 billion annually from 2017 to 2020. This represents at least a 36% decrease from 2014 levels. Shell expects that the combination of lower capex and cost cuts will lead to average free cash flows of $20-$25 billion per year by 2019 (compared to an average of $5 billion over the past three years), and that the company will generate an average ROCE of 10% (compared to a 3 year average of 8%). These projections assume an average oil price of $60, and while we don't think prices will reach that level for at least another year, the company can makeup any shortfall through divestitures. Management has targeted asset sales of $30 billion through 2018, with $6-8 billion likely to take place this year. Thus, even if oil prices stay at current levels, Shell will be able to afford the dividend.
Conclusion:
By focusing on higher returning projects, cutting costs, and selling underperforming businesses, Shell will be able to maintain the dividend even if oil prices don't recover. We think oil will remain in the $45 - $55 range over the next year and that the company will lean more heavily on asset sales in the short-term, but a return to $60 oil is realistic given the production cuts across the sector. Shares of Shell sold off after the latest quarter, and the dividend now yields 7.5%. While we expect weak oil prices to continue to weigh on earnings and the stock price in the short-term, Shell may be a decent choice for income investors.
Disclosure: I/we have no positions in any stocks mentioned, and no plans to initiate any positions within the next 72 hours.
I wrote this article myself, and it expresses my own opinions. I am not receiving compensation for it (other than from Seeking Alpha). I have no business relationship with any company whose stock is mentioned in this article.