There are times when the share price following an earnings release exhibits incredibly weird behavior. Western Asset Mortgage Capital (NYSE:WMC) just had one of those releases. In the second quarter, WMC declared Core EPS of $.30. This missed the consensus estimate of $.32 and failed to cover the dividend of $.31. Core EPS is also strengthened for WMC by adding back stock-based compensation expense. The mREIT sector has been split on whether to add this back, but I can find no economic reason for adding it back when the report is prepared for stockholders rather than bondholders.
How did WMC respond to falling short of the dividend and short of analyst expectations? They rallied 6.92%. Was it because WMC was trading at a worst of breed discount? Not a chance. The book value for Q2 was $11.01. Their close prior to earnings was $10.19. The price to Q2 book value was running 92.5%. After reporting earnings the shares closed at $10.89. The new price to Q2 book value is 98.9%. That gives them one of the strongest ratios among the hybrid mortgage REITs.
Is WMC Improving?
Western Asset Mortgage Capital is certainly improving, but that isn't enough to justify trading at a much higher valuation than most peers. Even after those improvements, I would consider WMC inferior to large mREITs such as Annaly Capital Management (NYSE:NLY) and Two Harbors Investment Corp. (NYSE:TWO). Those larger mortgage REITs offer better economies of scale which should improve the level of returns they can generate for shareholders assuming the same level of risk.
The biggest improvement I've seen at WMC doesn't come from their portfolio performance, though it was good in the second quarter. The biggest improvement was the way they present information. To highlight a couple slides from the investor presentation, I want to start with the corporate goals: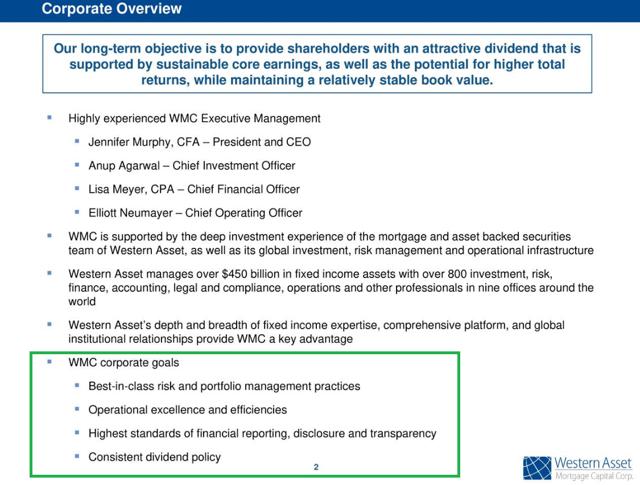 Click to enlarge
Those goals, highlighted by the green box, would be excellent things to achieve. It would also be a material change from what I'm used to seeing. I'll be rooting for WMC to get there, but their price to book ratios would make investors think that all those goals were already achieved.
Remember that investors are scorning other large mREITs with better histories in favor of buying WMC at a higher valuation.
Consistent with those goals, the latest presentation included the following slide: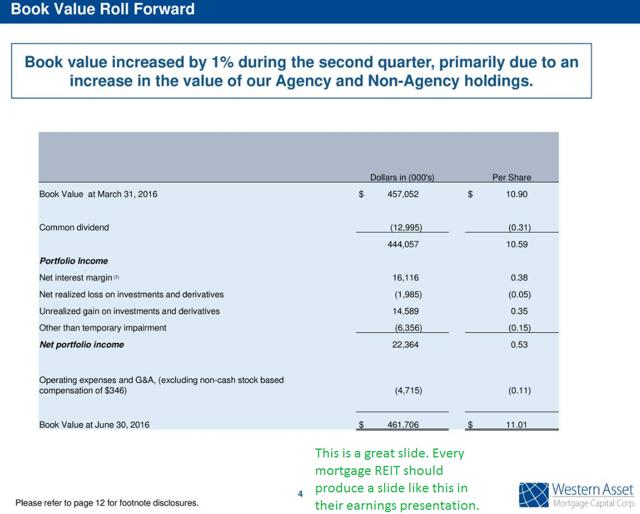 Click to enlarge
My additions are in green again. This kind of slide lets an analyst rapidly assess what was working and what was not working in the quarter. If WMC wants to be more transparent, this is a huge step in the right direction.
Swap Positions Maintained
While covering WMC one of the challenges I noted in estimating their BV was the frequent changes in the swap positions. Their swap positions at the end of Q2 were very similar to the swap positions at the end of Q1. Maintaining more consistency in their hedge portfolio is another way for WMC to improve transparency. If they simply want to influence duration some during the quarter, they could use TBA contracts to add or decrease their duration exposure. As it stands, WMC is already using the TBA markets. Their Core EPS figures included $.27 from core earnings excluding drop income and another $.03 from the drop income.
For investors that aren't familiar with drop income, it refers to the income generated from holding positions in TBA securities.
Conclusion
Western Asset Mortgage Capital is improving significantly, but their price to book ratio is absurdly high given the presence of much cheaper alternative options.
My view on WMC following this move higher is fiercely bearish. I'm placing a strong sell rating on WMC. Despite their large improvements, the price is simply too high when there are many other options available at much lower costs. Excellent performance is worthy of being recognized, but the price is simply too high.
Disclosure: I am/we are long MTGE, ZFC.
I wrote this article myself, and it expresses my own opinions. I am not receiving compensation for it (other than from Seeking Alpha). I have no business relationship with any company whose stock is mentioned in this article.
Additional disclosure: Information in this article represents the opinion of the analyst. All statements are represented as opinions, rather than facts, and should not be construed as advice to buy or sell a security. This article is prepared solely for publication on Seeking Alpha and any reproduction of it on other sites is unauthorized. Ratings of "outperform" and "underperform" reflect the analyst's estimation of a divergence between the market value for a security and the price that would be appropriate given the potential for risks and returns relative to other securities. The analyst does not know your particular objectives for returns or constraints upon investing. All investors are encouraged to do their own research before making any investment decision. Information is regularly obtained from Yahoo Finance, Google Finance, and SEC Database. If Yahoo, Google, or the SEC database contained faulty or old information it could be incorporated into my analysis.