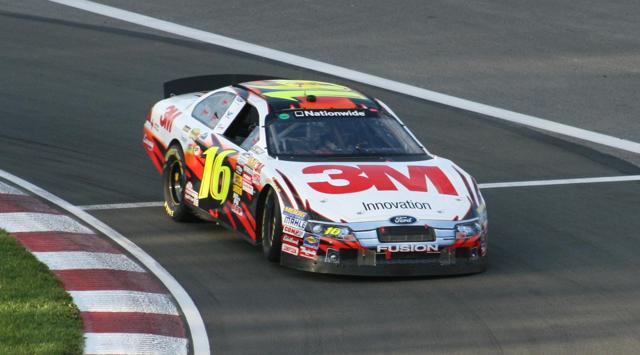 Click to enlarge
Diversification plays a key role in risk management for any investment plan as well as for running a company. If a company relies on income from just one segment of the economy, the economic cycles are felt especially hard in the bad times.
3M Company (NYSE:MMM) is a one-stop shop for diversification with 5 business segments that range across the economy: Industrial, Safety and Graphics, Health Care, Electronics and Energy, and the Consumer. 3M Company also gives global diversification, with 60% of 2015's sales being derived internationally.
The geographic and product diversification allows different segments of the business to zig when others zag. In other words, the business can continue to march forward more often than not even if some of the segments are going through a rough period.
Periodically, I like to re-analyze the companies that I own to update the valuation in order to determine if now is the time to make bolt on purchases.
How about that dividend?
As a dividend growth investor, one of the first things I examine is whether a company has consistently paid and grown the dividend payout. You'd be hard pressed to find many companies with a better track record than 3M.
Assuming the two remaining 2016 dividend payments are made, 2016 will mark a huge milestone for 3M. This will be the 58th consecutive year of dividend increases and also marks the 100th consecutive year of uninterrupted dividend payments. That firmly gives it the title of Dividend Champion.
Its streak is so impressive that there are only 7 companies on the U.S. stock market that have a longer streak of rising dividends. To say that 3M has shareholder friendly management would be an understatement.
The following chart shows the quarterly dividend payment from 3M Company since 1993.
Some companies can amass a lengthy dividend growth streak by just slowly inching their dividend higher year after year; however, 3M is not one of those. Over the last 10 years, the quarterly payout has increased by 141%. The following chart shows the 1-year, 3-year, 5-year and 10-year dividend growth rates from 2002 through 2016.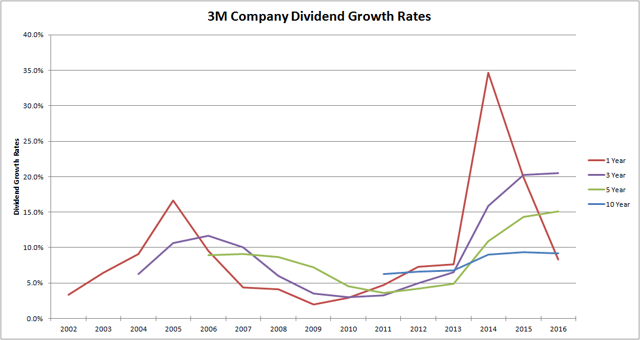 Year-to-year dividend growth has fluctuated wildly ranging from just 2.0% in 2009 all the way up to 34.6% in 2014. Looking at dividend growth over longer time periods smooths out the annual variations in dividend growth.
Not all of the dividend growth has come from growth in the underlying company, rather a rising payout ratio explains the huge jump in dividend growth in 2014 and 2015.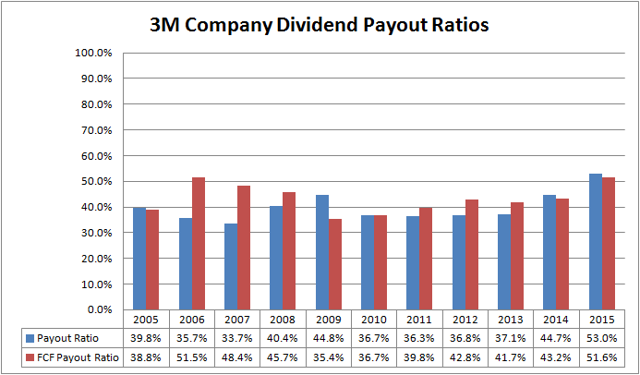 Click to enlarge
3M Company has clearly been a shareholder friendly company with a long history of both paying and growing its dividend. The lengthy dividend growth streak is impressive, but the most promising part is that the underlying company has been growing along with it. This has kept the dividend payout ratios at very stable levels over the last 10 years.
Historic Metrics
A consistently growing dividend is a great sign that the company is growing the right way.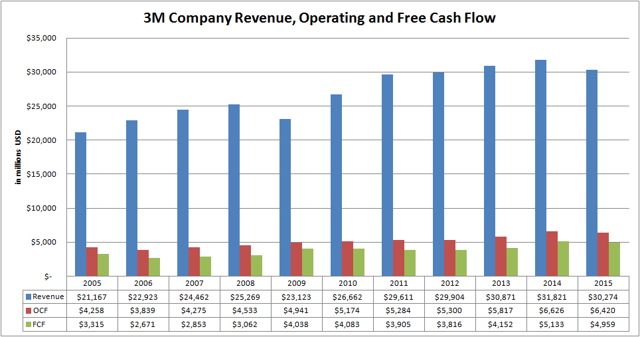 Click to enlarge
Product diversification is the reason that 3M Company has been able to grow revenues by 43% since 2005. Where the diversification really shows up is that 3M only has 2 years of revenue decline. One in 2009, which is understandable given everything that was going on, and the other in 2015, which saw a nearly 7% decline in revenues due to currency exchange.
I like to look at the rolling 3-year growth rates for revenue, operating cash flow, capital expenditures and free cash flow since I feel it gives a better representation of the track of the company.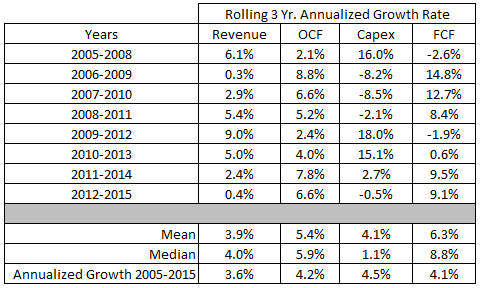 Operating and free cash flow has grown slightly faster than revenue meaning that margins for both have expanded slightly. If we adjust 2015's revenue for currency exchange, then the annualized growth for the entire period increases to 4.3%. All 4 metrics are moving in lockstep with each other which means management is getting the most from their capital expenses.

Click to enlarge
3M Company consistently generates strong operating and free cash flow margins. A cash cow company typically generates 5% free cash flow margins and 3M Company is routinely nearly triple that level.
Free cash flow is the life blood of a company. As such, I like to look at 3 variations of free cash flow to see how much free cash flow management has available at various steps in the capital allocation process.
Free Cash Flow, FCF - The traditional calculation of free cash flow of operating cash flow less capital expenditures.
Free Cash Flow after Dividend, FCFaD - FCF less the total amount of cash paid via dividends.
Free Cash Flow after Dividend and Buybacks, FCFaDB - FCFaD less net cash used for share buybacks.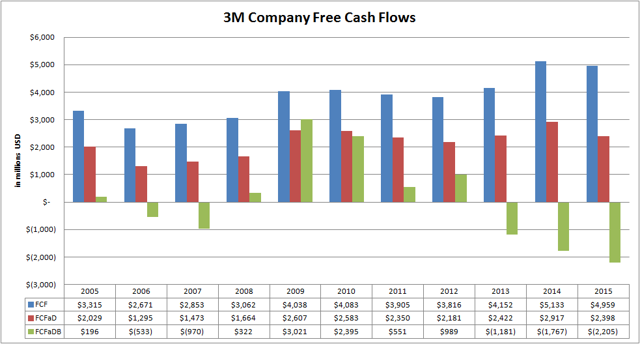 Click to enlarge
Ideally, you'd like to see a company be positive in all 3 free cash flow variations. If a company has positive FCFaDB, there's still excess cash flow that can be used to organically grow dividends, reduce debt or share count, increase cash on hand or fund internal/external expansion.
FCF and FCFaD have both seen solid growth and plenty of excess coverage. However, management has been rather aggressive with share buybacks over the last 3 years which partially explains the increase in debt levels over the same time period.
For 2013-2015, inclusive, 3M has been FCFaDB negative by a total of $5,153M. Over the same period, long-term debt has increased by a total of $3,837M. The rest of the difference has come from a reduction in 3M's cash balance. However, a bright spot is that FCFaDB from 2005-2015, inclusive, is a positive $818M.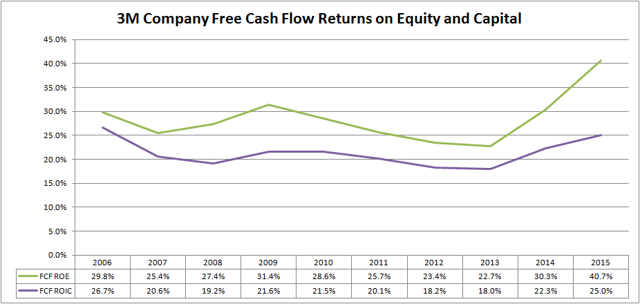 Click to enlarge
3M has generated truly outstanding cash returns on equity and capital. Cash returns on equity are skewed, though, due to the rather large increase in long-term debt. Long-term debt was only $1,309M at the end of 2005 and has since ballooned to $8,753M at the end of 2015.
Since the capital structure of 3M has been changing, the cash return on invested capital is a better measure of the cash generating abilities of the company. Have no fear, though, 3M has also earned impressive cash returns on invested capital routinely above 20%.
Just about everything we've examined points to 3M Company being a quality company that has great potential moving forward. However, I do have some concerns regarding the rapid increase in debt levels. Long-term debt levels have increase 6.7 times over from 2005 to 2015.
Equity levels have stagnated over that time, increasing only 16%. Management has been targeting a more aggressive capital structure which explains the increases in debt compared to equity. 3M is still conservatively capitalized, although this is something to keep an eye on in the future when management has to navigate the next downturn in the economy.
Valuation
I think there's no question about the quality of 3M the company; however, that doesn't automatically make it a good investment at this time. The reason we invest is to buy assets worth $1 or more when they're on sale.
MMM PE Ratio (TTM) data by YCharts
The market is currently pricing shares of 3M Company near the highest levels of the last 5 years for all 4 metrics. 3M Company's 5-year average P/E ratio sits at 17.7, 5-year average P/S ratio is 2.7 and 5-year average P/FCF is 15.6.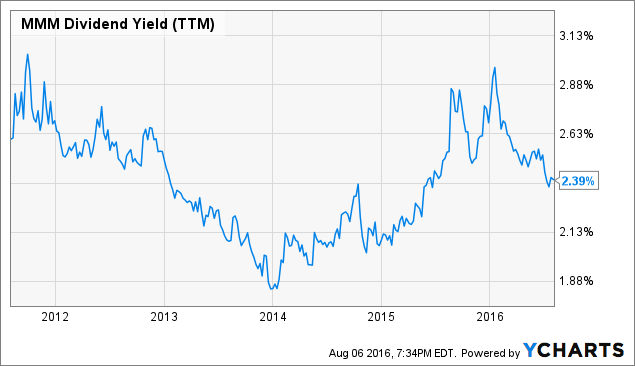 MMM Dividend Yield (TTM) data by YCharts
Only the dividend yield is trading on par with the 5-year average of 2.4%.
The relative valuation metrics all point to shares of 3M being overvalued or fairly valued. The valuation ranges from a 3% discount to a 37% premium.

I've also run through a discounted cash flow analysis using assumptions of 4.0% annual revenue growth and 2.0% capital expenditure growth through 2025. The perpetuity growth rate is assumed to be 3.0% per year.
Operating cash flow is generated at the low and high values of the 3-year, 5-year and 10-year averages. That gives a low operating cash flow margin of 18.9% and a high margin of 20.3%.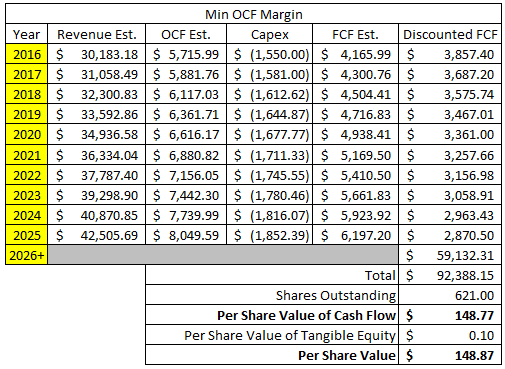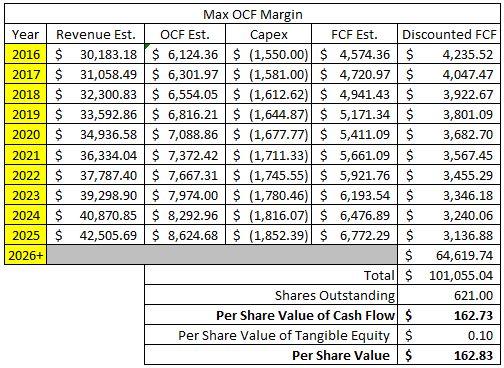 The present value of the future cash flows are calculated using an 8% discount rate/rate of return. Under these assumptions, the value of 3M Company's future cash flows range from $148.77 to $162.73, suggesting that shares are overvalued by 10-20%.
Unfortunately, adding in the per share value of tangible equity doesn't help much. At the end of 2Q 2016, equity levels were $11,894 M; however, in order to calculate the tangible equity, I had to back out the $9,356M of goodwill and $2,477M of other intangible assets. This gives a tangible equity value of $61M or $0.10 on a per share basis.
Conclusion
It's pretty clear that 3M Company is a wonderful company, of course, it kind of has to be because a company doesn't just stumble its way into 100 years of uninterrupted dividends and 58 consecutive years of increases. Unfortunately, the market recognizes this fact as well and is valuing shares at a premium.
Based on relative valuation metrics such as the P/E, P/S, P/FCF and dividend yield, 3M Company is at best fairly valued, but likely overvalued by as much as 37%.
The discounted cash flow analysis draws a similar conclusion with shares overvalued between 10% and 20% depending on where the long term operating cash flow margin ends up.
I've owned shares of 3M Company for nearly 2 years precisely because I deem it to be a high quality company. The problem doesn't lie in the company rather in the valuation that market is currently placing on the company. At this time I would not add more shares of 3M Company to my portfolio until the value and price relationship improves. When/if the share price declines to the low $150's then 3M Company would become attractive as an investment.
Disclosure: I am/we are long MMM.
I wrote this article myself, and it expresses my own opinions. I am not receiving compensation for it (other than from Seeking Alpha). I have no business relationship with any company whose stock is mentioned in this article.
Additional disclosure: I am not a financial professional. Please consult an investment advisor and do your own due diligence prior to investing. Investing involves risks. All thoughts/ideas presented in this article are the opinions of the author and should not be taken as investment advice. Information from this article was sourced from 3M Company's SEC filings. All chart/images presented in this article were created by the author unless otherwise noted.