On the first of March, I published an article wherein I advised people not to buy AK Steel AKS because of the debt situation and uncertain economic outlook. I could not have been more wrong.
I made two mistakes.
I underestimated the strength of the economy's rebound.
I underestimated AK Steel's ability to explode once the economy improves.
I corrected my mistake and bought AK Steel shares this week. In this article, I want to share my thoughts with you and the main reason why I bought the stock.
First of all, let's look at the ISM manufacturing index. The ISM index has been in a steady uptrend since the Q1 2016 bottom. AK Steel stock has exploded since then. If we look back, we see similar patterns - the stock gets absolutely demolished in times of slower growth and explodes once growth returns. Some rallies take longer, while some are short-lived. If the ISM index keeps rising, we will see a much higher stock price.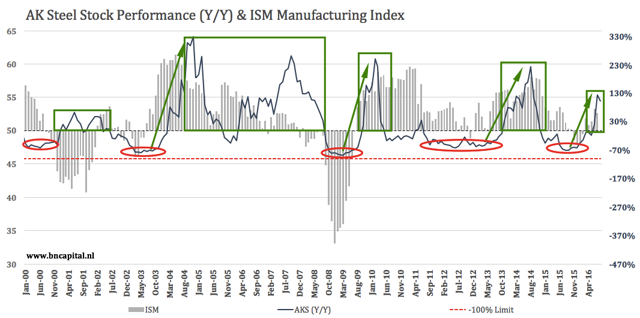 Click to enlarge
Iron and steel industrial production has rallied after crashing to 2009 lows in Q4 2015. Industrial production is following the ISM index very closely, which is a good sign. Iron and steel companies are not ignoring the upswing.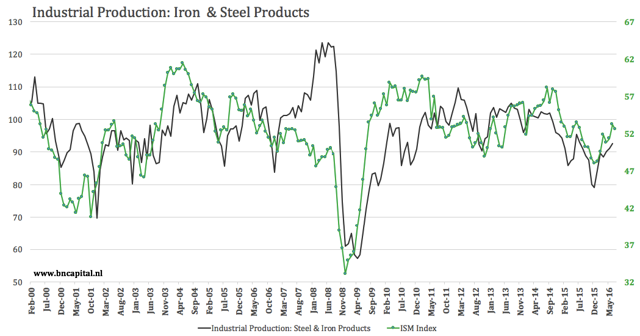 Click to enlarge
New orders of iron and steel mills are still at low levels. They should increase very soon to confirm the stronger outlook provided by the ISM index.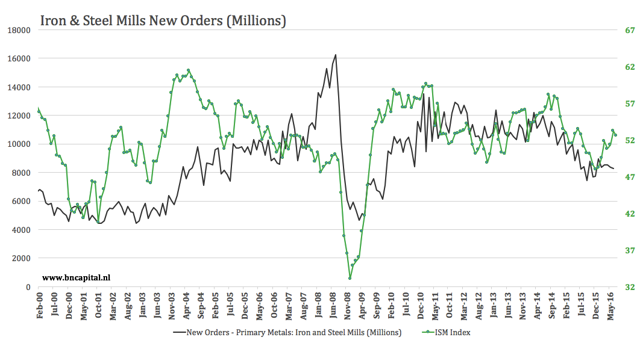 Click to enlarge
New orders are still contracting on a year-on-year basis. Note that contraction started in the third quarter of 2014, the exact moment when growth peaked.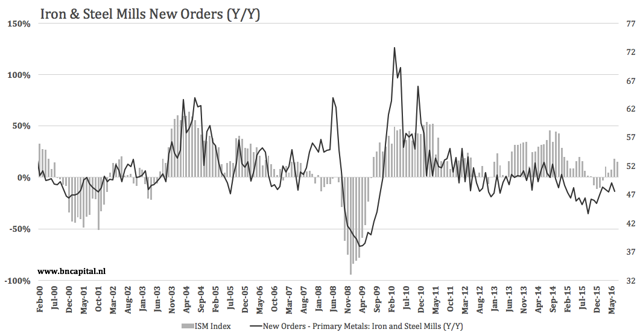 Click to enlarge
Capacity utilization of iron and steel companies has risen after hitting 66% in Q4 2015. Note the lower highs after the credit crisis.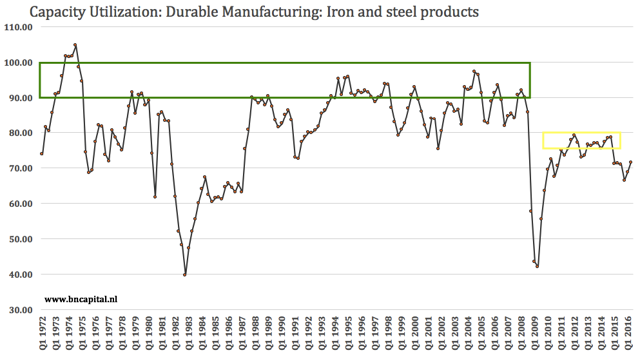 Click to enlarge
Free cash flow has hit fresh post-crisis highs in the second quarter of 2016. Note that AK Steel saw its first positive cash flow in 2015 after many years of negative cash flow.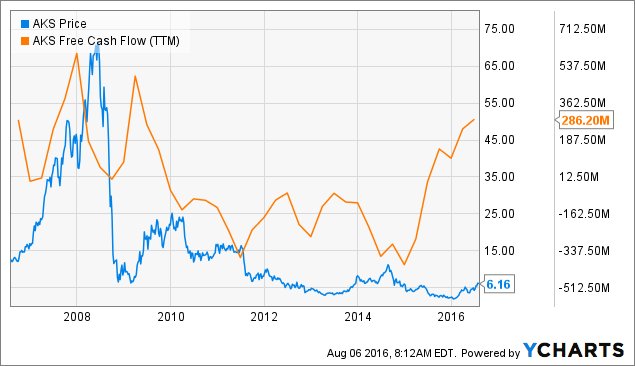 The most important bull case is doing quite well at the moment. The economy is doing better. In addition to that, we see that the iron and steel industry is picking up too. Although, it would be necessary that new orders go up too in the next few months.
On May 18th, the US raised import duties on Chinese steel by 522%.

Click to enlarge
Source: BBC
Although I'm a fan of free trade, I must say that I fully support the tax increase, since Chinese companies subsidize their own companies to an extend where it's impossible for US companies to compete.
It could be a coincidence, but the exact day the news of the tax increase was released marked a bottom in AK Steel stock price.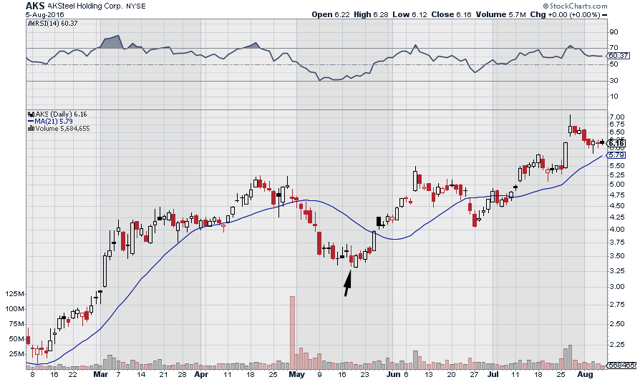 Click to enlarge
The good news continues. Four bonds are currently priced above $100. The other ones are all above $90.

Click to enlarge
Source: Morningstar
Most bonds that currently close at $100 got totally killed in the downturn after 2014 - bonds had yields way above 30%(!). The current bond rally is impressive and a sign of confidence and strength.
AK Steel's long-term debt is currently 49.3% of total debt. The current ratio is at 1.75, while the interest coverage ratio is at 1.31 (below 1.50 is considered to be critical).
The good news of AK Steel's leverage is that the stock is a rocket in terms of economic expansion. On the other hand, it gets slaughtered once growth vanishes. This supports the first graph of this article.
I am long AK Steel, as I mentioned before. However, the entire fundamental macro part of this article is also applicable to US Steel (NYSE:X) and Alcoa (NYSE:AA).
Keep in mind that AK Steel is highly volatile. Play it safe when you go long. Don't take too much risk.
Many thanks for reading my article. I hope you enjoyed it. Feel free to leave a comment below if you have questions or remarks.
Disclosure: I am/we are long AKS.
I wrote this article myself, and it expresses my own opinions. I am not receiving compensation for it (other than from Seeking Alpha). I have no business relationship with any company whose stock is mentioned in this article.