First, I'll admit it was erroneous for me to state in my earnings preview article that higher crude oil prices and stronger natural gas prices in June (versus weak Henry Hub pricing during most of Q2 2016) would boost Chesapeake Energy Corporation's (NYSE:CHK) cash flow generation relative to Q1. I was wrong, as Chesapeake Energy's operating cash flow moved lower to $176 million in Q2 compared to $263 million in Q1 due to weaker realized natural gas prices outweighing the favorable impact of higher crude prices.
There are reasons to believe that Chesapeake's cash flow streams will move higher in Q3 as the full impact of Henry Hub's rally is felt, which I will get into below, but it's important to note that Chesapeake Energy is still not generating enough cash flow to cover its expenditures. Chesapeake spent $456 million on its capital expenditures last quarter, which included $63 million of capitalized interest.
Including the impact of hedges, Chesapeake Energy realized $44.31/barrel of oil, $12.88/barrel of natural gas liquids, and $1.97/Mcf of dry natural gas, equivalent to $16.43/BOE, in Q2 2016. Compare that to $37.74/barrel, $11.44/barrel of NGLs, and $2.29/Mcf of dry natural gas, which was equivalent to realizing $16.93/BOE, that the company fetched in Q1 2016 and it's apparent its realized prices didn't receive a material boost from WTI rebounding (hedges played a big role as well). Around 75% of Chesapeake's production streams is dry natural gas, making Henry Hub, not WTI, the biggest influence on its ability to generate cash flow.
Below is a graph that helps highlight why there are reasons to expect Chesapeake Energy's cash flow to materially improve during the third quarter of this year. Since June, Henry Hub spiked up from under $2/Mcf to almost $3/Mcf. While America has seen its operated oil rig count rise over the past six consecutive weeks, the number of operated natural gas rigs fell by five last week to 81. Considering how America's natural gas sector is based on domestic fundamentals due to export constraints and massive amounts of low cost supply warding off most imports of natural gas (except in certain regions), having the natural gas rig count stay below the ~100 level even after a bounce in Henry Hub is a big positive.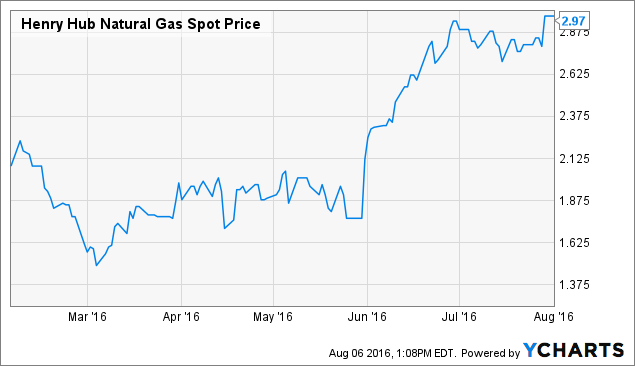 Henry Hub Natural Gas Spot Price data by YCharts
Other ways Chesapeake is seeking to bolster its cash flow streams is by continuously cutting costs. The firm's G&A and LOE cost per BOE produced has fallen down to $4.07/BOE in Q2 from $4.14/BOE in Q1 and $4.64/BOE in Q4 2015. For the full year, the upstream player aims to bring down its G&A and LOE cost per BOE to $3.90-$4.30 compared to $5.17/BOE last year. Bringing down ongoing operating costs is one of the few levers Chesapeake can pull that, for the most part, it is in control of.
Divestiture update
When companies don't have a lot of liquidity and need to raise cash to service upcoming debt maturities, they turn to asset sales to make ends meet. Chesapeake Energy noted that it had received $964 million (after closing adjustments) this year in cash from divestitures, and raised the amount the company expects to pocket for the rest of the year. An additional $106 million is being withheld until certain conditions are met, and the company expects to receive the majority of that this quarter.
Those deals are a big part of why Chesapeake has a chance to avoid bankruptcy, but keep in mind, some of those proceeds have gone to reducing the complexity of the company's balance sheet. Chesapeake has been buying back volumetric production payments at advantageous prices. During Q2, Chesapeake bought back four VPPs for $259 million and now has only two remaining. One of those is in the Mid-Continent and the other is in Kentucky and West Virginia, with both of those VPPs not ending for several more years.
From Chesapeake's 10-Q:
A VPP is a limited-term overriding royalty interest in oil and natural gas reserves that [I] entitles the purchaser to receive scheduled production volumes over a period of time from specific lease interests; [ii] is free and clear of all associated future production costs and capital expenditures; [III] is non-recourse to the seller (i.e., the purchaser's only recourse is to the reserves acquired); [iv] transfers title of the reserves to the purchaser; and [V] allows the seller to retain all production beyond the specified volumes, if any, after the scheduled production volumes have been delivered.
Not having to shoulder those four burdens anymore, especially in the current pricing environment, is a major boon for Chesapeake Energy.
Before its latest update, Chesapeake guided to sell off $1.2 billion-$1.7 billion in assets that could either fetch a good price, like its Meramec divestiture for $470 million, wasn't going to be developed anytime soon, or small pieces of its massive holdings, such as the sale of Chesapeake's remaining Western Anadarko Basin acreage for $385 million and the divestment of an extensive non-operated royalty portfolio for $128 million. After its Q2 update, Chesapeake is now aiming to sell $2 billion in assets this year, leaving room for another $1 billion cash infusion as it continues shedding assets.
Haynesville update
One of those assets is part of its Haynesville shale acreage position. In Q3, Chesapeake spent $87 million to increase its working interest in the natural gas play to 83% and to add 70,000 net acres to its portfolio. During the company's Q2 conference call, management noted (emphasis added):
After the acquisition we completed in July, we currently have approximately 430,000 net acres in the Haynesville and are looking to sell approximately 150,000 net acres of that position. While we know there is substantial value to be created with the evolution towards longer laterals, higher frac density completions and cost efficiencies going forward, we will retain a position where we have hundreds of locations remaining to be drilled by Chesapeake after the planned disposition. The acreage we are looking to sell includes approximately 95 million cubic feet a day of production."
At first, the purchase of the additional Haynesville acreage seemed very out of place with what Chesapeake Energy needs to do, until factoring in the second part of the plan. Chesapeake will still retain a 280,000 net acre position in the Haynesville shale, giving the company plenty of optionality when pursuing a sale. The Haynesville play is heavily weighted towards dry natural gas, with a small amount of NGLs production and a minimal amount of oil output as well, making the recovery in natural gas prices key to fetching a decent price.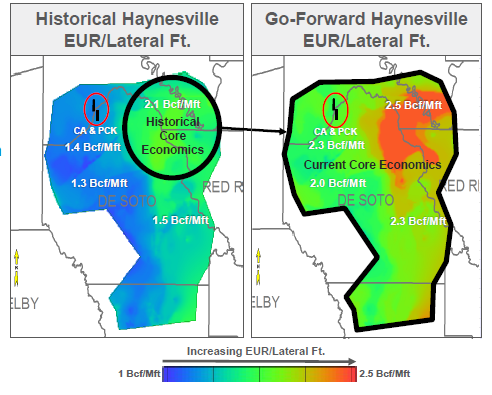 Source: Chesapeake Energy Corporation Earnings Presentation
Two analysts at Citigroup (NYSE:C) see Chesapeake fetching as much as $1.25 billion for 150,000 net acres in the Haynesville - cash that would be very welcome. It depends on what part of its position Chesapeake wants to sell, but a deal of this size is very important to note. Even if Chesapeake raises around $650 million-$850 million, that cash will go a very long way in making paying off its 2017 maturities possible.
There is an interesting parallel that can be drawn from Chesapeake's sale of its core Meramec position in the STACK region and the potential sale of some of its Haynesville operations. Before Chesapeake Energy announced it was selling off its Meramec asset, management and investor relations put a lot of effort towards hyping up the positive attributes of the Meramec play. Every presentation, every earnings update, every conference call repeatedly mentioned Chesapeake's promising Meramec program and what was being done to get more and more out of the emerging oil-rich shale play. Then the company sold 42,000 net acres in the STACK region (which houses the Meramec shale) for $470 million.
During this earnings cycle, Chesapeake devoted a lot of real estate in its prepared remarks, conference call, and its earnings presentation to the Haynesville. I would speculate that management is trying to showcase how recent developments, including 10,000-foot laterals and far more intensive completion designs, have fundamentally changed the play (at least to some degree, but management is going to paint a very rosy picture that will be a tad too bullish) in order to woe over possible buyers.
This could also be seen as a sign that Chesapeake is serious about selling off part of its Haynesville operations and is actively laying the groundwork for a future sale. While divestiture targets are nice, they mean little if there isn't a logical way to reach those numbers. Chesapeake Energy appears to want to communicate that there are more sales in the works and investors should expect another major cash infusion, especially with its 2017 maturities on the horizon.
The Haynesville's economics is underpinned by ample natural gas takeaway capacity and access to markets that allows upstream operators to fetch prices close to Henry Hub (compared to the sharp differentials and midstream constraints in the Marcellus/Utica area). Below is a look at how Chesapeake's incremental well economics has improved over time assuming a flat $3/Mcf natural gas price realization.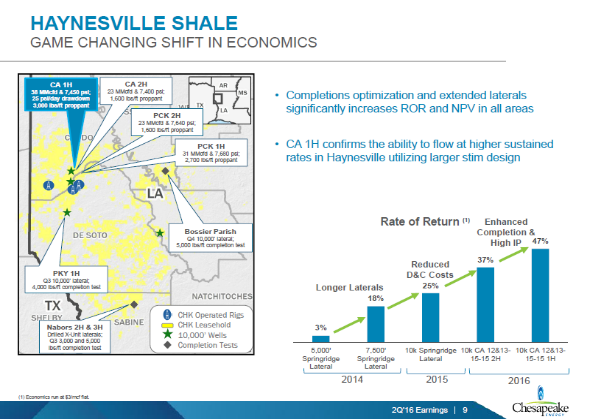 Source: Chesapeake Energy Corporation Earnings Presentation
On a realistic level, the Haynesville shale play has undergone some major transformations that makes it far more interesting in the face of ample supply out of the Marcellus/Utica region. Doubling the length of well laterals, cutting drilling/completion times, locking in lower third-party rates, cheaper labor costs, and major improvements in well productivity have significantly bolstered Haynesville well economics. However, this is a region that needs a $2.25-$2.50/Mcf+ Henry Hub environment in order to be compelling, which could move lower through continued operational gains. The company is currently running three rigs in the play.
Possible midstream relief
Another thing worth keeping in mind is that Chesapeake Energy has hefty minimum volume commitments in the Haynesville shale play and elsewhere that forces the embattled upstream player to keep production at elevated levels or pay significant fees. Management was coy but noted that Chesapeake was still in the process of bringing down its midstream burden, and this deal may be part of that plan.
Back in September 2015, Chesapeake Energy Corporation was able to reach an agreement with Williams Companies (NYSE:WMB) to reduce its midstream rates in the Haynesville and Utica shale plays by a material amount and change up the terms of its MVCs. In return, Chesapeake pledged to turn 140 "equivalent wells" online in the Haynesville by the end of 2017, dedicated another 50,000 net acres in the Utica to Williams Companies, and entered into an MVC in the Utica that starts in the middle of 2017. Chesapeake has one rig in the Utica currently operating to meet that requirement.
That was followed up by additional reductions of Chesapeake Energy's midstream rates in the Eagle Ford, Barnett, and Haynesville plays in February 2016.
Chesapeake Energy's midstream deals are very lucrative for its partners, but Williams and others are well aware of the immense amount of financial stress the upstream operator is under. That is why they were willing to play ball, it's better to help out Chesapeake than risk losing those deals in the event of Chesapeake going under.
In order to keep up the momentum, Chesapeake could offer increased levels of Haynesville activity and/or the amount of dedicated acreage to its midstream partners in return for some more relief. Another possibility is Chesapeake offers the company that buys part of its Haynesville operations some of the capacity of its midstream agreements, which would reduce the required volumes from CHK's producing assets to meet its MVCs. This avenue would only make sense if the buyer was planning on running a rig or two in the area in the near to medium future.
There is also the chance that Chesapeake tries to unload some of its midstream burden onto the entity acquiring its Haynesville acreage, which is a concern for potential buyers and would weigh negatively on the purchase price. Plenty of unknowns but also plenty of avenues for Chesapeake to alleviate itself from some of its biggest liabilities. Management didn't say much on the conference call about the issue but did end with:
I (Robert Lawler, CEO of CHK) just will address your question by saying that we expect to see continued improvements in those transportation costs and continuing to work with Williams and other midstream service providers, and I'm excited about it. So, it's good things are coming."
Final thoughts
While the market shrugged at Chesapeake Energy Corporation's Q2 2016 earnings, it would become exuberant in the event of another major asset sale. Chesapeake will have to work with its creditors, specifically those backing its revolving credit line, in order to sell off its Haynesville acreage. As long as a good chunk of those proceeds goes towards paying off Chesapeake's ~$1.4 billion in debt due next year, then I would assume a deal would be looked at favorably.
Beyond the Haynesville, Chesapeake Energy Corporation brought up how the possible sale of its Barnett shale operations could be feasible if someone were to offer a decent price. In response to a question as to what Chesapeake had in store for the Barnett shale after halting drilling activity in the play, its CEO commented (emphasis added):
The Barnett has been a great asset for Chesapeake. It's a high quality asset as the investment community knows. It has not attracted capital in the near term. And based on the quality of a few of the other assets, we have a hard time directing capital there in the next few years. So that given, we will continue to look at the portfolio, our acreage position of developed and undeveloped properties. And if there's opportunities to accelerate value, enhance the economics, enhance the EBITDA or cash flow of the company, we will absolutely capture that. So that not only applies to the Barnett, it applies to the entire portfolio."
There were a ton of other updates in Chesapeake Energy Corporation's second quarter earnings release that I will get to in future articles. Now that Chesapeake Energy has secured its revolving credit line for a few more years, the next phase of its debt management process entails continuing its divestiture program without running afoul of its covenants.
Chesapeake Energy Corporation was able to bring the principal on its outstanding debt down from $9.7 billion at the end of 2015 to $8.7 billion at the end of June 2016. $518 million of that came from a reduction in its 2017 maturities (including putable debt), bringing its 2017 debt wall down to just under $1.4 billion. As a shareholder, I would be a lot more at ease in the event Chesapeake Energy Corporation is able to raise another $1 billion this year through the sale of some of its Haynesville acreage or another asset.
While the firm still has its $4 billion revolving credit line that was drawn by $100 million at the end of Q2, there were $813 million letters of credit posted against the facility. $461 million of that stems from a "supersedeas bond supporting the company's appeal of the judgment issued in 2015 with respect to the company's 2019 Notes litigation." That brings down Chesapeake Energy's access to liquidity to around $3.1 billion - enough to cover its probable outspend and to service its 2017 maturities, but not enough to let investors sleep at ease. A positive ruling would be extremely bullish, but shouldn't be counted on.
Chesapeake Energy has been able to turn cash raised from its divestitures into a cleaner balance sheet with the removal of four VPPs and a significant reduction in debt, now it's time to keep up the pace. Overall, I personally saw this earnings update as mixed with most of the pros still just tantalizingly out of reach. Chesapeake Energy Corporation is moving in the right direction and Q3 holds more promise, but more needs to be done. A major asset sale might just do the trick, for now, and sharply higher Henry Hub prices shouldn't be discounted.
Disclosure: I am/we are long CHK.
I wrote this article myself, and it expresses my own opinions. I am not receiving compensation for it (other than from Seeking Alpha). I have no business relationship with any company whose stock is mentioned in this article.