The SPDR S&P 500 Trust ETF SPY added 0.5% last week and hit a new all time high.
The stock market has followed the ISM index perfectly. At this point, it looks like growth is priced in. The ISM index should soar at least 1 point to justify this valuation going into the next month.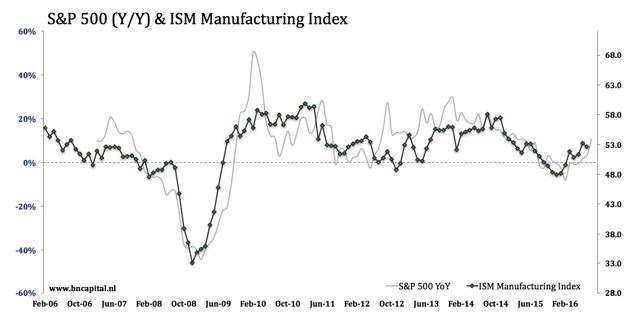 Click to enlarge
As you can see, the ISM Index has done quite well after being below 50 for five consecutive months.
One of my favorite indicators of the economy shows that there is more strength to come. lumber prices have been in a steady uptrend since February of this year.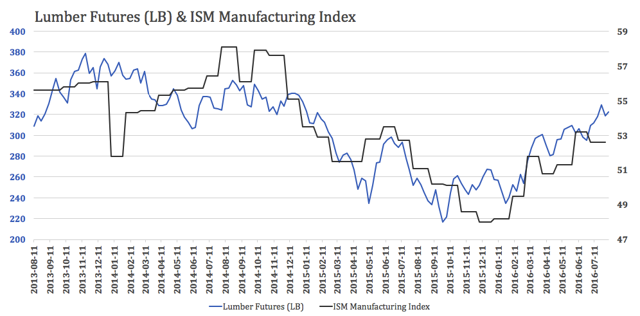 Click to enlarge
The long term graph shows that lumber has predicted ISM tops and bottoms on a regular basis. Lumber tends to be a perfect indicator for short term economic cycles.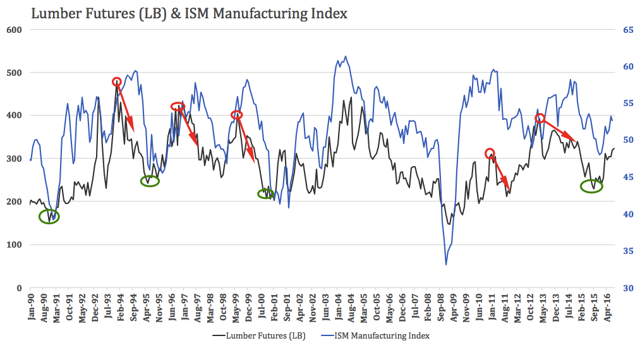 Click to enlarge
The biggest problem is that GAAP earnings are not rising despite rising leading indicators. Earnings have been down consistently after 2015.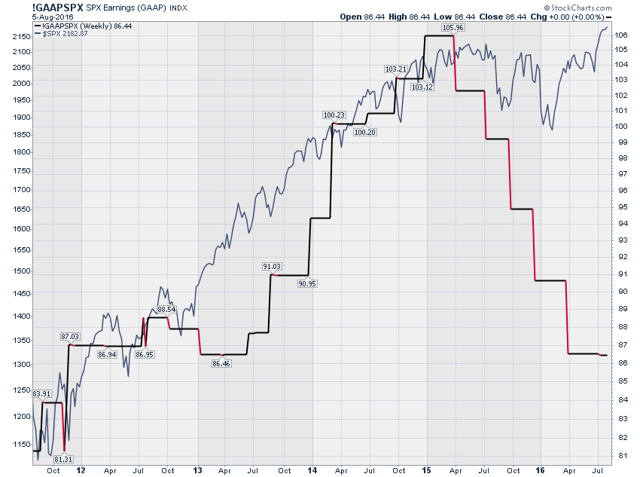 Click to enlarge
Sales are up 0.6% while earnings are down more than 4%. Note that only 182 companies reported earnings so far.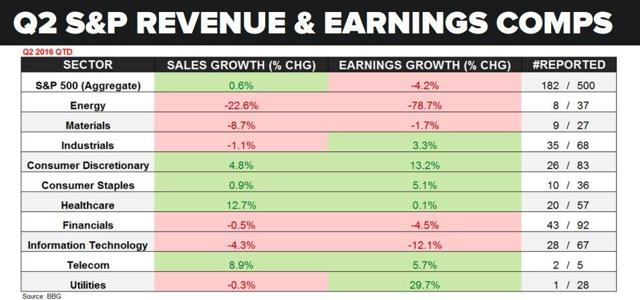 Click to enlarge
Source: Hedgeye
We are currently in a time where indicators signal growth while real lagging indicators are still lower. So what is the solution? Growth or contraction? The question can be answered by saying that leading indicators are what moves markets and the economy. In this case probably later than sooner.
Until the point where earnings recover, we will see a continuous multiple expansion. The bad news is that stocks are not 'cheap' at P/E 25.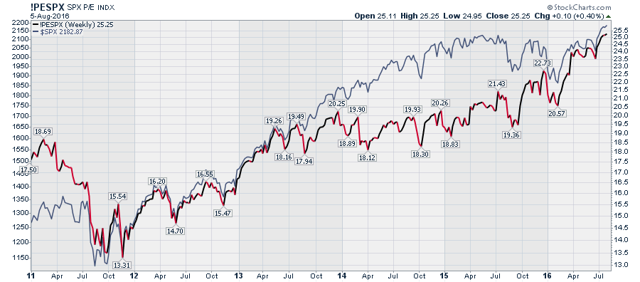 Click to enlarge
The graph below shows the S&P 500 bullish percent index. This index shows the percentage of technical indicators that give bullish signals. The index has been around 85 for many years until growth started to slow in Q3 of 2014. The index should go higher to confirm the signals given by the ISM Index. This would be bullish for stocks.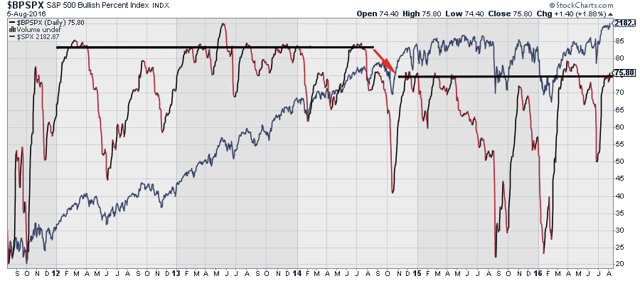 Click to enlarge
When it comes to willingness to take risk, measured by sentiment indicators, we see further gains. The graph below shows the ratio spread between consumer cyclicals and consumer staples. Both started a strong uptrend in July.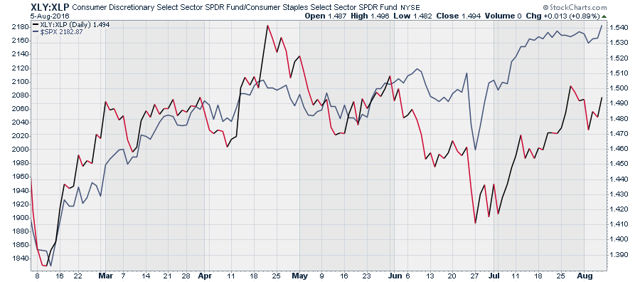 Click to enlarge
Junk bonds are showing a strong pattern too. Most of the times, junk bonds predicted stock declines. This time we see stock gains as well as higher junk bond prices. A strong sign since junk bonds have broken out of a downtrend in February of this year.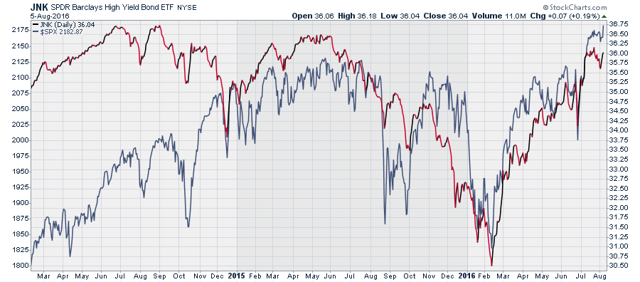 Click to enlarge
The current situation gives us strong leading indicators and a high probability of an extended growth period. The bad news is that lagging indicators like earnings are still down. That adds to the risks of bullish trades. The trend however is up and momentum is strong. I am adding to bullish trades because I trust leading indicators and can sell my trades any time once the trend turns.
So this article is not an endorsement to go full ham on stocks. The bull case is strong and the odds of successful short positions are extremely small. I expect stocks to gain even if this means that multiples are going to increase even further.
Thank you for reading my article, feel free to leave a comment if you have questions or remarks.
Disclosure: I/we have no positions in any stocks mentioned, and no plans to initiate any positions within the next 72 hours.
I wrote this article myself, and it expresses my own opinions. I am not receiving compensation for it (other than from Seeking Alpha). I have no business relationship with any company whose stock is mentioned in this article.