This revisit updates my initial look at Arbor Realty (NYSE:ABR) May 3, 2016 article,"Arbor Realty: A View From The Perspective Of A Preferred Investor"
Although it is my hope that you will read the entire article, for which I have provided the link above, my bottom line assessment and buy recommendation at the time was as follows:
My bottom line decision is to look at charts of the past few years performance of the company's common shares, coupled with whether or not said company is, over time, prospering or losing market value. Ultimately, I have to decide how safe this company is from an existential standpoint rather than how well its share price will perform over the next quarter or the following year. Ultimately I must decide whether or not I believe in the long-term survivability of ABR, which I do. My advice is simply my opinion, and you know what they say about opinions and how everyone has one. It's your money, invest it with care. As a bonus for being a patient audience, I worked out the math below, which takes into account today's prices, although they might change tomorrow and accordingly the best choice might change. You know the formula, it might be wise to do the math prior to placing your bid.

| | | | | | |
| --- | --- | --- | --- | --- | --- |
| Symbol | Yearly Dividend | Cost | Dividend/Cost | Yield | Best |
| ABR-A | 2.0625 | 24.65 | 2.0625/24.65 | 8.37% | |
| ABR-B | 1.9375 | 22.85 | 1.9375/22.85 | 8.48% | |
| ABR-C | 2.125 | 24.35 | 2.125/24.35 | 8.73% | Best |

Notice, the cost price was taken from the 5/2/16 market close. In the above, best is questionable. Although C offers the best yield, the B offers the greatest upside if and when called. However, because B's coupon rate was the lowest at 7.75%, it's unlikely that it will be called first, more likely last, consequently, the C Series offers the best effective yield and, in my opinion, the best buy.
Let's take a look at the current pricing of the three preferreds, followed and the three month chart of its commons. As I write, 8/6/16:
ABR Preferreds 8-6-16

| | | | | | |
| --- | --- | --- | --- | --- | --- |
| Symbol | Yearly Dividend | Price | Dividend/Price | Yield | Best |
| ABR-A | 2.0625 | 25.63 | 2.0625/25.63 | 8.05% | |
| ABR-B | 1.9375 | 25.44 | 1.9375/25.44 | 7.62% | |
| ABR-C | 2.125 | 25.75 | 2.125/25.75 | 8.25% | Best |
Because these preferreds are priced above par, it's necessary to know when they are callable. A is callable 2/21/18: B 5/9/18: and C 2/25/19. Consequently, when and if called, the holder at these prices stands to lose respectively 0.63, 0.44, and 0.75 on the A, B, & C preferreds. A detail I advise you to be conscious of.
At this time I'd like to include the Senior Note that ABR offers, not because it's the best buying opportunity, but I feel it my duty to inform my readers of all the opportunities to invest in this company. Consequently, I have attached a screenshot of this offering for your inspection, along with my opinion as to why or why I would not purchase it.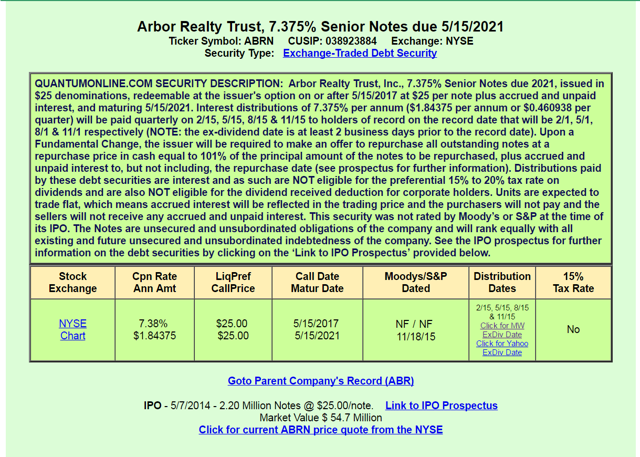 Click to enlargeAlthough this Note matures 5/15/21, it is callable in less than a year 5/15/17, which means at $25.48, you could lose 0.48 if it's called. However, in the event of bankruptcy it stands to be paid in front of any of the above preferreds. It carries no favorable tax rate because all are not eligible to receive the 15% tax rate. And because its current effective yield 1.84375/25.48 = 7.24%. I personally don't think it's a good buy for the promised added security, which at this time is only a remote possibility.
Now let's review the commons: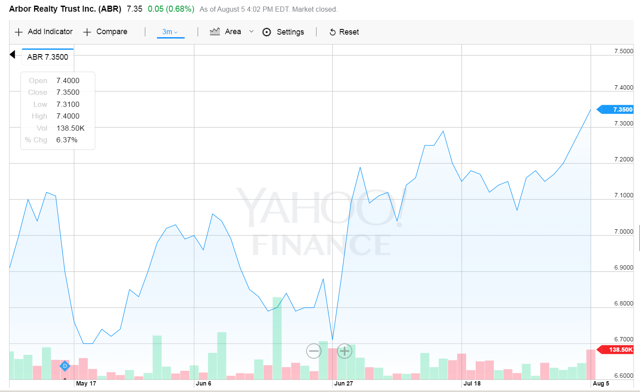 Click to enlarge
According to the above Yahoo three month interactive chart, ABR commons moved up from $6.91 on 5/6/16 to its present $7.35, a 0.44 price jump. Also, during this time it paid a 0.16 dividend on 5/31/16. Although both the preferreds and commons were profitable investments, the preferreds were more profitable during this time frame.
Now for a little forward guidance:

Click to enlarge
According the Finviz summary of ABR's financial highlights: This company valued at $379.19 million has earned $32.0 million on 138.01 million in sales and is up a nice 23.05% for the year. In my opinion, this company is built to last, and I would have no problem considering making an investment in its preferreds at this time, although I am wary of buying any preferred above par value. However, I reiterate that the C Series is currently best, not only because of yield, but because it has the latest callable date.
As for the commons, you know my feelings and they remain unchanged. I am not a sophisticated enough investor to feel comfortable prognosticating whether or not they will move up or down from here; consequently, I don't invest in commons.
Because this is an update I will not go into the details of their latest conference call and financial statement beyond mentioning that it was a productive and profitable quarter. Here I provide a link to the transcript of the conference call for those interested.
For those of you inclined to follow up on my past reviews, I list them below and provide the links to each review.
Disclosure: I am/we are long GSL-B, NRF-B, AHT-E, GST-A, CMRE-C, CMRE-D, PPHMP, NM-G, NM-H, SB-D, CYS-B.
I wrote this article myself, and it expresses my own opinions. I am not receiving compensation for it (other than from Seeking Alpha). I have no business relationship with any company whose stock is mentioned in this article.
Editor's Note: This article covers one or more stocks trading at less than $1 per share and/or with less than a $100 million market cap. Please be aware of the risks associated with these stocks.