Last quarter, Disney (NYSE:DIS) missed earnings for the first time in 2 years. The company also missed revenue estimates, and the stock sold off sharply as a result. The stock has continued to trend downward into the Q3 ER which is due this coming week. While the stock is cheaper now than it was going into the Q2 ER, we think the estimates are slightly bullish to fair and don't see much upside as movie tailwinds fought park headwinds.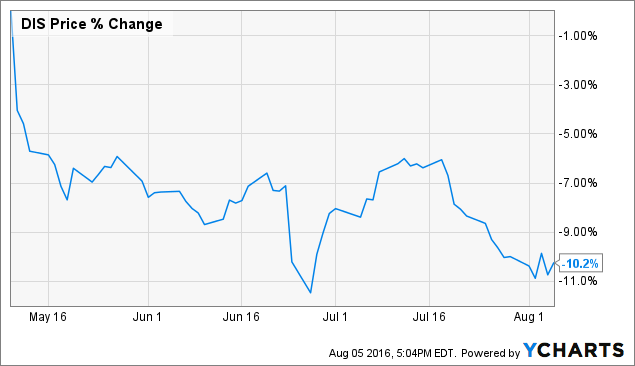 Below, we breakdown our expectations for Q3 by segment.
Media Networks: We think numbers here will be better than expected. During the quarter, ABC shifted its content focus to reality and game shows. This bold move resulted in rating spikes. Moreover, Time Warner (NYSE:TWX) reported good numbers recently and while Fox's (NASDAQ:FOXA) numbers were okay, but Cable and TV revenues were up. Revenues in this segment were flat last quarter for DIS, and we think they will be slightly up this quarter. The comp is much easier (+5% Q3 lap versus +13% Q2 lap) and the ABC content shift implies slight sequential upside.
Parks & Resorts: Despite Shanghai Disney's opening, we think numbers here will be disappointing. Shanghai Disney launched toward the end of the quarter, and while this certainly boosted topline results, investors should note that it will have minimal impact on profits. CEO Bob Iger said on the recent CC that it will take some time for Shanghai Disney to contribute to profit due to start-up costs. In his own words, Shanghai Disney will walk before it runs. Q3 is certainly part of the walk phase, so we aren't expecting big numbers yet. Moreover, Disney World, which was already seeing traffic track down last quarter, likely had a dismal end to Q3 due to an alligator attack on-premise and an Orlando mass shooting. The high number of recent terrorist attacks also doesn't bode well for the Cruise business. To support this, Royal Caribbean (NYSE:RCL) reported fairly ugly results recently. Moreover, the Easter holiday shift weighed on results in the quarter. Management said that this resulted in a $90 million shift in operating income from Q3 to Q2 and that booked rates were trending down 2% as of early May. Overall, while we think the topline got a much expected Shanghai Disney boost, we think other, more discrete events in the quarter weighed on results outside of Shanghai. We expect these numbers to be disappointing.
Studio: We are expecting pretty good numbers from this segment. Finding Dory was huge with a $470 million domestic gross, making it the biggest film of the year thus far, while the latest Captain America installment brought in almost $410 million domestically. The Jungle Book was a surprise hit with a $360 million domestic gross. Alice Through the Looking Glass, though, was a complete flop, grossing less than $80 million domestically. Overall, we expect strong YoY growth rates from the Studio segment as the company is comping against a 3Q15 which featured a second Avengers movie ($460 million domestic gross) and a surprise hit with Inside Out ($360 million), but not much else (Tomorrowland was less than $100 million). Overall, we expect pretty strong numbers here.
Consumer Products: This segment saw revenues fall 2% last quarter as Star Wars and Frozen merch continued to decline. Without any catalyst, Star Wars and Frozen merch sales likely continued to decline. We think revenues continued to decline here in the low single-digit range.
The consensus estimate calls for 8% revenue growth. That is on top of 5% growth last year and an acceleration from last quarter's 4% revenue growth. The acceleration is likely a result of high Shanghai Disney expectations and strong box office results, but these growth catalysts already seem mostly priced into the estimate. We are generally worried that headwinds generated from the Easter shift, an alligator attack, and multiple terrorist attacks around the world are not fully priced into the estimate given the call for accelerated growth.
While the valuation is cheaper now than it was going into the Q2 ER, DIS still isn't an attractively valued stock. The stock is trading 15.6x forward earnings on earnings that are projected to grow a mere 5.7% next year. This sort of discrepancy implies significant valuation risk on an ER miss.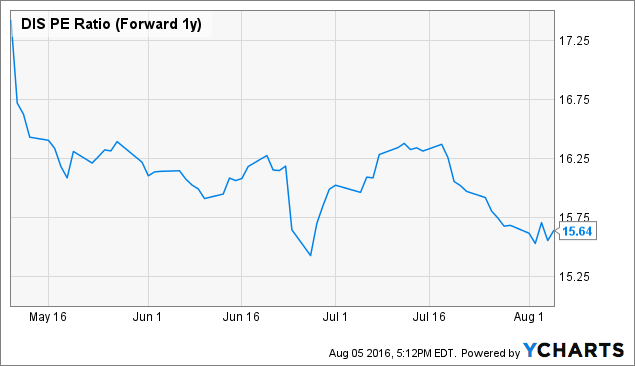 DIS PE Ratio (Forward 1y) data by YCharts
We think DIS had an okay quarter, with Studio tailwinds battling Park headwinds. It seems to us that the Street is over-estimating Shanghai's impact on the quarter while overlooking other discrete events which weighed on results during the quarter. The valuation remains unattractive, and thus we think investors should stay away from DIS this earnings season.
Disclosure: I/we have no positions in any stocks mentioned, and no plans to initiate any positions within the next 72 hours.
I wrote this article myself, and it expresses my own opinions. I am not receiving compensation for it (other than from Seeking Alpha). I have no business relationship with any company whose stock is mentioned in this article.