In my previous article on General Electric (NYSE:GE), I pointed out how falling revenue could spur GE management to - once again - cut the company's dividend. Today, I wish to look at some other important factors that should affect your decision as to whether to continue holding GE. But first, allow me to answer two lingering questions from the last article.
The first question concerns the dividend's rebound. Recall that GE cut its dividend during the financial crisis. In my last article, I showed how the company was regrowing the dividend to pre-financial crisis levels.
The question follows:

Indeed, the current dividend is not yet at its pre-2008 levels. Nor did I say it was in the last article. My previous article was less about the dividend and more about the dividend payout - i.e., the possibility of GE cutting its dividend.
Here is the chart to which I referred: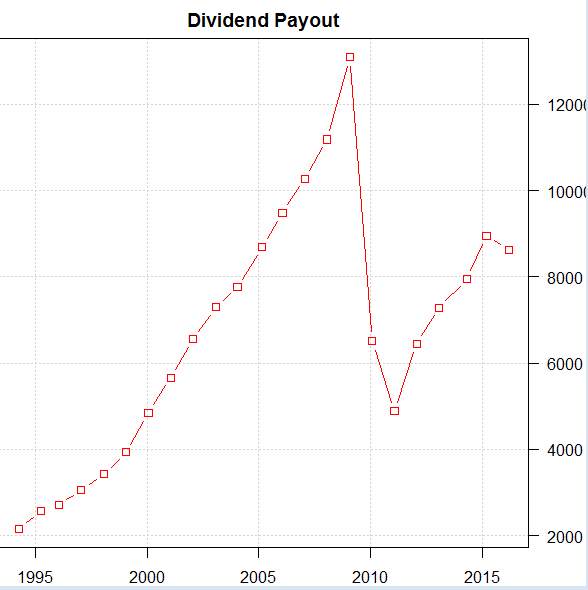 If the dividend payout continues to grow, so will either the dividends or outstanding shares. But if the dividend grows without regard to the actual company revenue, GE might be forced to cut its dividend. This is why we must pay attention both to dividend payout and to revenue: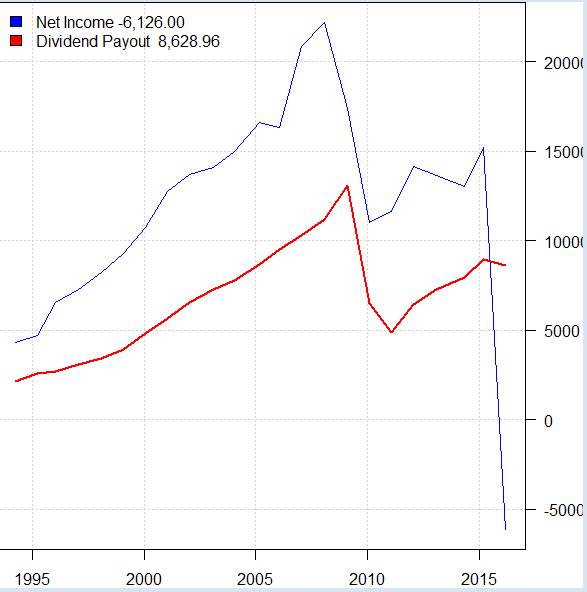 Second, simply because I think it should be addressed, is the following: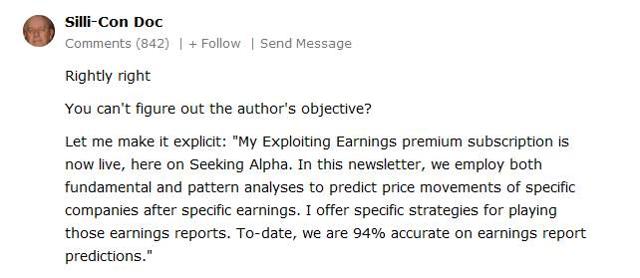 Click to enlarge
Disliking the analysis can lead you to two places: finding evidence that the analysis is incorrect or looking for bias in the author. I do not hold nor short GE stock, nor has my newsletter here on SA addressed GE. My newsletter is focused on short-term trades over earnings reports and is likely inappropriate for dividend investors, the type of person who would be reading a dividend analysis article on GE; the boilerplate promotion at the end of my articles has no relation to the actual analysis within the article.
That said, let's dive into another analysis on GE. I argue that GE is a dangerous stock to hold over periods in which the dividend might be cut (or not raised). We seem to be approaching such a danger.
I point you first to Exhibit A: The trend of GE stock with regard to the dividend. Like many dividend growers, the stock growth follows the dividend growth: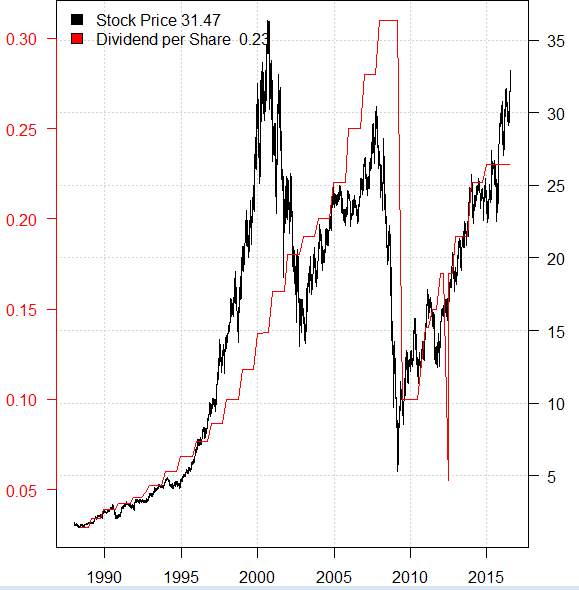 Only once had the stock growth gotten out of hand: during the 90's tech bubble. At that time, we saw overvaluations never before seen in the US market, with Cisco (NASDAQ:CSCO) stock showing a forward valuation that implied the company to be worth more than the entire US's GDP. Market correlations drove GE up past its dividend, but the stock soon resumed its trend of following dividend growth.
For another example of how dividend growth can drive stock growth, consult my study on stocks that double their dividends.
As you can see from the chart above, GE has gotten ahead of the dividend. History has shown that this is a poor time to buy, as the stock is overvalued with regard to the dividend. The reason for this recent divergence could be a relative dearth of reliable dividend growth stocks, pushing investors into GE despite the overpricing.
Another important predictor of future stock growth is EBITDA/EV. This ratio has been shown to be perhaps the only reliable value factor in predicting future stock prices. Unfortunately for GE, it says only bad things: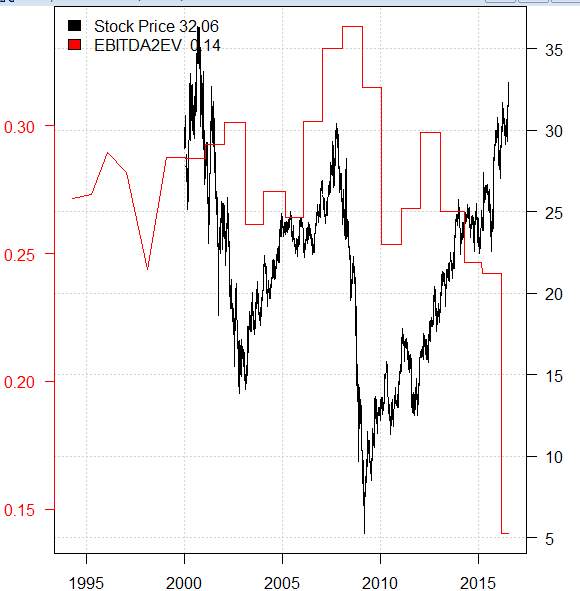 As we see from the trend of EBITDA/EV vs. the stock price, it is not the value of EBITDA/EV but the directional movements that predict stock price. So what does it tell us now, with a drop of magnitude never before seen in GE? If anything, this fundamental ratio should be another warning sign of at least a correction in the price of GE stock.
Moving forward, I would advise caution. For many companies, it only takes a single catalyst to drive a selloff. And for GE, August appears to be a historically risky month:
Not only that, but when GE falls, it falls hard. The last financial crisis not only corrected the stock price but also caused GE to cut its dividend, putting further downward pressure on the stock price. From this viewpoint, GE is riskier to hold than the SPY during a bear market: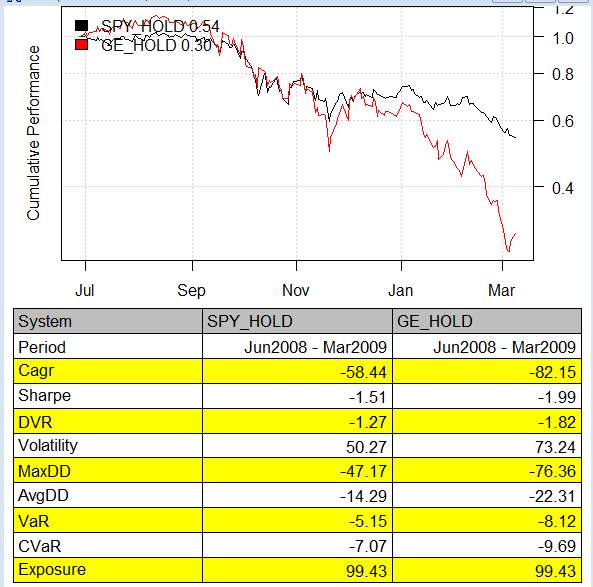 Overall, with GE's creative accounting, increasingly expensive dividend payouts, and the additional indicators of a significant price correction, GE investors should proceed with caution. This does not mean you must sell, but at the very least you can buy protective puts. If you're after the dividend, this might be the best "option" to hedge your downside.
Learn More about Earnings
Exposing Earnings - my earnings prediction newsletter - is now live, here on Seeking Alpha. In this newsletter, we employ both fundamental and pattern analyses to predict price movements of specific companies after specific earnings. I offer specific strategies for playing those earnings reports. To date, we are 94% accurate on earnings report predictions.
Disclosure: I/we have no positions in any stocks mentioned, and no plans to initiate any positions within the next 72 hours.
I wrote this article myself, and it expresses my own opinions. I am not receiving compensation for it (other than from Seeking Alpha). I have no business relationship with any company whose stock is mentioned in this article.