Up until the scandal, Valeant (NYSE:VRX) had been getting a pass for ignoring GAAP accounting since the company was highly acquisitive. Now that the whole jig is up, old language such as "Cash EPS" is no longer being used in press releases as the management re-shifts focus to GAAP. That being said, the new and more widely accepted language, adjusted EPS, is essentially the same thing. With 11 adjustments, it can be dizzying. I propose two simple metrics that will tell a much more compelling story.
Revenue Growth
Surely it doesn't get simpler than that! It's simple, but the story behind it is very important. Specifically, we should be looking at the growth of Dermatology sales. It's not the biggest segment, but it has the most potential for improvement after a terrible Q1.
In the first quarter, Dermatology revenue almost halved year over year, dropping from $400 million to $229 million. This also represented a sequential decline from Q4 2015's revenue of $323 million. However, the management indicated that a recovery seemed to be underway, as demonstrated by rising dermatology prescriptions towards the end of Q2. This will set a higher bar for Q2 earnings.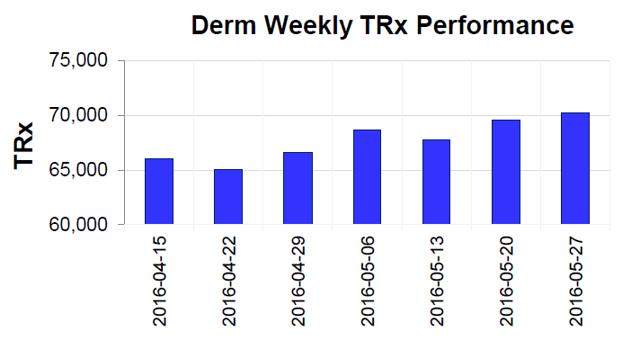 Source: company presentation
Getting Dermatology revenue back on track is particularly important because Jublia's exclusivity will end in 2019, so Valeant needs to grab as much cash and as many loyal users as possible before competitors flood the market with cheaper alternatives, which will pressure sales even further.
While the management has vowed to fix the problems, they've provided no useful guidance. Take the following excerpt from Q1's presentation regarding the plan to improve Dermatology sales:

Source: company presentation
A whole lot of buzz words, but no real plan. Given the above, I do not have any expectation of a miraculous rebound.
Gross Margin
While top line growth will tell us about how receptive the public is towards Valeant's products, we still need to pay attention to whether higher turnover will add value. Year over year, Q1's gross margin declined from 76.11% to just 73.45%. 266 bps don't look like much, but this in fact accounts for $249 million of annual gross profits. The year-over-year decline also implies that the management will have to offset gross margin losses by pushing sales, which are already suffering as mentioned earlier.
The reason I believe that gross margin should be emphasized over operating margin is because the company is still restructuring, and there could be cost-overruns in the short term. Gross margin is the foundation on which the company can build profitability. If this foundation continues to crumble, I believe that it would be exceedingly difficult for the company to make a comeback.
Gross margin should also be viewed in conjunction with revenue growth, as it is possible that the management will push top-line growth by sacrificing gross margin. While under typical circumstances, such a strategy could work as prices can be raised later, with massive price hikes being pretty much taboo in the industry, higher revenue growth in exchange for lower margins cannot be healthy for the company over the long term.
Also, let's not forget that Walgreens (NASDAQ:WBA) seems to have no qualms about earning money at the expense of Valeant. If Valeant's sales increase through Walgreens' unprofitable relationship, then shrinking gross margin coupled with higher sales can only mean bad news, as nothing will be gained.
Conclusion
Valeant will be under heavy scrutiny tomorrow, but investors should not be too caught up in any EPS figures as there are simply too many moving pieces. Instead, I believe that investors would do well by evaluating the two succinct metrics discussed above, as they can effectively capture the big picture.
On a final note, if you are holding Valeant in hopes of a buyout, I believe that you should reconsider (read Valeant Will Not Be Sold).
Click the "Follow" button beside my name on the top of the page to be updated with my latest insights. To learn more about the V20 Portfolio, whose goal is to compound capital at 20% over the long term, I encourage you to read the introduction to my investment process. Premium subscribers get full access to the V20 Portfolio.
Disclosure: I/we have no positions in any stocks mentioned, and no plans to initiate any positions within the next 72 hours.
I wrote this article myself, and it expresses my own opinions. I am not receiving compensation for it (other than from Seeking Alpha). I have no business relationship with any company whose stock is mentioned in this article.