The summer brings back childhood memories for all of us; those hot lazy days when our to-do-list consisted of skimming rocks off the sheen waters of a local lake and traversing the boardwalk of the town beach, where arcades and ice cream stands were daily stops. And if we were lucky, we'd stumble upon a summer crush; a romance so perfect, we were convinced life couldn't get any better, and the summer would last a lifetime.
We're witnessing one of those summer crushes, between the equity markets and the Fed. Just as we all know, summer crushes are as ephemeral as the August sunsets over white sandy beaches, so too are financial market crushes.
At some point, we have come back to reality. At some point, liquidity and volatility have to return. And that reality is in the form of hedge funds and Wall Street firms whose employees return to their posts after Labor Day. Once they get acclimated to the 5-day working world again, they will begin to digest the market events over the last few months, and kickstart the end of the year with a bang. And that's when risk and volatility return to the markets.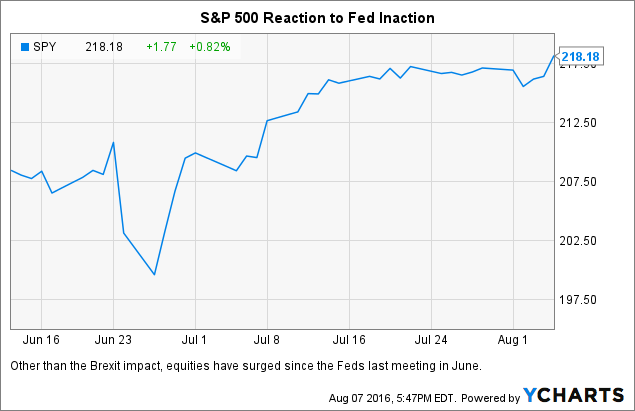 As we can see from the chart, the S&P 500 has enjoyed a summer bounce thanks to the Fed's decision to hold off hiking rates in June and despite the Brexit referendum, equity markets have maintained their bullishness.
So the question we all need to be answered is: Will the Fed continue its romance with equities? Or will it end with broken hearts and damaged brokerage accounts? For answers, let's take a look at what the Fed has been telling us.
The Feds Forecast:
Most market participants expect only one Fed hike by the end of 2016, while others expect no action until after the new year. However, if you take a look at the Dot-Plot from the Fed website, you'll see the majority of Fed officials are still forecasting two hikes this year.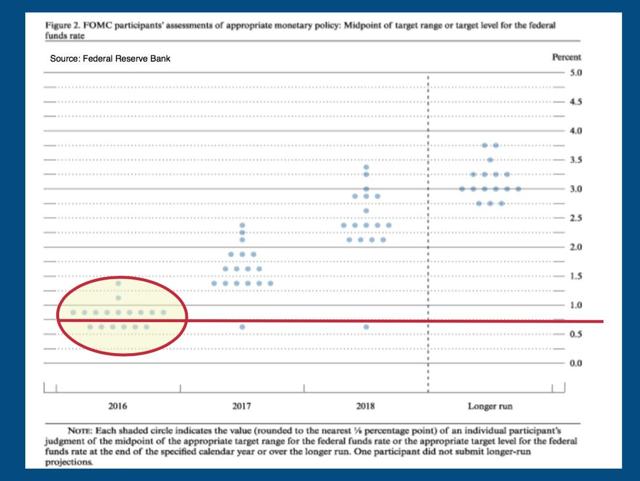 As we can see from the Dot Plot graph, there are nine dots or officials expecting interest rates to be near 1% by year-end. This would imply two 25 basis point hikes with just three Fed meetings remaining in 2016.
As a result, the September Fed meeting is a critical one. In the coming weeks, we're likely to see Fed-speak either maintain their hawkish forecasts or adjust their expectations to a more dovish stance.
Fed officials could signal a possible hike in September and leave the door open in December. These hawkish remarks might be their strategy if their goal is to prevent equity markets from surging into overinflated territory.
If Fed officials are going to change their forecast and the Dot Plot, look for any dovish Fed-speak centered around economic uncertainty, geopolitical risks, and the strong dollar.
If the Fed doesn't hike in September, why can't the Fed hike 50 basis points in December? Since after all, two hikes would allow the Fed to reach their year-end forecast. For an answer, all we have to do is refer to what Janet Yellen told us in the last Monetary Policy Report:
"With regard to participants' projections of appropriate monetary policy, the median projection for the federal funds rate rises only gradually from 7/8 percent in 2016 to 1-5/8 percent at the end of 2017." - From the Fed Monetary Policy Report (NYSE:MPR) issued on June 21, 2016.
Notice the word, "gradually." The Fed can not achieve their objective of gradual hikes with a 50 basis point hike in December.
As a result, here's what to look for:
If the Fed maintains their forecast and their gradual pace, we should see a 25 basis point hike in September and one in December. This result would be equity bearish.
If the Fed does not hike in September, regardless of how hawkish Yellen's remarks are following the meeting, the market will perceive the lack of action as dovish and a guaranteed worst-case scenario of only one hike in 2016. This result would be equity bullish.
Going forward, look for any dovish Fed-speak leading up to the September meeting. If you refer to the Dot Plot graph again, you'll notice there are nine dots close to a 1% Fed funds rate forecast. If the Fed plans to hold off hiking rates in September, we would need to see several officials downgrade their forecast by 25 basis points in the coming weeks. Again, this could give equity bulls reason to cheer.
For a more detailed look as to why the Fed could be dovish, please refer to my earlier article:

Regardless of how equity markets are performing today; as summer comes to a close; volatility and risk will reappear. And in the coming weeks and months, we'll find out how strong the relationship is between the equity markets and the Fed.
Disclosure: I/we have no positions in any stocks mentioned, and no plans to initiate any positions within the next 72 hours.
I wrote this article myself, and it expresses my own opinions. I am not receiving compensation for it (other than from Seeking Alpha). I have no business relationship with any company whose stock is mentioned in this article.