By Scott Tzu
We'd be far more concerned about new regulatory issues in Japan that threaten 7.7% of Amazon's net sales instead of irrelevant jet.com pairing with Wal-Mart (NYSE:WMT), a company Amazon (NASDAQ:AMZN) has just rapidly left in the dust in market cap terms.
What a busy weekend for Amazon.com it was. Of course, we are not talking about the business itself, which likely did have a busy weekend. We are talking about on the public relations and business operations front for the company.
For those that have missed it, Wal-Mart is going to be buying jet.com for $3 billion in an attempt to strengthen its ability to compete with Amazon. But that isn't even the news that we are the most concerned with. Competition is natural, jet.com and Wal-Mart both represent a very small fraction of Amazon's total sales, and we consider this merger of sorts to compete as part of an already expected playbook by traditional retailers.
The news that we are the most concerned about this morning is news that Japan's fair trade commission is opening an investigation into Amazon.com's practices in Japan. Actually, the news from overnight wasn't just that an investigation was conducted, but rather that offices were "raided". Reuters from Tokyo reported,
Japan's Fair Trade Commission has raided the offices of Amazon.com Inc's local unit on suspicion of pressuring retailers to offer products at lower prices than on rival sites, the Nikkei business daily said on Monday.

The paper, which cited unidentified sources with knowledge of the case, did not say when the raid took place.

A Japan Fair Trade Commission spokesman said he could not confirm the report but added: "I won't say the contents are incorrect."

An Amazon Japan spokeswoman declined to comment.

Amazon Japan's website booked net sales of $8.3 billion last year, equivalent to 7.7 percent of Amazon.com's worldwide net sales. By comparison, main rival Rakuten Inc (4755.T) recorded e-commerce revenue in Japan of 263.9 billion yen ($2.9 billion) in the same period.
Why is Japan such a big deal when compared to the potential effects of Wal-Mart acquiring Jet? Amazon does 7.7% of its net sales in Japan and we would consider the risk of losing a portion of the sales far greater than potential risk of having some business cannibalized by Wal-Mart and jet.com.
Amazon is already competing with jet.com. Amazon is already competing with Wal-Mart, and surpassing it by leaps and bounds.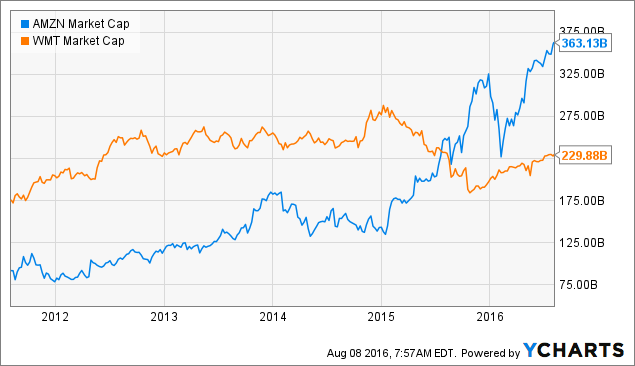 AMZN Market Cap data by YCharts
The teaming up of these two entities will probably give them somewhat of an edge, but we don't see it make a material difference to Amazon at this juncture. A partial or total interruption of a geography where you do 7.7% of your net sales is a very different story.
Antitrust concerns are a big deal that could potentially wind up costing the company billions of dollars if they are not sorted out in a timely fashion and in a manner that the Japanese government approves of.
jet.com, on the other hand, is running a model that is very similar to Wayfair (NYSE:W). This is one reason we don't worry about it infringing on Amazon too much. It is an unprofitable online sale start up that has notoriously spent many millions of dollars in advertising to quote by its business quote. TechCrunch reported,
Since its launch, the company had grown furiously, but its growth was coming at a steep price. According to the report in Recode the company was spending $20 million to $25 million on marketing to fund its growth.

Indeed, Jet.com's CEO even noted at the time that the fundraising environment for his company had become "tough". And the company's own public statements indicated that it wouldn't be reaching profitability until at least 2020.

Even as Wal-Mart latches on to Jet - and its superstar e-commerce CEO - as a potential savior for its online sales woes, it may be looking in the wrong direction.

As our own Sarah Perez reported last year, Jet has not made much of a dent in Amazon or eBay sales.
Some anticipate that jet.com on its own would not have been profitable until after 2020. As a part of Wal-Mart, synergies may be realized that may allow it to become a profitable asset for the retailer in a little bit of a quicker fashion.
We are not Amazon shareholders, but if we were we would make sure that we are paying far more attention to this regulatory issue that has popped up out of nowhere instead of worrying about Wal-Mart's acquisition of jet.com.
The Japanese regulators hold the key; they pretty much have fair game to do whatever they like and while Amazon has been able to keep them happy this far, the unanticipated and forthright manner which this investigation "raid" was announced has us keeping a close eye on further developments.
We'd be far more concerned about new regulatory issues in Japan that threaten 7.7% of Amazon's net sales instead of irrelevant jet.com pairing with Wal-Mart, a company Amazon has just rapidly left in the dust in market cap terms.
Disclosure: I/we have no positions in any stocks mentioned, and no plans to initiate any positions within the next 72 hours.
I wrote this article myself, and it expresses my own opinions. I am not receiving compensation for it (other than from Seeking Alpha). I have no business relationship with any company whose stock is mentioned in this article.