Checking in on the Annuity-Replacement Simple-Six
At the end of last November I followed up on a Thanksgiving Day postprandial conversation on the subject of retirement income. The premise was: Can a naïve investor, one whose interest in managing investments is near zero, generate retirement income to match an annuity with a simple, set-and-forget portfolio? The trigger was a recent retiree's interest in securing reliable income with no drama at the 6.5% level or so. Something she was planning to do with an annuity.
I'm not going to try to get into the pros and cons of annuities here. I really don't know enough about annuities to venture into those waters. But at the time I felt one could to better: get stable income at the same level and not give up any hope of income growth through retirement. As a thought exercise, I had a go at it. I came up with a Pick-Six portfolio I thought could work. Some of the choices where really just off the top of my head and I certainly didn't recommend them for her at the time. I don't give advice in any case. I laid those thoughts out here: "Can We Build A Simple Retiree's Portfolio With Yields Like An Annuity?" The article generated a lot of discussion and some excellent alternative ideas. People still comment on it.
It was a recent comment there that revived my thoughts on the subject, so I thought I'd take a quick detour from my current line of articles to revisit the question. The choices at the time were six holdings, equal-weighted, with one-year's income equivalent held in cash. The holdings were:
Let's start with a look at how things have fared over the past nine months. True to form, one should have expected the unexpected. AT&T soared. HCP sunk and then floated back up. Chevron picked up a bit. PDI has had a marvelous run and ETV has continued its steady as she goes income-generation. HQH, which I called the most problematic at the time, has been the laggard as biotech went all Humpty Dumpty on us.
Here's total return from Dec. 1, 2015.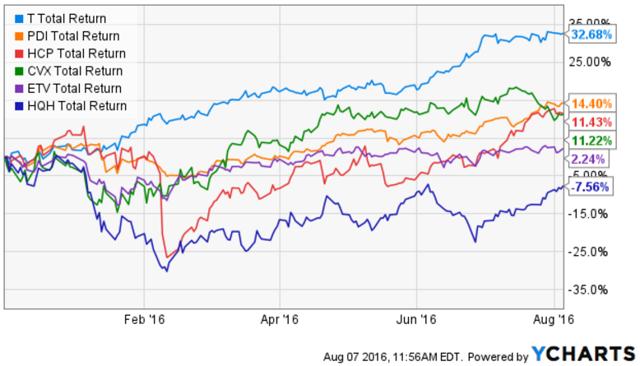 Click to enlarge
Portfolio Value
Assuming an opening value of $100,000 with one-year's worth of the targeted 6.5% annual income set aside as cash (or cash equivalent, of course), the invested value was $93,500, with $15,583.33 invested in each of the six positions.
Using opening prices on Dec. 1, 2015, to start the exercise and closing prices for last Friday, Aug. 5, 2015, the current value would be $97,387.49 -- a 4.16% increase. Not bad for an unsteady nine months.

Click to enlarge
Portfolio Income
Four holdings pay quarterly; the other two pay monthly. I've calculated income here on a nine-month basis and annualized it by dividing by 0.75. At the three-quarter mark, the portfolio has already achieved its targeted annual 6.5% due to PDI's spectacular year-end special distribution which was the equivalent of nearly 10 months' distributions. It's on track to generate 8.82% income (based on entry value) for the year ending in November.

Click to enlarge
Performance
So far, admittedly early in the game, our hypothetical retiree is quite pleased. She's beaten her annuity's target income and even seen a bit of portfolio capital growth. If she's paying attention, and I am sure she will be despite her avowed total disinterest in markets and investments, she's been thrilled by AT&T and a bit disheartened by HQH. Somewhat ironic that, because when I came up with this it was with the thought that AT&T would be the Steady Eddie of the bunch and HQH would be a source of growth.
Going Forward
I'm not going to change anything here. It would go against the premise set at the onset. Nor do I think anything is screaming for a reset. I may look back in a couple of months or so and see how it's fared for the first full year and consider an annual reset.
If I were starting this again today, I would, of course, make some changes. Some of these have become a bit overvalued for a new buy. T is, for me at least, the prime example although there are those who would argue that such is not the case. It would not be easy, however, to replace its dependable 4.5% income with a comparable substitute.
HQH has, in my view, a better alternative in today's biotech/health science space. That would be its young sibling, Tekla Healthcare Opportunity (NYSE:THQ), which has a managed distribution policy and pays monthly. Not necessarily a better alternative for all objectives, but better for this portfolio's goals. And THQ with its -9.4% discount is considerably better-valued for a buy right now.
I might look for something other than HCP as well. I'd welcome opinions as it's not something I've given much thought to yet. Something in the REIT space is important for a project like this and it should be something with a yield, and a history of dividend growth, at least as good as HCP's 6%. It's that set of requirements that makes me inclined to stay with HCP.
I'd probably not buy into ETV today as it is also overvalued in my opinion and has been stalling a bit lately as well. Maybe Nuveen Dow 30 Dynamic Overwrite Fund (NYSE:DIAX) could fill that slot well for a new buyer . It adds the benefit of giving our disinterested investor a well-known hook to relate her portfolio's fortunes to. I'd not touch PDI which shows no signs of needing attention.
Another consideration for consideration as a component in starting a new portfolio could be Powershares S&P 500 High Dividend Low Volatility Portfolio (NYSEARCA:SPHD). It's paying 3.26%, so there'd be an increased requirement for heavy-lifting from the remaining positions to keep the total yield over 6.5%. SPHD should provide some capital growth over the course of a retiree's time span to help grow the income-producing base of the portfolio.
Then there's CVX. It may be cyclical, but it's a steady payer at a solid rate. Still a good value, so I'd probably stick with it.
Disclosure: I am/we are long CVX, ETV, THQ.
I wrote this article myself, and it expresses my own opinions. I am not receiving compensation for it (other than from Seeking Alpha). I have no business relationship with any company whose stock is mentioned in this article.
Additional disclosure: I have no ties to the financial or security industries in any form. My interests are strictly personal. The banker part of the nym has absolutely no relationship to the profession of the same name. Readers should be aware that I am an investing novice. I do not give advice; what I publish is an annotated version of my research notebook. Anyone who finds any securities to be of interest will necessarily want to do his or her complete research and due diligence before acting on that interest. It would be foolish to rely on my conclusions without having done so.