In a previous article I looked at the QuantShares U.S. Market Neutral Momentum ETF (NYSEARCA:MOM), which seeks to harvest the pure alpha obtainable from the momentum factor by establishing a market neutral portfolio containing long positions in high momentum stocks paired with short positions in low momentum stocks.
QuantShares has another market neutral factor fund, the QuantShares US Market Neutral Value ETF (NYSEARCA:CHEP), which seeks to achieve the same with the value factor. CHEP tracks the Dow Jones U.S. Thematic Market Neutral Value Index.
Basic statistics for the fund are shown below (Morningstar).
| | |
| --- | --- |
| | CHEP |
| Yield | 0.00% |
| Expense ratio | 1.49% |
| Inception | Sep. 2011 |
| AUM | $2.38M |
| Avg. Volume | 4K |
| Morningstar rating | * |
| No. holdings | 200 |
| Annual turnover | 150% |
As with MOM, the monthly rebalancing of CHEP means that its turnover is fairly high (though still less than MOM's at 196%). Also, and unfortunately, CHEP like MOM is also in Ron Rowland's "ETF Deathwatch" due to its low asset size and volume.
Methodology
According to the methodology document, the index universe comprises all stocks in the Dow Jones U.S. Index, which covers 95% of the market capitalization of all U.S. traded stocks. Then, it takes a long position in the 200 stocks (out of 1,000) with the highest value* (which is defined as an equally weighted rank measure of price to book ratio, price to earnings ratio and price to operating cash flow ratio**), and pairs this with short positions in the 200 stocks with the lowest value. Stocks are equally weighted.
*Sector neutrality (note: this does not mean equal weight) has to be maintained. For example, information technology is currently the largest sector in the U.S. stock market, at about 20% weight. Therefore there will be 40 long positions and 40 short positions in IT out of the 200 long and 200 short positions.
**Price to operating cash flow is not used for financial stocks.
Mediocre recent performance
CHEP has had a single year of positive returns: in 2013, it returned +12.06%. Unfortunately, its longer term performance has been rather mediocre, returning -3.18% since inception (a period of nearly 5 years). (cf. MOM at +0.32%).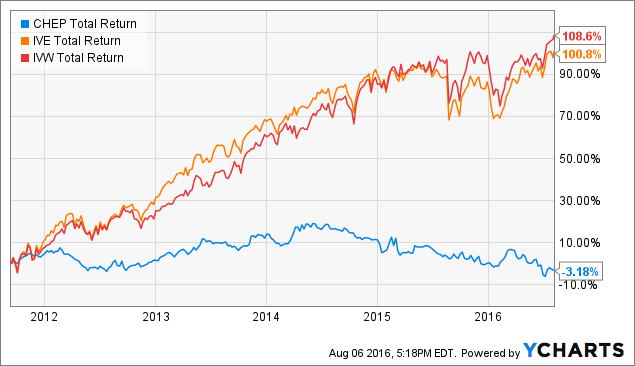 CHEP Total Return Price data by YCharts
We can see from the chart above that CHEP generally gains when value outperforms growth, which generally occurs in bull markets. For example, from late 2012 to mid 2014, the iShares S&P 500 Value ETF (NYSEARCA:IVE) outpaced the iShares S&P 500 Growth ETF (NYSEARCA:IVW), and CHEP exhibited a period of sustained price appreciation. Since then, however, it is growth that has outperformed value, causing CHEP to decrease in price.
Perhaps a good idea, in theory
The Alpha Architect reports that a value portfolio (top decile of stocks ranked by price to book) outperformed the S&P 500 by 2.23% percentage points per year from 1927 to 2015. Meanwhile, according to Scientific Beta, the difference in annual returns between the top quintile of stocks ranked by value (price to book) and the bottom quintile of stocks ranked by value for U.S. stocks from 1972-2012 is an astounding 11.62%, which was the highest out of the four factors (value, momentum, size and low volatility). Both studies suggest that over the long run, the value factor has done very well.
Given that CHEP is essentially a long-short portfolio of the highest quintile of value stocks minus the lowest quartile of value stocks, could we expect annual gains of 11.62% as suggested by the Scientific Beta study? However, there are a few key differences between CHEP's portfolio and Scientific Beta's study:
The Scientific Beta portfolio is not sector neutral, whereas CHEP's is.
The Scientific Beta portfolio uses only price to book for ranking, whereas CHEP additionally uses price to earnings and price to operating cash flow.
The Scientific Beta portfolio rebalances quarterly, whereas CHEP rebalances monthly.
Additionally, it has to be remembered that CHEP's 1.49% expense ratio will eat into the expected returns. The underlying index for CHEP, the QuantShares U.S. Market Neutral Momentum ETF, has returned 5.81% annualized since inception in Dec. 2001, so one would have expected CHEP to have returned 4.32% annualized over this time frame. Not terrible by any means, but not that great either. (cf. 0.86% annualized for the parent index of MOM since Dec. 2001).
One of the few positive features of CHEP is its low correlation to U.S. equity markets. According to InvestSpy, CHEP's correlation to U.S. stocks (NYSEARCA:SPY) since inception in Sep. 2011 is 0.11.
In summary, I would not advise investing in CHEP. Its potential returns are just now worth the risk.
Disclosure: I/we have no positions in any stocks mentioned, and no plans to initiate any positions within the next 72 hours.
I wrote this article myself, and it expresses my own opinions. I am not receiving compensation for it (other than from Seeking Alpha). I have no business relationship with any company whose stock is mentioned in this article.