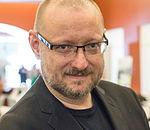 "Resilience is all about being able to overcome the unexpected. Sustainability is about survival. The goal of resilience is to thrive." —Jamais Cascio
Note: To get these Biotech Forum Daily Digests as soon as they are published, just click on my profile, hit the big, orange "Follow" button, and choose the real-time alerts option.

Biotech continued to grind higher this past week, putting another weekly gain in the books to start August. After declining some 24% in the first six months of 2016, the sector has climbed 18% since June 30th. As might be expected, the small caps of the industry have been among the best performers. This is almost always the case as the high beta small caps are always the biggest decliners in downturns and the largest risers when sentiment shifts back into a "risk on" mode.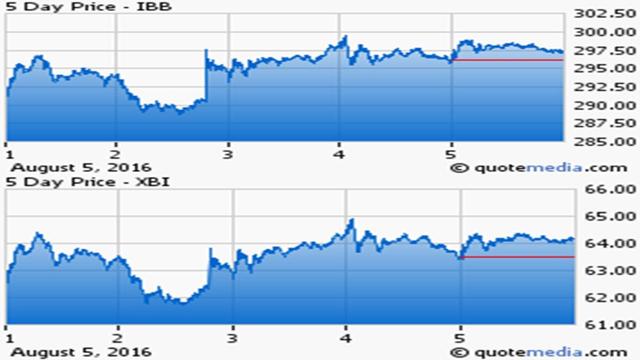 Click to enlarge
Helping the recent rally were better than expected quarter earnings reports from across the sector. In addition, the election driven rhetoric around drug price "gouging" seems to have declined since both parties turned their attention from the primaries to the general election. Whether we have another substantial leg higher will be determined if we start to see more M&A activity in the space in coming weeks and months. That being said, I think we can officially state the longest and deepest bear market in the biotech space since 2008 seems over.

The big news late in the week was that blockbuster cancer drug Opdivo from Bristol-Meyers Squibb (NYSE:BMY) failed to achieved its endpoint in late trials as a therapy for newly diagnosed patients with advanced non-small cell lung cancer. This is the first setback for this emerging blockbuster. The stock fell some 15% in trading Friday as this indication could have produced some $4 billion in annual peak sales. Merck (NYSE:MRK) rallied however as Opdivo's failure could bolster the prospects of its own fast growing cancer drug Keytruda.
Progenics Pharmaceuticals (NASDAQ:PGNX) had another up week. Late in the week some rumors started to float that Valeant Pharmaceuticals (NYSE:VRX) might entertain offers for the rights to market and distribute relistor. If someone like Allergan (NYSE:AGN) bought those rights, this could eliminate the "Valeant" overhang on Progenics and also might make the company an acquisition target as well. The oral version of the drug approved by the FDA on July 19th.
Brean Capital reiterated their Buy rating and $14 price target on Friday as well. The stock is up nearly 30% since I recently profiled it and is a member of the Biotech Forum portfolio. However, I still am very positive on this biopharma name and if the rights to relistor are sold to more reputable and less distracted marketing partner, it certainly should be good for Progenics' future. That event could also make this small biopharma a more likely buyout target. One to watch in coming weeks.
The aftermath of the Treasury Department's derailment of the mega-merger of Pfizer (NYSE:PFE) and Allergan in April of this year continues. The U.S. Chamber of Commerce and one Texas business group are suing the Federal government for bypassing congress to tweak a tax law. This is one of many recent abuses by various federal agencies to write law without the consent of the legislative branch of government. How this gets resolved in court is moot however as both companies have moved on with Pfizer being active in M&A and Allergan recently completing their $40 billion sale of their generics business to Teva Pharmaceuticals (NASDAQ:TEVA). I would look for Allergan to make at least one "bolt on" acquisition before the end of the year.

As I noted on Friday's Biotech Forum Daily Digest post, Cara Therapeutics (NASDAQ:CARA) 12% fall in early trading because of a "headline" miss from its quarterly report was just silly. The company has no products on the market yet, and this sort of trading in "Tier 4" biotech stocks is common, stupid and tradeable. Sure enough, CARA clawed itself all the way back from early losses and actually posted a slight gain for the day Friday and closed just below $6 a share.
The analyst community helped that rise and I guess they too thought trading was nonsensical early Friday. Needham took the occassion to reiterate their Buy rating but did lower their price target from $27 to $23. Cantor Fitzgerald also reissued its Buy rating and kept is $24 price target in place.
Regeneron (NASDAQ:REGN) was one of the biggest battleground stocks in the biotech sector in the analyst community it seemed last week. RBC Capital, Leerink Swann, Brean Capital and Merrill Lynch all reiterated Buy ratings last week with price target proffered in the $489 to $526 range.
Robert W Baird, Piper Jaffray, Cantor Fitzgerald and Cowen & Co. saw things different and issued maintained or downgraded to Hold with price targets in the $430 to $450 range. Regeneron delivered quarterly results Thursday that beat nicely on the bottom line but were slightly light on revenue expectations.
Not surprisingly given Opdivo's big disappointment, the analyst community has been very active Friday and Monday around Bristol Meyers Squibb. Credit Suisse, Morgan Stanley and Suntrust Robinson downgrades the shares to Hold while Jefferies reiterates its existing Hold rating. Citigroup and Goldman Sachs maintain their faith and reissue their Buy ratings. The latter analyst firm and investment bank believes Bristol could now be a takeover target.
Fortunately, I did not have Bristol Meyers Squibb as a "core" position within mine or the Biotech Forum portfolio as it did seem like it was priced to perfection at ~30 times earnings.
Note: New analyst ratings are a great place to start due diligence, but nothing substitutes for deeper individual research in this very volatile sector of the market. Many of the small-cap names highlighted in the "Analyst Insight" will eventually appear in the "Spotlight" section, where we do deeper dives on this type of promising but speculative small-cap concern.

Our Spotlight feature to begin the week is on TG Therapeutics (NASDAQ:TGTX) which just reported second quarter results this morning.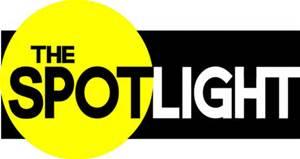 Company Overview:
TG Therapeutics is a New York-based biopharmaceutical company focusing on the acquisition, development, and commercialization of novel treatments for B-cell malignancies and autoimmune diseases primarily in the United States. The company came public in 2012 and currently has a market capitalization of $325 million and sells right at $6 a share. The stock's 52-week high is north of $17 a share.
Pipeline:
Currently, the company is developing a couple of compounds targeting hematological malignancies.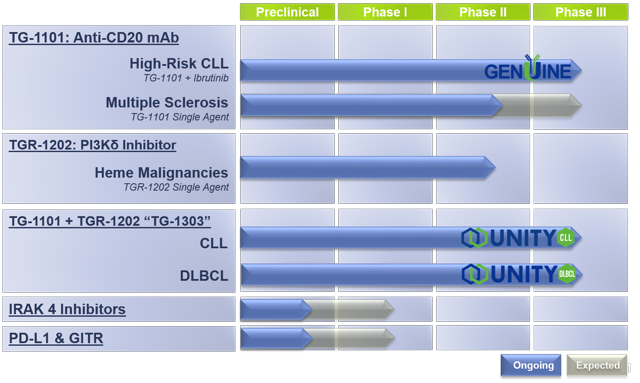 Click to enlarge
TG-1101:
This is a novel glycoengineered monoclonal antibody that targets a specific and unique epitope on the CD20 antigen found on mature B-lymphocytes. The first study of TG-1101 in patients with multiple sclerosis should commence in the first half of 2017. Phase III trial results using TG-1101 and Imbruvica as a treatment against CLL (chronic lymphocytic leukemia) is due out late in the year.
TGR-1202:
An orally available PI3K delta inhibitor. The delta isoform of PI3K is strongly expressed in cells of hematopoietic origin and is believed to be important in the proliferation and survival of B-lymphocytes.
TG-1303
A combination of TG-1101 & TGR-1202. Late in 2015 the company received a Special Protocol Assessment ('SPA') for a pivotal Phase III trial for this compound, in patients with front-line as well as relapsed/refractory CLL (chronic lymphocytic leukemia). If successful, this trial should provide TG-1303 with a broad approval in CLL offering patients in both front-line and relapsed/refractory setting, a novel, chemo free treatment option.
The Company also has pre-clinical programs to develop IRAK4 inhibitors, and anti-PD-L1 and anti-GITR antibodies. TG Therapeutics plans to present clinical data from a variety of Phase 1 and 2 clinical trials at the American Society of Hematology Annual Meeting in San Diego in December 2016.
Analyst Commentary and Balance Sheet:
As of the end of the second quarter TG Therapeutics had cash, cash equivalents, investment securities, and interest receivable of $75.8 million, which they believe will be sufficient to fund their operations into the second quarter of 2018. The stock has strong analyst at this time. Since late May, SunTrust Robinson, Roth Capital, Brean Capital and FBR Capital have all either initiated or reiterated Buy ratings. Price targets range from $18 at SunTrust to $33 at Roth.
Outlook:
The company has the traits I look for before taking a small stake in a developmental concern. These include multiple shots on goal, strong analyst support and sufficient funding for trial development. I have a small investment in TG Therapeutics at this time as it has a favorable risk/reward profile at current levels and should be considered for investment within a well-diversified biotech portfolio.

Thank You and Happy Hunting,
Bret Jensen
Founder, Biotech Forum
Disclosure: I am/we are long AGN, CARA, PGNX, TEVA, TGTX.
I wrote this article myself, and it expresses my own opinions. I am not receiving compensation for it (other than from Seeking Alpha). I have no business relationship with any company whose stock is mentioned in this article.