ISM and Markit's Manufacturing Surveys
The Institute for Supply Management's manufacturing survey slipped to 52.6 in July from 53.2 in June, which marks the fifth consecutive month that this survey has indicated growth (reading over 50) in this sector. The new orders and production categories led the strength in this survey, which is a positive sign. It appears that the manufacturing sector is in the process of bottoming, but we are not yet convinced that this is sustainable given the activity we see in other sectors of the economy. It is important to remember that this is a survey of purchasing managers from approximately 300 manufacturing firms nationwide in various industries. It is not a measurement of actual economic activity.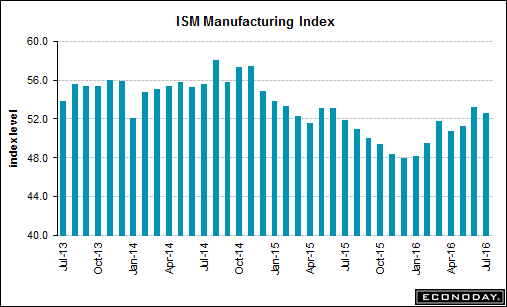 Markit's manufacturing survey rose to 52.9 in July from 51.3 in June, nearly matching the ISM survey results. We have seen similar bounces in this survey over the past two years, as can be seen below, but from higher levels. The strength in Markit's survey was also led by new orders and production. These two surveys combined indicate that the manufacturing sector will most likely contribute modestly to the rate of US economic growth in the third quarter.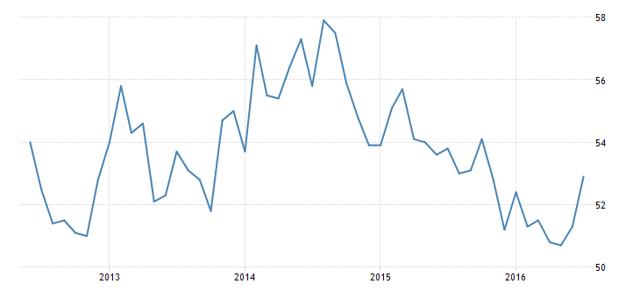 Click to enlarge
ISM and Markit's Service Surveys
The Institute for Supply Management's service sector survey declined to 55.5 in July from what was 56.5 in June, but it has recovered from the May reading of 52.9, which was the weakest reading since September 2014. The survey results for the new orders and business activity categories remained strong, but the employment category fell to a very weak 51.4, which raises serious doubts about the upside surprise in Friday's jobs report. We expect downward revisions in the months ahead based on these survey results.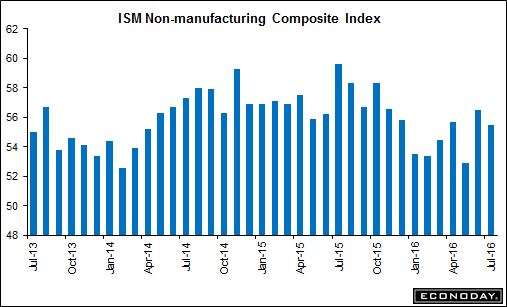 The Markit Economics' service sector survey was unchanged in July, with a relatively weak reading of 51.4, but there was strength in the new orders category of this survey as well, indicating improvement in this indicator ahead. Yet the trend in this survey continues to deteriorate from the highs we saw in 2014.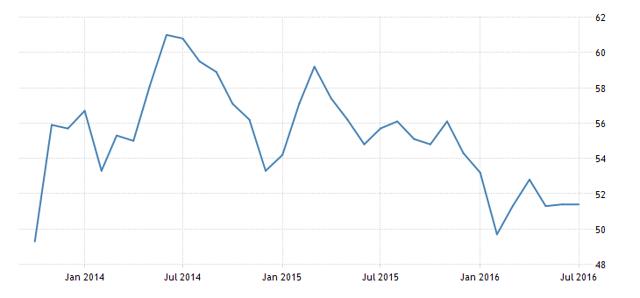 Click to enlarge
Auto Sales
It continues to be our position that auto sales peaked in 2015 at 17.47 million vehicles. Sales in July for Ford (NYSE:F), General Motors (NYSE:GM) and Toyota (NYSE:TM), the top three automakers, all declined on a year-over-year basis. Meanwhile, the average incentive rose to a record $3,225.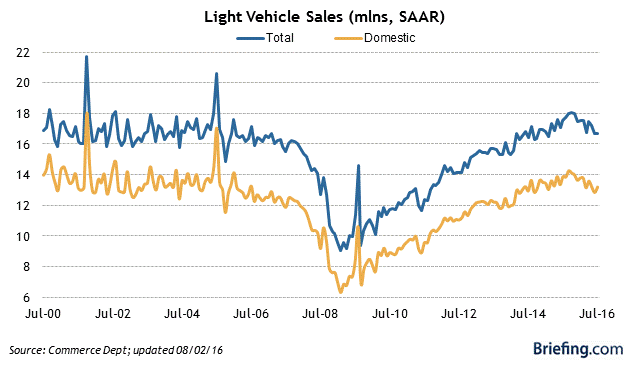 The recovery in the auto industry over the past several years has been a significant contributor to the rate of US economic growth, as can be seen in the steady rise in sales above. Longer loan terms and record incentives have extended this recovery, but it is clear that the sales momentum is waning. This will weigh on economic activity as we move forward.
Construction Spending
The construction spending report includes the total value of all new construction activity for residential, non-residential and public projects. Construction spending declined 0.6% in June, which was well below the consensus expectation for an increase of 0.7%. Both public and private construction fell, and overall construction spending is now up just 0.3% on a year-over-year basis. This is one ugly chart. It is clearly not indicative of a rebound in economic growth as the Fed and consensus of economists are forecasting.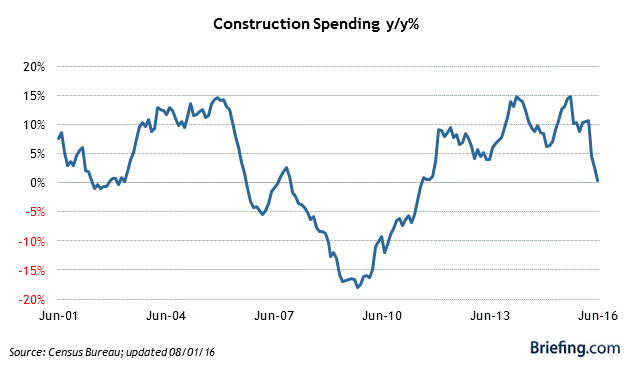 Personal Income and Spending
Personal income rose 0.2% in June, while personal spending, otherwise known as personal consumption expenditures or consumer spending, increased 0.4%. These were identical to the increases we saw in May, as consumers tap savings we know they don't have in order to spend more than they earned. The rate of growth in personal income on a year-over-year basis is in a downtrend, as can be seen below, but our preferred measure of income growth is average hourly earnings.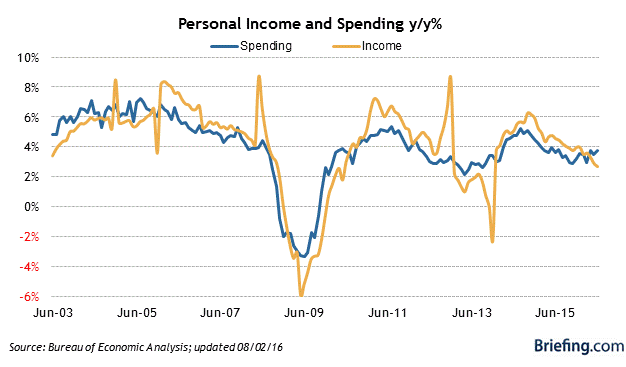 Average hourly earnings are a more accurate leading indicator of the trend in consumer spending. This is because average hourly earnings exclude the highly compensated, who spend a much smaller amount of their overall income than do workers who earn an hourly wage.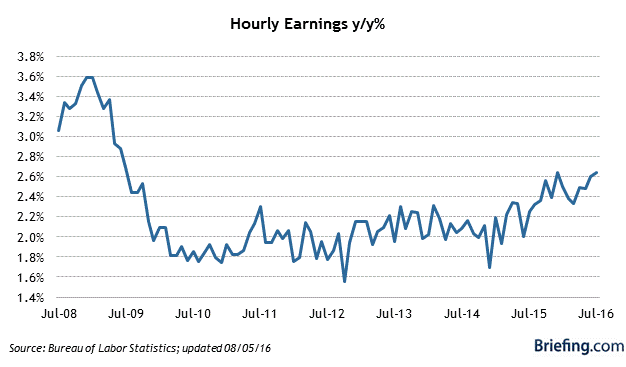 Average hourly earnings rose 0.3% in July and are up 2.6% on a year-over-year basis. The trend is clearly pointing in the right direction, but we have to look at earnings in real terms. The rate of economic growth is reported in real terms, as is consumer spending, so we have to look at the trend in income the same way. Real income is our key leading indicator for real consumer spending growth.
We won't have the figure for real average hourly earnings until the Consumer Price Index report next week, but the trend has not been good on this front. This is because the rate of inflation, as measured by the CPI, has risen at a faster pace than average hourly earnings. Real earnings have been declining on a year-over-year basis to what was just 1.4% last month.
Factory Orders
Factory orders fell 1.5% in June, and May's decline of 1.0% was revised modestly lower to 1.2%. The declining trend in year-over-year growth has resumed, with orders down 2.6%.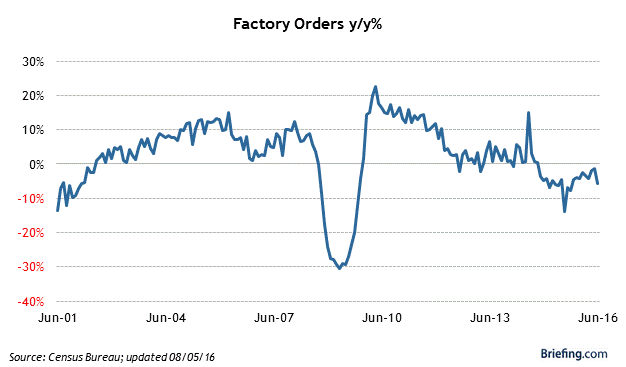 The Jobs Report
Financial markets celebrated what was perceived to be another stellar jobs report for July. The initial estimate that 255,000 jobs were created was well above estimates, but as I outlined in an article on Friday, I viewed the report as a continuation of a deteriorating trend in the labor market. My focus is on the revisions to these initial estimates by the Bureau of Labor Statistics, which are increasingly negative in terms of frequency and size. This tells me that the rate of economic activity is slowing significantly.
Conclusion
We continue to believe that the confluence of data point to a US economy that is weakening from its peak rate of growth nearly two years ago. The annualized rate of growth in the first half of this year is now 1.0%, which is what we forecast for 2016 at the beginning of the year. We see no signs that the rate of growth is reaccelerating.
Disclosure: I/we have no positions in any stocks mentioned, and no plans to initiate any positions within the next 72 hours.
I wrote this article myself, and it expresses my own opinions. I am not receiving compensation for it (other than from Seeking Alpha). I have no business relationship with any company whose stock is mentioned in this article.