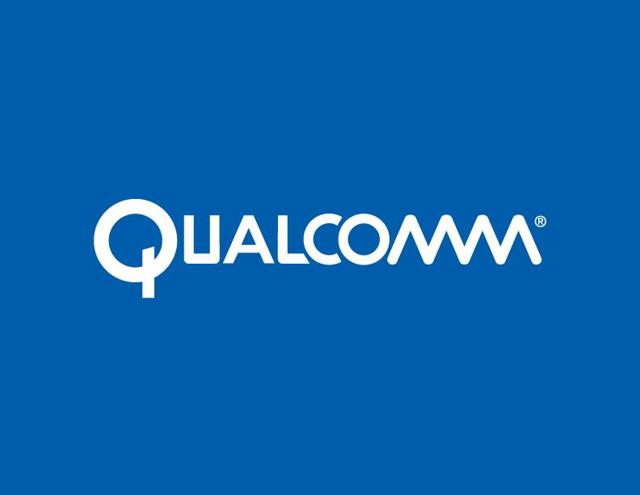 Click to enlarge
Qualcomm Inc. (NASDAQ: QCOM) is making big strides in China. A week after signing 3G/4G patent license agreement with China's leading mobile device supplier OPPO, the U.S.-based semiconductor company has signed up another big licensee Vivo, China's third-largest smartphone maker. The two companies account for 11.4 percent of the total global smartphone market share, and 30 percent of phones shipped by the top ten Chinese smartphone companies.
This strengthens Qualcomm's position in the world's largest smartphone market.
According to the official release, Qualcomm has granted Vivo a royalty-bearing patent license to develop, manufacture and sell 3G WCDMA and CDMA2000 and 4G LTE (including "3-mode" GSM, TD-SCDMA and LTE-TDD) complete devices for use in China. The royalties payable by Vivo are consistent with the terms of the rectification plan submitted by Qualcomm to China's National Development and Reform Commission (NDRC).
Alex Rogers, senior vice president and general manager, Qualcomm Technology Licensing said,
"Qualcomm is committed to the continued success of China's wireless industry. We are pleased to sign a new licensing agreement with vivo that builds on our long standing relationship. It is exciting to see our technology enabling many large Chinese mobile device manufacturers such as Vivo to become successful global players."
The terms of Qualcomm-Vivo deal are similar to those offered to Oppo.
Lapping up two of the biggest Chinese smartphone makers in roughly a week speaks about the aggressiveness of the management. The management has always reiterated the importance of China as its growth market. Derek Aberle, President of Qualcomm said during the Q3 earnings call:
"We continued to make steady progress in China executing new license agreements. In addition, we are still actively negotiating with a small number of the key remaining Chinese OEMs and making progress in those discussions."
Steve Mollenkopf, CEO of Qualcomm had also stressed the contribution of China to the company's licensing division growth.
"We delivered strong results this quarter, with EPS well ahead of our guidance based on meaningful progress with licensees in China."
The two smartphone companies are great additions to Qualcomm's client list. They are growing at a phenomenal pace in China and elsewhere, giving stiff competition to major players such as Apple and Samsung.
In Q1 2016, the combined shipments of two companies was 32.8 million, which stood at just 13.7 million during the same quarter prior year. Oppo held a market share of 5.5% and Vivo captured 4.3% of Q1 market share. In Q1 2015, their respective market shares were 2.2% and 1.9%.
During Q2 2016, their total shipments were 39 million, which compares to 18.7 million in Q2 2015. Oppo's market share has swollen from 2.8% in Q2 2015 to 6.6% in Q2 2016. Vivo has also shown encouraging growth with market share jumping to 4.8% in Q2 2016 from 2.7% in the year-ago quarter.
The two companies are decisively eating into the market share of Apple (NASDAQ:AAPL) and Samsung (OTC:SSNLF).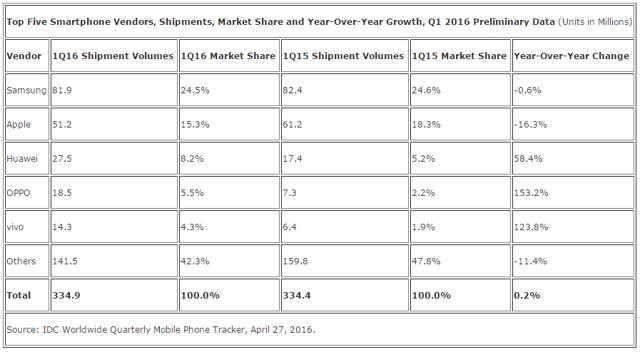 Click to enlarge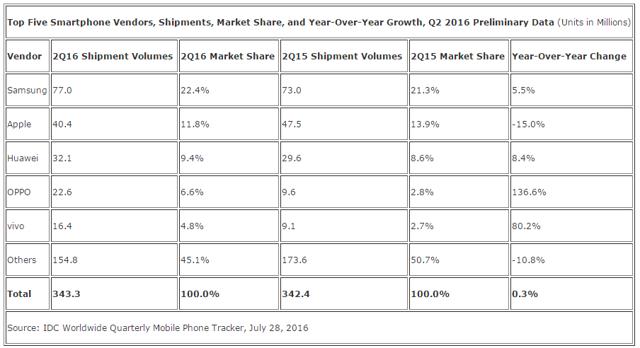 Click to enlarge
While Oppo has gone global, Vivo is still largely concentrated on Asia-Pacific region, mostly China. Getting the two high-growth companies on board will support Qualcomm's licensing revenue stream, which had taken a hit during the antitrust investigation. The momentum is strong with them, and their growth in China and rest of the world will aid the San Diego-based company's earnings.
Note: I am bullish on Qualcomm, and this has reinforced my faith that I own a stake in a good quality business. I had suggested that investors would benefit from the next leg higher in my previous analysis titled Qualcomm: What A Thunderous Set Of Results, and I maintain my positive view on the stock.
Disclosure: I am/we are long QCOM.
I wrote this article myself, and it expresses my own opinions. I am not receiving compensation for it (other than from Seeking Alpha). I have no business relationship with any company whose stock is mentioned in this article.
Additional disclosure: Hi Readers, Thank you for giving this post your time. This is a breaking news article, and updates will be provided when more information is available. If you have gained any valuable information, please consider sharing this. You can also Follow Me for more of such updates and analysis. Thank you once again!