Introduction
This article is my 27th installment in a segment called "Buy on the Drop?" where I choose a stock that recently experienced a large decrease in price and give a recommendation on whether investors should "Buy on the Drop" or not. The recommendations are Sell, Hold, Speculative Buy, Buy, and Strong Buy. This is a recurring segment, so if you enjoy the article, "Follow" me to see more. You can read about my previous installment discussing FireEye (NASDAQ:FEYE) here.
Bristol-Myers Gets Squibbed
You might be wondering what the title of this section means, and I can't exactly answer that. It just felt right. In this context though, squibbed is definitely a bad thing. Moving on.
Bristol-Myers Squibb (NYSE:BMY) is a pharmaceutical company based in New York City that reported $16.5 billion in revenue and 2015, and looks poised to grow its top line in the mid to high single-digits in 2016. The market, which loves to provide the wind for the sails of a good growth story, had responded kindly to the increasing revenue as BMY had been up 27% since its February 2016 lows in the high $50s. That is, until a Friday announcement regarding the company's top-selling drug Opdivo hit a snag, sending BMY shares down 16% on the day.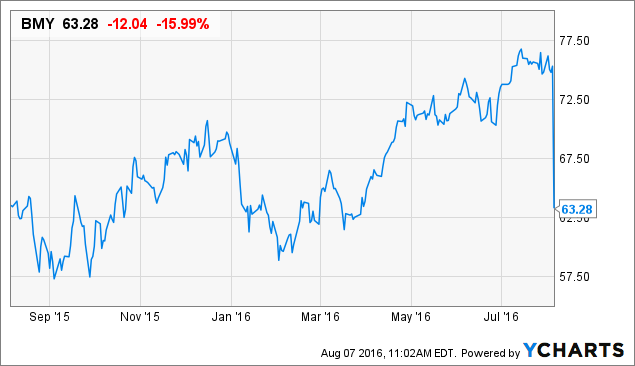 The drop erased most of the gains seen since early 2016, with the market apparently thinking the company's announcement regarding Opdivo puts the growth story in jeopardy. The first order of business is took look at exactly what caused shares to plummet, but since many readers likely already know the details, I will just provide a quick summary before moving on to my take on this brouhaha.
Opdivo Comes Up Short
The negative catalyst for BMY shareholders' suffering Friday was a terse announcement by the company that its main revenue source Opdivo did not meet its primary endpoint in a Phase 3 trial studying the drug as an indication for non-small cell lung cancer. BMY shares dropped as investors factored in decreased future earnings growth prospects, and with the stock already at a fairly rich valuation, the downward pressure was amplified.
Despite the drop Friday, BMY is still trading at a forward P/E above 20 and was trading higher mostly on momentum, so the decline was likely exacerbated by the flight of momentum traders in addition to normal price correction.
Opdivo is approved for several other indications, and generated sales of $840 million in the second quarter of 2016, which is an increase of close to 600% year-over-year. That's some explosive growth. But is it sustainable? Is BMY's growth in general sustainable? Seeking Alpha authors have differing opinions.
Contributor Jonathan Weber penned a bullish article Friday saying that BMY's fall amounted to a $20 billion loss in market cap, which is overblown considering the earnings potential lost from the failed Phase 3 study is nowhere near that amount.
On the other hand, SA contributor DoctoRx wrote an article reacting to the Opdivo news with more tempered expectations, stating that increasing competition in the market for PD-1/PD-L1 inhibitors does not bode well for BMY, which is not exactly trading at a cheap valuation either.
Both arguments have their merits, but I am leaning towards neutral on BMY shares due to a combination of current growth rate, valuation, and the competition that will soon be arriving to take share away from Opdivo. Bristol-Myers has other revenue sources that can contribute to future growth, chief among them anticoagulant Eliquis (up 78% YoY in Q2) and autoimmune treatment Orencia (up 29% YoY), but Opdivo is key to the company's short-term and medium-term top line growth. This explains why negative news about the drug dropped the stock so significantly.
But does Opdivo's failure to show effective treatment for non-small cell lung cancer really change the growth story? In my opinion, it didn't change the original growth narrative, but it did call to my attention a potential soft spot in that narrative. Mainly, that Opdivo's ongoing growth is likely to hit a few tough roadblocks in the coming years as the market for PD-1/PD-L1 inhibitors becomes more crowded.
First off, Merck's (NYSE:MRK) Keytruda, a PD-1 inhibitor, is already on the market and generated $314 million in sales in the company's latest quarter. MRK shares got a substantial 10% lift Friday as Keytruda now remains the only PD-1/PD-L1 inhibitor approved for non-small cell lung cancer.
In addition to Keytruda, soon enough Opdivo will have to compete with Roche's (OTCQX:RHHBY) PD-L1 inhibitor atezolizumab (marketed as Tecentriq), which will likely soon be approved for many of the same indications, and AstraZeneca's (NYSE:AZN) durvalumab, which is also a PD-L1 inhibitor.
The PD-1/PD-L1 inhibitor market might soon have four treatments fighting for the same patients and market share, with price wars and lower ASPs likely to result. Does Bristol-Myers have other drugs that can fuel its growth going forward? Yes, and Opdivo will continue to contribute significantly in the next few quarters. However, intense competition will be arriving soon to challenge Opdivo, and with BMY already trading at a multiple that isn't cheap compared to its peers, I personally wouldn't buy shares despite the large stock price decline. I think holding is likely the best course of action as I don't think BMY will go much higher or fall much further from here.
To recap, yes Opdivo's failure to effectively treat non-small cell lung cancer is not something that should shave $20 billion in market cap off BMY, but much of the stock's run-up to the pre-drop price was based on momentum traders and perhaps some greed. Take a look at forward P/E ratios for the stock and some large-cap peers: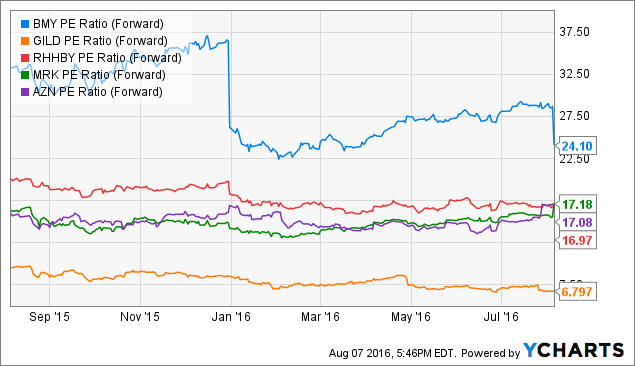 BMY PE Ratio (Forward) data by YCharts
Despite the selloff on Friday, BMY still looks expensive compared to other names in the sector. Now, one can make the argument that BMY deserves to trade at a premium because of the revenue and earnings growth it is currently experiencing, but as I stated before, competition to Opdivo will significantly hamper the engine of top and bottom line growth.
Bristol-Myers still has other successful products offerings, and will still see contribution from Opdivo, I just think that contribution will be lower than the market expects it to be. Because the drop did correct shares to a more palatable level, selling shares now to avoid further downside is likely unnecessary, but on the other hand buying shares now, from a valuation perspective, is probably not the best allocation of capital. There are other large-cap pharma names, both cheaper and higher-growth than BMY, that investors can buy into. I rate Bristol-Myers Squibb a Hold on the drop.
If you want to stay up-to-date on my articles, you can Follow me by going to my author page or by clicking "Follow" at the top of this page.
Thanks for reading!
Disclosure: I/we have no positions in any stocks mentioned, and no plans to initiate any positions within the next 72 hours.
I wrote this article myself, and it expresses my own opinions. I am not receiving compensation for it (other than from Seeking Alpha). I have no business relationship with any company whose stock is mentioned in this article.
Editor's Note: This article discusses one or more securities that do not trade on a major U.S. exchange. Please be aware of the risks associated with these stocks.