Neptune Technologies & Bioressources, Inc. (NASDAQ: NEPT) underwent a recent name change to Neptune Wellness Solutions (hereinafter Neptune). This came with the addition of new omega-3 products via acquisition of Biodroga Inc. The offsetting fiscal year had the company finishing Q1 2017 on May 31, 2016.
Popular Neptune products include: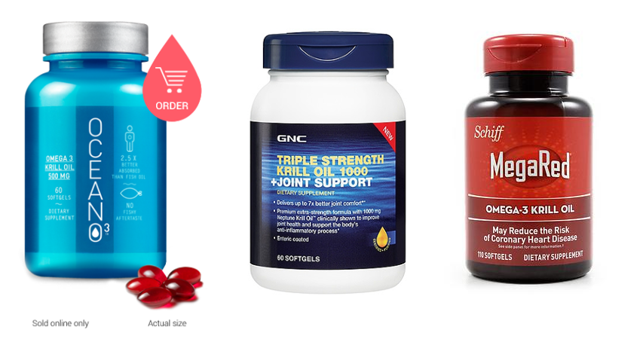 Click to enlarge
Oceano3 - Neptune's own branded omega-3 krill oil.
GNC krill oil - GNC Holdings, Inc. (NYSE: GNC) brand with Neptune Krill Oil.
Schiff's MegaRed - per Tweet/E-mail with corporate, MegaRed uses Neptune Krill Oil and is an example of the many "white label" partnerships in action. Schiff is owned by Ascot Acquisition Co, an indirect subsidiary of Reckitt Benckiser Group (OTCPK:RBGLY).
INCOME STATEMENT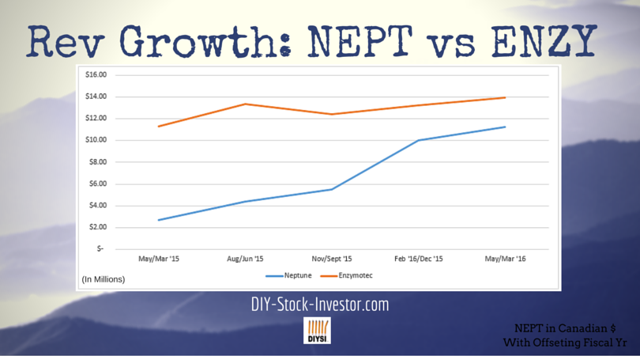 Click to enlarge
The revenue chart shows the competitor Enzymotec Ltd. (NASDAQ: ENZY) with a flattening growth pattern. In contrast, Neptune continues to grow organically and inorganically. This comparison is further illuminated by the fact that Enzymotec Ltd. has lost all frivolous patent disputes against Neptune and owes nearly two years of royalties for Australian sales.
BALANCE SHEET

The above chart shows 2.8 P:Tangbook, a valuation for Neptune taken in the week of August 8, 2016. Since last analysis of Neptune Technologies & Bioressources in April 2015, Neptune's price to tangible book value has slightly elevated. This is due in part to the acquisition of Biodroga Inc. and the Goodwill assets that came with it.
Both Neptune and Enzymotec Ltd. remain in good value ranges for price to book and price to tangible book.
CASH FLOW
A big hit to Neptune's net income stems from the Research and Development (R&D) expenditure. This item includes cash spent towards defending patents; again another tie to its bout with Enzymotec Ltd. The following chart shows a former analysis for the Return on Research Capital (RORC) in fiscal 2016. Adjusted RORC is when settlements are paid and factored into revenue.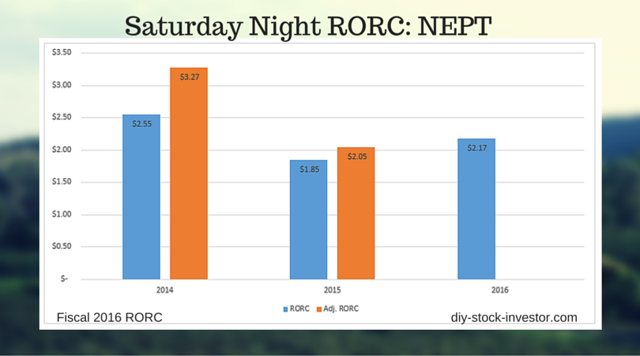 Now into fiscal year 2017: (1) Neptune still has a low RORC; (2) has a net income loss; (3) stalled settlements/royalties from ENZY; and (4) has yet to turn free cash flow positive.
In contrast, Neptune does handle cash well in investing. The past quarter they had a maturity of short-term investments of $9,378,230. In 2015 they had a high of $23,372,677 cash in short term investments. This was said to be averaging a 1% return. The bulk of that account matured and coincided with the following cash expenditures:
Biodroga Inc. acquisition ....$7,500,000
Building addition ...............$4,730,360
Lab/R&D addition ..............$6,800,577
The cash used to acquire Biodroga Inc. was $7.5m, however they also issued shares of NEPT and assumed a loan for a total buyout price of $14.7m. The short-term investment cash that was once gaining 1% returns, was partially used in a recent acquisition that returns much more:
Revenue for fiscal 2016 was $21m.
Corporate estimated Biodroga Inc. could have raised the total to $41m if acquired at the beginning of the year.
Thus, the revenue in excess of total consideration would have been a 5.3m/36% Return on Investment. That's $20m in sales, takeaway $14.7m in costs.
Management believes that its available cash and short-term investments, available financing (see note 31), expected gross margin on sales of product, expected interest income, expected royalty payments and tax credits will be sufficient to finance the Corporation's operations and capital needs during the ensuing twelve-month period. The main assumption underlying this determination is the ability to continue to achieve stronger revenues and also to drive continued efficiencies and heighten operating performance. - Neptune Annual Fiscal 2016
SUMMARY AND PRICE TARGET
An important note is that Neptune reports in Canadian dollars/CAD and requires conversion when valuing in the U.S. market. The disparity has changed over the years. The inferior CAD to the U.S. dollar/USD has a $0.76 exchange rate. In 2012 it was a near swap at $0.98.
If the price per share/PPS were to return to 11x sales as it was prior to the 2012 plant explosion; the target would be approximately $3.29 PPS. The price target with the exchange rate would make the target price of 11x sales closer to $2.50 USD. The low and more conservative target might be an acquisition value. Total equity (assets minus liabilities) per last report was $63.5m or $0.82 PPS CAD. However, this low price has only happened on infrequent oversold events and low support for more recent trading activity is near $0.93 USD.
Another way to establish a target price is to start with the PPS that major holders are positioned with. On January 7, 2016, Neptune issued 2,575,017 common shares of the Corporation at a price of $1.34 per common share to facilitate the Biodroga acquisition. This appears to be in CAD.
A July 12th filing by Richard Schottenfeld tallied the total share count (direct & indirect) to 4,194,215 with an aggregate purchase price of $6,394,480. That makes for an average of $1.525 PPS of which appears to be in USD.
In summary, Neptune is a buy pick with a value support at $0.93 USD and additional support of major share holders at $1.5 USD. The target price is 11x sales or $2.50 USD due to a return of revenue growth and company expansion. This target price relies on continued growth and synergy with acquired companies. Any potential success with getting ENZY to comply would be a bonus.
Click the follow option at the top header next to author's name. The feature will alert you to new releases. The author's profile lists past articles.
Disclosure: I am/we are long NEPT.
I wrote this article myself, and it expresses my own opinions. I am not receiving compensation for it (other than from Seeking Alpha). I have no business relationship with any company whose stock is mentioned in this article.
Editor's Note: This article covers one or more stocks trading at less than $1 per share and/or with less than a $100 million market cap. Please be aware of the risks associated with these stocks.