Harman International Industries (NYSE:HAR) is an American company, leading player in the field of in-car software solutions for infotainment, with important operations in the fields of high end audio hardware and software, professional solutions for entertainment and telematics.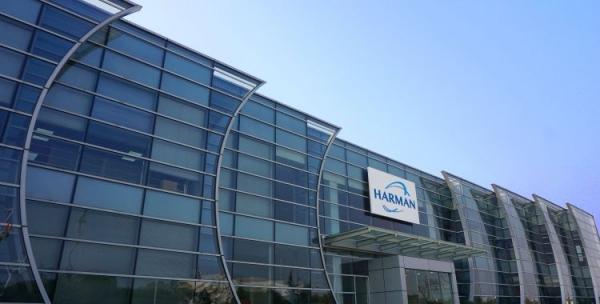 The stock price fell from a top of almost $150 reached in April 2015 to a low of $65 last June. Since then the stock has rebounded by more than 25%, and is now trading around $86. The stock fell by more than 50% in response to fears surrounding the automotive industry, and concerns that the current auto-cycle was reaching a peak. Given the high dependence on the automotive industry, the stock was sold aggressively.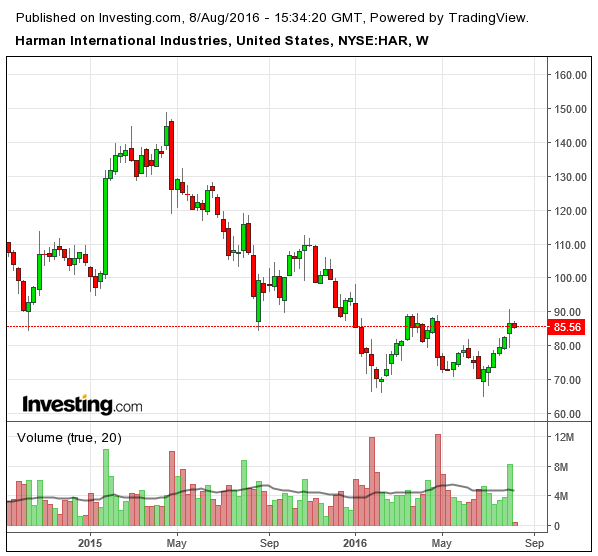 Business and stock correction
I will provide a brief synthesis of the company's operational segments.
The company's business is divided in four main segments:
Connected Car - This is the main operational segment, where the company provides solutions for embedded infotainment, telematics, connected safety and security. The segment accounts for about 44.8% of total revenue.
Lifestyle Audio - This division comprises automotive branded audio, portable bluetooth speakers, headphones, home systems, audio/video receivers, loudspeakers and soundbars, luxury audio, embedded audio and advanced software. The segment accounts for 30.93% of total sales.
Professional Solutions - This segment includes enterprise solutions, such as installed audio, video, lighting and control systems for churches, schools, hospitals, clubs and so on. It also includes audio, video and lighting solutions for concerts and other events. The segment accounts for 14.67% of total revenue.
Connected Services - This segment comprises the company's activities in the fields of Engineering and Consulting, Internet of Things (IOT), Big Data and Analytics. The segment accounts for about 10% of total revenue.
Investors who want to gain more knowledge about the company's products and services can find the information they need on the company's website. A deep analysis of the company's product and service offering is beyond the scope of this article.
It's important to know that about 70% of the company's revenue depends on automobiles. This explains the deep correction the stock price has experienced because of concerns about the sales cycle in the automotive industry.
I believe that the expectations about the effects of a cyclical peak in automobiles' sales are excessively negative. While a cyclical peak would of course limit the growth prospects for the sales of car components, we should assess the effects of increasing penetration in specific segments of the car industry to have an idea of the overall growth prospects of companies like Harman.
The trend in the in-car infotainment market is clearly upwards. The market is expected to grow at a CAGR of 13.3% during the years from 2016 to 2022. The market has witnessed a double-digit growth rate and according to these forecasts we could expect the trend to continue at the same pace for the next several years.
Several factors can drive future growth in the infotainment sector, such as:
Higher sales of infotainment units in Asia and in BRIC countries. Before the recent economic slowdown that has affected several emerging markets such as Russia, China and Brazil, car and infotainment systems sales in the BRIC were expected to boom, while car sales in Asia were expected to overtake sales in North America and Europe combined by 2020. Despite the recent cyclical slowdown, I believe that the long-term growth trend in most emerging markets is still in place, creating a long-term positive environment for growth in the automotive industry. The IMF has recently improved its forecasts for the Brazilian economy, even if the GDP growth in the country is expected to be back on track only in 2018, with a modest 0.5% growth in 2017. The country's economic cycle could be near the bottom. Car sales in the first half of 2016 fell by 26% YoY, but we can expect them to recover when the economic expansion takes place.
The Chinese situation is a bit different. The country's economy is slowing down, but slightly beat Q2 forecasts. Growth rate is lower than what the country has got accustomed to in the past 20 years, but 6.7% remains a very interesting growth rate for GDP. Despite a slowing growth pace, car sales are still in uptrend, with sales in the months from March 2016 to June 2016 up compared to the same months of 2015. The acceleration in car sales was helped by the government cutting sales taxes by half on cars with engines of 1.6 litres or less last October in a move to help stimulate the car market. Even if car sales growth is expected to slow down after the tax break ends, car sales are still expected to grow by 8% in normal conditions.
India is the fastest growing economy in the BRIC group, and hasn't been affected by the general slowdown that has taken place recently in the emerging market economies. India is expected to grow at a 7.6% rate in 2017 and at a similar rate in the next few years. With the exception of Russia, that is facing serious issues because of low energy prices, sanctions and a generally bad environment for business, I believe that economic growth in BRIC and other emerging markets will be a good driver of growth in the automotive industry and therefore in the in-car infotainment sector.
Another factor that will bring benefits to the in-car infotainment industry is the increasing penetration of such devices and software in less expensive cars. According to TechNavio, the market is expected to witness increasing penetration of Infotainment systems in the Low-cost cars segment in the coming years. We know that Harman has historically served higher-end car makers such as BMW and Mercedes, but more recently, the company has won business with Fiat Chrysler Auto, Hyundai, Subaru, Toyota, General Motors and many other automakers that belong to lower-end segments compared to historical customers such as Audi, BMW and Mercedes-Benz.
Despite the concerns about trends in car sales, I am very positive about the increasing penetration that Harman products are experiencing in the industry, and about car sales coming from emerging markets in the coming 3-4 years.
Recent Results and forecast
Results of 2016 seems to confirm that the sales trend is not as weak as the market expected. Total net sales rose from US$ 6,155 mln to US$ 6,912 mln, a 12% growth rate. EBITDA was up 26%, from $639 mln to $804 mln, while EPS grew by 3% to $4.99 (Non-GAAP up 9% to $6.24). Let's underline that Harman's revenue, EBITDA, and earnings per share all reached record highs this year.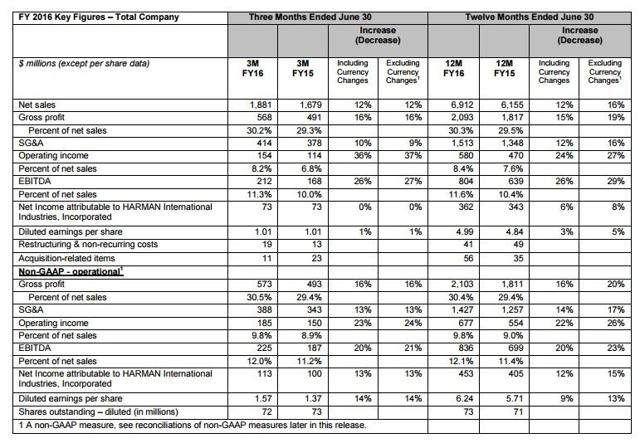 Click to enlarge
Sales of the Connected Car division grew by 11%, from $2,911 mln to $3,102 mln, with Gross Margin up from 23.1% to 25% and EBITDA margin up from 12.5% to 14.2%.
Revenue of the Lifestyle Audio division grew by 18% from $1,813 million to $2,138 million, with Gross Margin expanding from 32.5% to 33.8% and EBITDA Margin up from 13.1% to 15.2%
The Professional Solutions division was the only one to report negative sales growth. Revenue was down by 3%, from $1,049 million to $1,014 million. Gross margin declined from 40.8% to 38.1%, while EBITDA Margin declined from 13.0% to 10.3%.
Sales of the Connected Services division were up by an outstanding 82%, from $381 million to $694 million, but Gross Margin declined from 33.3% to 30.8%, while EBITDA Margin declined from 14.9% to 11.4%. The company explained that margin volatility of the division is an effect of accounting rules, since the timing of booked revenue is tied to specific customer acceptance milestones in longer-term engineering projects, while expenses are recognized as incurred. The company expects a reduction in the volatility of results starting from 2017, when it will start to use percentage of completion accounting for significant new contracts.
It is a very positive sign that 3 out of 4 divisions delivered significant growth in 2016, with divisions that have tight bonds with the automotive industry showing no sign of cyclical weakness. This is a confirmation that cyclical weakness in the automotive industry is not affecting Harman the way the market was expecting. Of course we should keep our eyes on the industry trends, but as pointed out before, I believe that increasing penetration of in-car infotainment systems is strong and would easily offset modest cyclical downturns in car sales. At the same time, for the next few years I expect car sales to recover or remain positive in many emerging countries such as Brazil, China, India.
The company seems to have good expectations about the future too. Management expects every division to grow in 2017, with total revenue up about 7%, and EBITDA up more or less by 10%. Operational EPS are expected to be in the 6.75-7.00 dollars range, up 8.1-12.2% over 2016 results. Up to 2019, revenue is expected to grow at a 8% CAGR.
It's cheap
Market reactions to concerns about a peak in auto sales is probably exaggerated. Even if auto sales start to fall, increasing penetration of Harman products in the connected car and audio divisions will probably more than offset a moderate decline in car sales.
A great bullish catalyst is given by the increasing penetration and functionality of infotainment and telematics across different car segments, beyond the usual luxury segment
At the current price the stock seems significantly undervalued even with modest growth assumptions.
If we use Discounted Earnings to value the stock, we can see that the stock is trading significantly below its Fair Value. I used a discount rate of 9%, an initial growth rate for the next 10 years, and a terminal growth rate for 20 years more. I won't discount earnings beyond 30 years because they have little impact of valuation. Even with modest growth assumptions (5%) the stock is trading 14% below its Fair Value.

Recent results and management's expectations seem to be compatible with mid to high growth assumptions, signaling a good opportunity to buy Harman stock. I have bought with a 2-4 years investment horizon and I believe the stock will deliver a very good performance as emerging markets recover and in-car infotainment systems gain market share in lower-end cars.
Disclosure: I am/we are long HAR.
I wrote this article myself, and it expresses my own opinions. I am not receiving compensation for it (other than from Seeking Alpha). I have no business relationship with any company whose stock is mentioned in this article.