About a year ago, I wrote a bullish article on Omega Healthcare Investors (NYSE:OHI). I referred to OHI as the REIT that under-promised and over-delivered in the last decade. I concluded that OHI consistently beat its own guidance by a margin of more than 3%. And it's not like Omega offers conservative guidance in order to easily reach its goals. The company's guidance has increased with around 10-12% per annum. And even with these forecasted growth levels, it is still able to over-deliver almost every single year.
However, the valuation at that time kept me from adding to my current long position. Recently, the company presented excellent financial results in its quarterly earnings report. This article provides an updated view on OHI and whether it is a solid investment at its current price.
Business
First off, let's look at its portfolio. In the table below, I've provided some investment data:
| | | |
| --- | --- | --- |
| Investments (billion $) | As of June 30, 2015 | As of June 30, 2016 |
| Skilled Nursing/Transitional Care | 6.87 (88%) | 7.27 (85%) |
| Assisted Living Facilities | 0.92 (12%) | 1.25 (15%) |
| Total | 7.79 | 8.52 |
Source: Supplemental quarterly information Q2 2015 and Q2 2016
About a year ago, OHI had investments of about $7.8 billion, of which almost 90% was used to purchase or finance skilled nursing facilities. As of now, OHI decreased this percentage slightly, but the majority of its investments are still focused on SNF's. In the first half of 2016 OHI invested almost $800 million already. Roughly half of this was used to purchase 31 SNFs in different states.
The portfolio is geographically and operationally diversified. OHI invested not more than 10% in any state and Ciena Healthcare is the only operator in which OHI invested more than 10%. However, the contractual rent from this operator accounted for less than 6% of total revenue.
In 2018, 6.6% of contractual revenue expires, but apart from that, there are no upcoming material lease expirations or lease renewal risk. The figure below shows when contractual revenue will start to expire. You can see that from 2022 and onwards leases start to expire. Between now and 2022, the cash flow situation seems pretty stable with room to grow because of new investments.

Contractual revenue expiration
Source: Supplemental information Q2 2016
Capital Structure
In the past year, OHI refinanced around $700 million of its debt, which was due in 2017 and 2018. Currently, there are no debt maturities until 2019. OHI has an unsecured revolving credit of $1.25 billion. Currently, OHI has borrowed $470 million from this facility, and this will need to be refinanced before 2019. The table below is from the quarterly supplemental information. In the table, the revolving credit is reflected at 100% borrowing capacity, so the actual outstanding debt is around $4.2 billion. Roughly 60% of this debt has a fixed interest rate. This is a lot less than, for instance, HCP (NYSE:HCP) and Ventas (NYSE:VTR) which have somewhere between 85% and 95% fixed-rate debt. This means that OHI is likely to be more sensitive to rising rates in the future than VTR and HCP. Two years ago, I wrote an article about the rate sensitivity of OHI, and at that time, the company had around 80% fixed-rate debt. It seems like OHI is using more variable debt, which is of course cheaper in the short run, but poses more risks in the future. I'd like to see that OHI refinances some of its variable rate debt, which is due in 2019 with fixed rates in order to lower its rate sensitivity.

Debt maturities
Source: Supplemental information Q2 2016
However, the mix between fixed and variable rate debt is not the only indicator whether the debt is sustainable or not. OHI currently has a fixed charge coverage ratio of 5.1x, which is at its highest in recent years.


Selected credit statistics
Source: Supplemental information Q2 2016
The fixed charge ratio is the adjusted annualized EBITDA divided by the sum of cash interest and preferred dividends, and reflects the ability of OHI to service debt payments and other cash obligations. Other healthcare REITs have notably lower fixed charge coverage ratios (HCP = 3.7x, Ventas = 4.6x). OHI seems to be comfortably able to service its current debt load.
Dividend Growth Is Accelerating And Supported By Cash Flow
The last few years, OHI raised the quarterly dividend by $0.01 each quarter. However, about a month ago, OHI declared a quarterly dividend of $0.60, which is an increase of $0.02. The dividend is comfortably covered by the adjusted funds from operations. The payout ratio (dividends divided by AFFO) is at its lowest point in the last decade. This suggests that future growth of the dividend seems very likely considering the fact that AFFO is growing and the payout ratio has room to expand.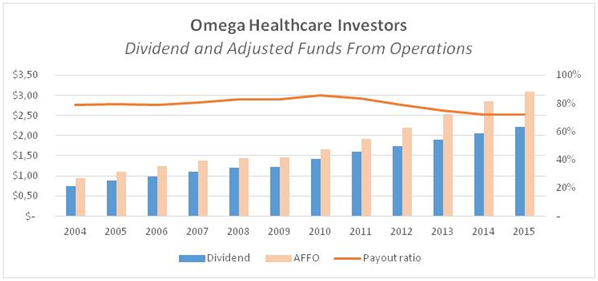 Source: Graph by author; data from various annual reports
The current annualized dividend of $2.40 gives (potential) shareholders of OHI a dividend yield of 6.75%. This is higher than dividend yields offered by other healthcare REITs.
| | |
| --- | --- |
| Current dividend yield | |
| OHI | 6.75% |
| HCP | 5.99% |
| Welltower (NYSE:HCN) | 4.50% |
| VTR | 4.01% |
Omega Slightly Undervalued Based On Historical Price-to-AFFO Ratio
In the graph below, I plotted the stock price range for each quarter as a blue range on the left Y-axis. On the right Y-axis, I have plotted the low and high P/AFFO multiples for each quarter:

Click to enlarge
Source: Created by author
Earlier this year, the price-to-AFFO ratio dipped under 9x. This was close to the valuation during the great financial crisis or the eurozone debt crisis. The last few years, the stock traded around 11-13x AFFO. In the last few months, the stock rallied more than 30% and currently trades for around 11x AFFO. This suggests that Omega is slightly undervalued based on the historical norms.
Conclusion: Omega Is A Buy
My updated review of Omega shows that it still is one of the top healthcare REITs in the sector. Omega is a solid and consistent REIT with great management, bright future prospects, high dividend yield and growth rate. Even though the shares have rallied for over 30% since their low point in February, Omega seems slightly undervalued based on historical Price-to-AFFO ratio. The high dividend yield AND growth is supported by stable cash flows. I am considering to add shares to my current long position.
Disclosure: I am/we are long OHI.
I wrote this article myself, and it expresses my own opinions. I am not receiving compensation for it (other than from Seeking Alpha). I have no business relationship with any company whose stock is mentioned in this article.