Mortgage real estate investment trusts have staged a strong comeback this year. The largest mortgage REIT in the land, Annaly Capital Management, Inc. (NYSE:NLY), is no exception here: Annaly's shares have risen 18.44 percent year-to-date on the back of recovering investor sentiment toward high-yield income vehicles. Importantly, high-yield stocks including business development companies and mortgage REITs have held up very well during the Brexit-induced market sell-off at the end of June. Despite the market volatility in 2016, it was a good time to buy Annaly Capital Management at the beginning of the year.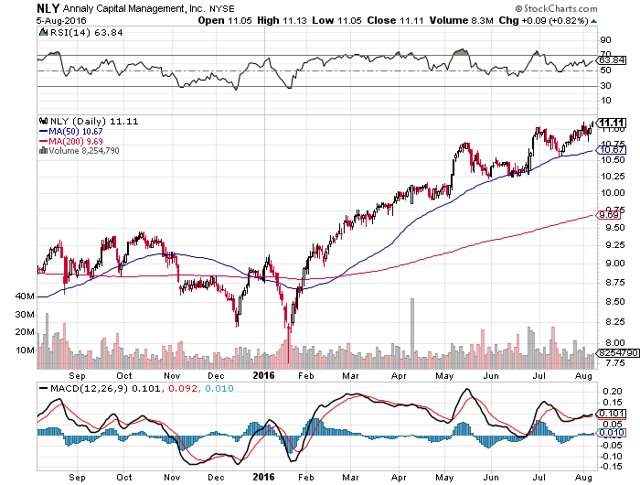 Click to enlarge
Source: StockCharts.com
Annaly is not the only mortgage REIT that has profited from growing investor interest lately. Chimera Investment Corp. (NYSE:CIM), another publicly-traded mortgage REIT, is another example of a high-yield stock that has gone through the roof after falling to new lows at the beginning of the year. In light of strong price returns I recently recommended investors to trim their position in Chimera Investment Corp. because the mortgage REIT is overbought (therefore vulnerable to a correction), and now trades at premiums to both accounting and economic book value.
Annaly Capital Management obviously also has had a great run this year, but I see more capital upside ahead for this mortgage REIT on the back of the company's defensible valuation and improving investor attitudes toward the high-yield mortgage REIT sector.
Annaly's gap between share price and accounting book value has been reduced significantly in 2016, but the mortgage REIT still sells for a discount to BV. Annaly said that it had an accounting book value of $11.50/share at the end of the June quarter, which slid $0.11/share compared to the 1st quarter of the year. Therefore, Annaly's shares are selling for 0.97x Q2-16 BV.
Another way to look at it is using the company's core earnings as a basis for valuation. For instance, in the 2nd quarter the mortgage REIT said that it pulled in $0.29/share in core earnings, which is slightly lower than Annaly's core earnings average of $0.306/share over the last five quarters. Based on $0.29/share in core earnings in the last quarter, the mortgage REIT is valued at ~9.6x Q2-16 run-rate core earnings.
Your Takeaway
Annaly Capital Management has produced a great return for income investors that took a risk at the beginning of the year and jumped into the breach. Though the mortgage REIT is no longer as cheap and undervalued as it was at the start of 2016, Annaly still sells for a small discount to accounting book value, and is not too expensive yet on a core earnings run-rate basis.
Further, I like Annaly Capital Management a bit more here than Chimera Investment Corp. because Chimera may have run a little ahead of itself in terms of valuation. Income investors pay 97 cents on the dollar for the country's largest mortgage REIT which throws off an ~11 percent dividend. Buy for income and capital appreciation.
If you like to read more of my articles, and like to be kept up to date with the companies I cover, I kindly ask you that you scroll to the top of this page and click 'follow'. I am largely investing in dividend paying stocks, but also venture out occasionally and cover special situations that offer appealing reward-to-risk ratios and have potential for significant capital appreciation. Above all, my immediate investment goal is to achieve financial independence.
Disclosure: I am/we are long NLY, CIM.
I wrote this article myself, and it expresses my own opinions. I am not receiving compensation for it (other than from Seeking Alpha). I have no business relationship with any company whose stock is mentioned in this article.