The US economy created 255k jobs in the month of July, beating expectations of 180k. The headline unemployment rate (U3) remained unchanged at 4.9%. Hourly wages increased $0.08 to an annualized pace of 2.6%, while the average work week came in at 34.5 hours. Sounds great, doesn't it!
Oh wait, I forgot to mention that the U6 measure, the one that measures those who are discouraged or working part-time for economic reasons was 9.7%, and the labor participation rate was still at 62.8%. Let's dig in a little bit further beneath the headlines. We will use our handy charts to dissect today's report.
We have now had a U6 reading near 10% since September of 2015.

Click to enlarge
The labor participation rate has now had a 62% handle since October of 2013.

Click to enlarge
Wait, I'm confused if we have been creating all these jobs the last few years, why is it that the U6 and Labor Participation aren't changing?
It has to do with job creation and population growth.

Click to enlarge
Here I show it another way. Civilian Labor Force minus Total Nonfarm Payroll.

Click to enlarge
So when did Labor Participation peak? Right around 1999-2000. When was the difference between the Civilian Labor Force and Total Nonfarm Payroll the smallest? Oh, I see at the same time.
Here is another view I like to show. Total Jobs Created by year.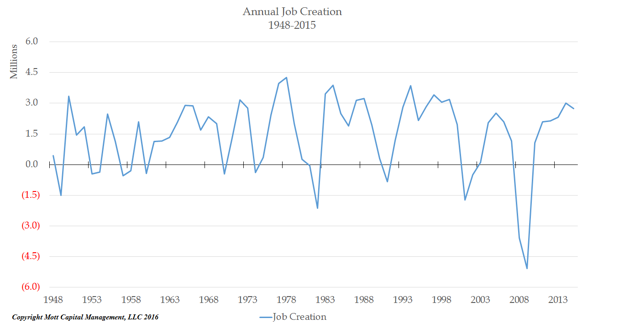 Click to enlarge
You notice anything about this chart? Well, with the exception of 2008-2009, it looks like every cycle has peaked at around 3 million jobs created and trough at around 0 to 1.5 million jobs lost. So that would mean? Since 1948, we have created the same number of jobs. If I'm not mistaken, something in this country must have changed since then.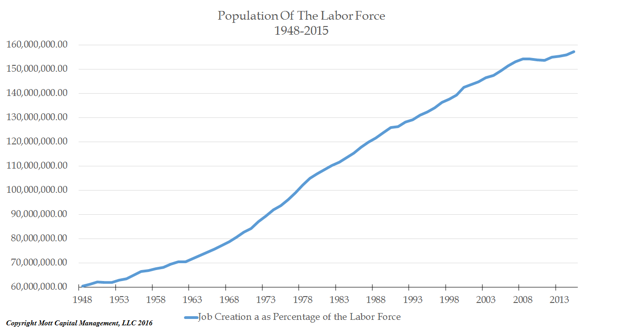 Click to enlarge
Wait, you mean we have more workers today than we did almost 60 years ago? Yep.
Here is the same chart of yearly job creation adjusted for population growth.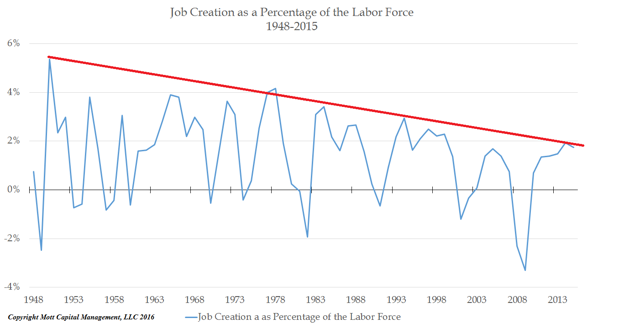 Click to enlarge
We are creating jobs, just less of them as a percentage of our population. Thus, as the population grows, we need to create more and more jobs. Unfortunately, that just isn't happening. In the 1980s, we peaked at around 3%; today we peaked at 2%. To produce jobs at a 3% rate, we would need to produce about 3% of 150 million people, or 4.5 million jobs per year, an average of 375k per month. How does that 255k reading sound now?
Equity Market
The equity market rallied Friday following the surprise employment numbers. The S&P 500 (NYSEARCA:SPY) was 18 points to 2182. The jobs report is giving investors hope that the economy will not worsen further in the second half of the year.
Currencies & Yield
The currency markets also reacted to the employment data, with the Dollar strengthen against the Euro, Yen and Pound. The Ten-year Treasury yield was to 1.57%; perhaps investors here think a rate hike is possible.
Summary
Markets reacted positively to Friday's employment report, with equity markets moving sharply higher. The Treasury yields and currency are following suit with yields moving higher, while the dollar strengthens. Based on these moves, one would think that if the economy is stabilizing to slightly improving, the Fed could potentially look to raise rates this year still. Which is what a strengthened dollar and rising rates would indicate. The equity market is also confirming the expectation of a better economic outlook for the second half. However, despite the on the surface strong job numbers, there is still much room for improvement, in my opinion.
Remember to Follow Us to receive these Daily Commentary and Research write-ups in your inbox.
Disclosure: I/we have no positions in any stocks mentioned, and no plans to initiate any positions within the next 72 hours.
I wrote this article myself, and it expresses my own opinions. I am not receiving compensation for it (other than from Seeking Alpha). I have no business relationship with any company whose stock is mentioned in this article.
Additional disclosure: Mott Capital Management, LLC is a registered investment adviser. Information presented is for educational purposes only and does not intend to make an offer or solicitation for the sale or purchase of any specific securities, investments, or investment strategies. Investments involve risk and unless otherwise stated, are not guaranteed. Be sure to first consult with a qualified financial adviser and/or tax professional before implementing any strategy discussed herein. Past performance is not indicative of future performance.