Today marks another all-time high for the S&P 500 (NYSEARCA:SPY). It seems like the market wants to slowly grind higher, which is making me very nervous for those investors who are close to retirement.
I have several friends who are nearing retirement age, and all I am reminded of is 1999, when no one wanted to sell any of their winners. It seemed as if the market would never go down. Technology stocks were out of control, Clinton was in the White house, the budget was balanced and all was well.
Sixteen years later and Technology stocks are on fire, and more deservedly in some areas, as the world has made incredible advancements in technology. But people's behavior remains the constant.
Last week's good jobs number has many in the market looking for continued momentum and new highs. This may go on for a while longer; it feels like a game of musical chairs in which we are all waiting for the music to stop.
Global banks seem to have lost their collective financial mind, telegraphing to the market that they will step in and buy bonds and stocks and whatever else they deem necessary to keep the financial markets steady and rising.
Consequence
Central banking policy continues to punish savers, forcing higher-risk investing and pumping stimulus into a corrupt system.
My mother has $200k in cash, which will make her $9.50 sitting in a typical savings account per month. Ten years ago, she would have been able to get up to $900 a month on a 90-day CD.
More risk is being deployed by hedge funds and banks all over again. I believe leverage levels are rising, and that the market is one major event away from a big problem.
Black Swan Event on the Horizon?
In the last few months, the market has had the surprise of Brexit, multiple terror attacks on innocent citizens across the globe, and other than a 3-day sell-off, the market has been eerily calm.
Nothing seems to shake this market out of a very tight trading range. At some point, something has to give. I am not saying we are going to crash, but I have my reservations about buying anything at this price except for a few select wipeout stocks trading at decade lows.
The Volatility Index is hitting multi-year lows as we speak. VIX (NYSEARCA:VXX) is trading at $9.33, down over 20% in the last two weeks alone, and at a multi-year low as I write this. Tomorrow, there will be a reverse split 1:4 in the trading vehicle. This trend could go on for a bit longer, but it feels like the volatility low for the year is close at hand.
Here is a chart showing SPY versus VXX.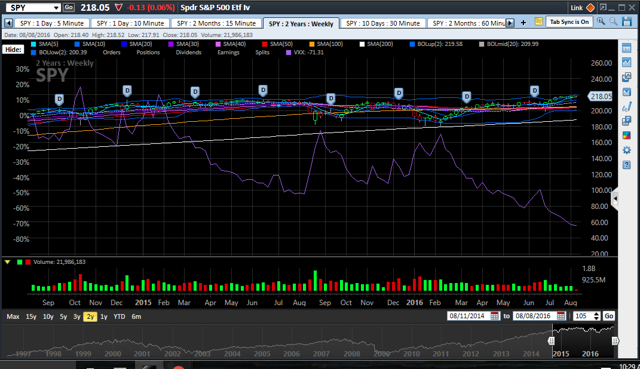 Click to enlarge
Anyone buying VXX for protection has been crushed by the extreme lack of volatility since the Brexit vote.
If you believe volatility will increase dramatically, you may want to hedge with VXX. It has risks and should not be used as a long-term trade; however, a big drop in the market could mean a quick 40-100% gain.
Conclusion
Sentiment in the market is improving. The current rally could take the S&P up to 2400 in a quick and violent fashion or a long and slow grind. On the flip side, we may be at a top right here and now. Investors would be wise to pick their spots very cautiously and stay off margin.
This market could turn on a dime, and it usually happens when sentiment is good. Seems wise to buy when panic is rampant like in February and sell now when pundits are saying to buy.
As always, do your own research and know your exit point before entering into any trade.
Disclosure: I/we have no positions in any stocks mentioned, but may initiate a long position in VXX over the next 72 hours.
I wrote this article myself, and it expresses my own opinions. I am not receiving compensation for it (other than from Seeking Alpha). I have no business relationship with any company whose stock is mentioned in this article.