Following my last article I will continue to build up a portfolio of exceptional companies in a long-term perspective which pay increasing dividends over the years. Amgen (NASDAQ:AMGN) is a valuable biotechnology company in many areas especially oncology and hematology with attractive growing dividends. This is the eighth company selected and I will add two others soon which meet several key factors:
1. Excellent generation of free cash flow
2. Sound earnings per share and strong valuation
3. Stock appreciation over the years
4. Very limited drawdown potential
5. Dividend yield of around 3% (including dividend growth)
In the last 5 years, the company has increased revenue at 8.5% CAGR and net income at 15% CAGR. While guidance was raised in its Q2 earnings report, the company remains very solid and has excellent products to support its long-term growth.
As of Jun 30, 2016, Amgen's Levered Free Cash Flow ttm (LFCF) was $6.34B and it had 748.36M shares outstanding. So, LFCF per share ($6,340/748) was $8.48. Dividing AMGN's last closing price of $173.66 by $8.48 we get 20.50. It means that the company is trading around 20 times its LFCF which is a remarkable result.
Following a strong second quarter 2016, EPS guidance increased to an average of $11.25 on a non-GAAP basis. EPS estimates for full-year 2017 are around $12.50. Taking a forward P/E of 14 we arrive at a value of $175 per share. However, it is not included here the potential for future growth through acquisitions, and the company's ability to develop organically its business in many therapeutic areas. For this reason, I will use a basic discounted cash flow (DCF) analysis with a conservative approach:
FCF at 6% CAGR reaching ~$9.40B in 5 years
A 20x multiple against FCF in 5 years gives Terminal Value
WACC (Discount Rate): 8%
Cash minus debt: $1.81B
Therefore, with a total market value of ~$162B and supposing that there will be roughly the same amount of fully diluted shares outstanding (748M), we arrive at a value of $217.10 per share.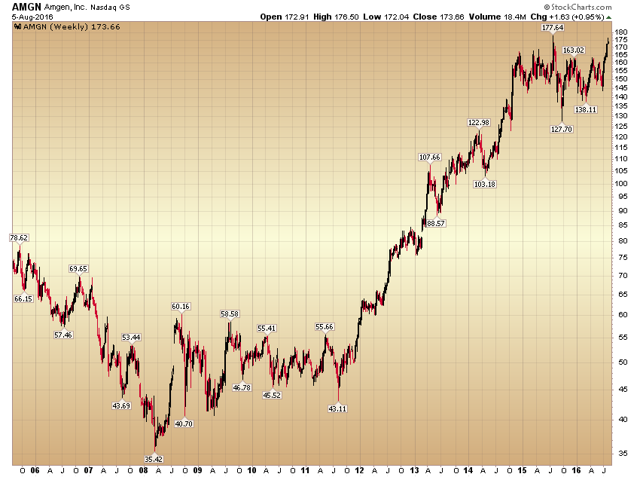 Click to enlarge
Charts courtesy of StockCharts.com
Looking at the 11-year weekly chart above we note that the company's share prices made a top in late 2005 at $78.62 and showed a very pronounced downtrend that only ended in early 2008 at $35.42. From here AMGN shares skyrocketed and months later were trading in a large trading range, broken on the way up in late 2011. A steady uptrend was in place until early 2015 which was followed by a new trading range. As we can see in the 2-year daily chart below prices manage to break through the resistance at ~$165 and are challenging higher levels probably testing soon its all-time high at $177.64.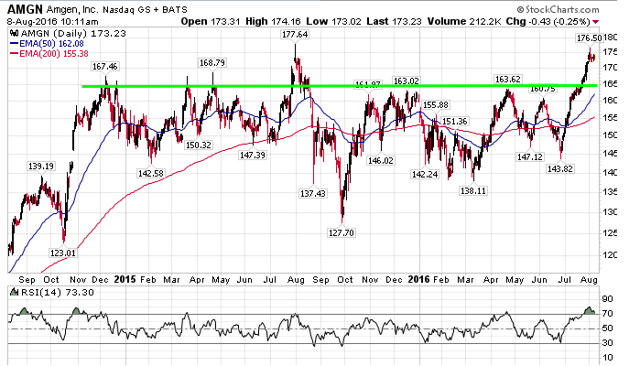 Click to enlarge
It is also noted that the value of the indicator RSI is somehow overbought which denotes strength but at the same time indicates the need for price increases to occur at a more controlled pace.
The company's dividend has been fast growing at 29% CAGR since 2011. AMGN currently pays $4 per share which represents a dividend yield of 2.3%.
Conclusion
Amgen is one of the world's largest biotechnology firms and shows value and growth. In the last 18 months its share price has largely developed within the limits of a trading range between $140 and $165. Although this period has expressed a lower conviction among Amgen investors, buying pressure is again showing its strength. In fact, prices exceeded the resistance at $165 and seem ready to further increases. I am positive about the company's perspectives given its expertise, business dimension and growth potential.
Note: This virtual Portfolio is only intended to be a guide for investors.
Disclosure: I/we have no positions in any stocks mentioned, and no plans to initiate any positions within the next 72 hours.
I wrote this article myself, and it expresses my own opinions. I am not receiving compensation for it (other than from Seeking Alpha). I have no business relationship with any company whose stock is mentioned in this article.
Additional disclosure: The author of this article gives only his personal view and opinion, never making any investment advice to buy or sell specific securities. Investors in financial assets must do so at their own responsibility and with due caution as they involve a significant degree of risk. Before investing in financial assets, investors should do their own research and consult a professional investment adviser.