The price of Ultra Petroleum Corp. (OTCPK: OTCPK:UPLMQ) stock has risen sharply the last few days on very little news. Since the price of natural gas and oil have not risen sharply during the same period, industry fundamentals are most likely not the cause for this dramatic price increase. Ultra filed their June monthly operating report on July 20 and the company announced on August 5 that management would have a Webcast to discuss 2nd quarter results on August 11, which is unusual for a company in bankruptcy.
Natural Gas and Oil Prices
After soaring in early June because an early heat-wave, the price of natural gas at the Opal Hub has traded within the narrow band the last few weeks. The price of oil continues to drift lower after hitting a high in early June and is actually lower now than when Ultra filed for bankruptcy.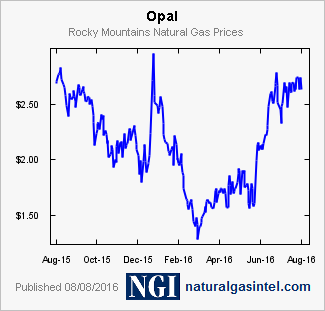 Click to enlarge
June Operating Report
The June monthly operating report (docket 424) filed with the bankruptcy court showed mixed results. When analyzing the June income statement versus the May report it is important to note that June's report covered 30 days and the May's report covered 33 days (April 29-May 31). Revenue per day in June for natural gas was $1.34 million up from $1.24 million in May. Oil revenue per day in June was $0.337 million up from $0.328 million in May. Since the price of natural gas at the Opal Hub soared during June, cubic feet sales by Ultra dropped. The actual cubic feet of natural gas sales per day may have declined about 20% in June from the prior month using average prices. (The decline may be less because Ultra does not actually sell at the monthly average price.) I am not aware of any local pipeline issues that may have caused the sales decline, so the decline must have been lower production. EBITDA for June was $30.1 million.
Cash increase increased by $18 million in June from May and $48 million since the bankruptcy filing. However, there have been no cash payments for any professional fees nor other bankruptcy related expenses during bankruptcy yet. These fees often are often millions of dollars. Since there is no DIP financing, there was no interest expense. (Remember that the interest on their debt is not paid during Ch. 11.) The positive cash figure may also be due to a very low level of CAPEX, which may help cash in the short-term but have a negative impact on future production.
June Operating Report-Income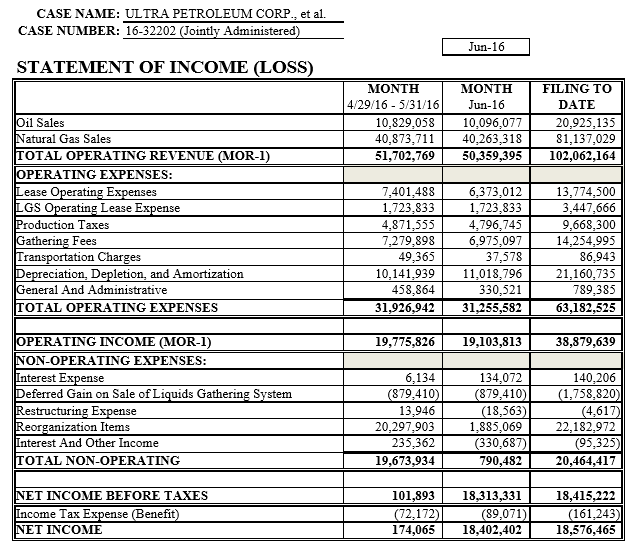 June Operating Report-Balance Sheet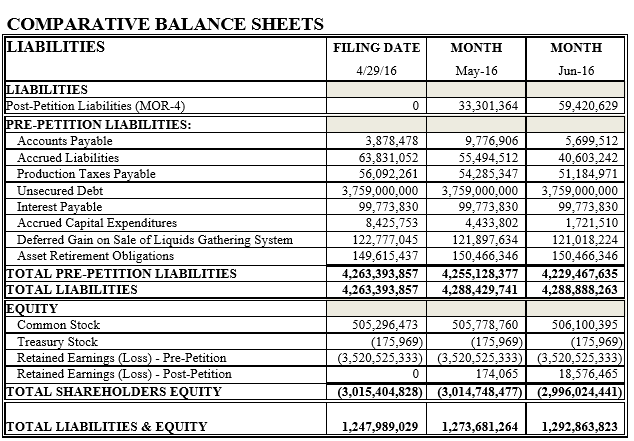 Shareholder Committee
The U.S. Trustee denied requests to appoint an official equity committee, but the ad hoc equity committee includes a number of influential hedge funds. The committee members own over 30.4% of the outstanding shares. Warlander Asset Management filed their "substantial" shareholder report (docket 451) that showed that all of their 17 million shares were purchased on May 4. The volume on May 4 was 52.3 million shares, which was actually down from 77.3 million shares the prior day. On that date the high was $0.25 and low was $0.18. Clearly Warlander has an impressive gain already, but because of the "short-swing" rule Sec 16(b) they cannot sell in the market until November 5. Eric Cole of Warlander may have thought going above the critical 10% level would indicate to the market that he was in this for long-term and not just quick buy and sell on a pop in the stock price. Warlander and other committee members own some debt, but based upon current market prices their largest holdings are equity, except Latigo Partners.
John Staker also filed a "substantial" shareholder report (docket 406) showing that he owns just over 7 million shares. His late June purchases of 272k shares raised his ownership over the 4.5% reporting requirement. He is not, however, a member of the ad hoc committee. Disciplined Growth Investors that own over 14 million shares has been a long term buyer of Ultra according to their "substantial" holder filing (docket 404). They have been "averaging down" on their purchases and have lost a lot of money on Ultra.
Members of the Ad Hoc Equity Committee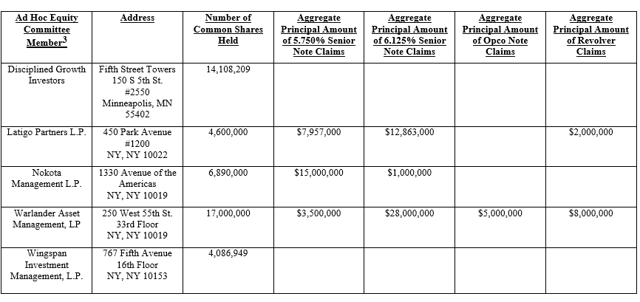 Click to enlarge
Stock Is Price Soaring
With price of UPLMQ soaring the last few trading sessions and the lack of important news reported, some investors feel that there is a short squeeze taking place. The last short interest numbers indicate that about 10.9% of outstanding shares are short. Deducting the ad hoc equity committee members, John Staker, and management from total outstanding shares, the short interest is about 17.8%. There could have been a short squeeze, but that also depends upon the type of investors who are short and the amount of capital they have to maintain their short position as the price rises. I think it is a combination of factors.
Investors have been encouraged by the rise in debt prices. The problem is that their debt trades are rarely reported to FINRA. There are, however, trading screens that have shown a fairly constant increase in the bid/ask prices over the last few months. With debt trading in the low 70s and since there still is significant risk, debt investors must be expecting to get close to full recovery. (When I buy debt in bankrupt companies this early in the bankruptcy process I need an estimated 35-50% return on capital to justify assuming various risks.) After a re-organization plan is filed, these notes should trade closer to par.
5.75% 2018 Opco Unsecured Notes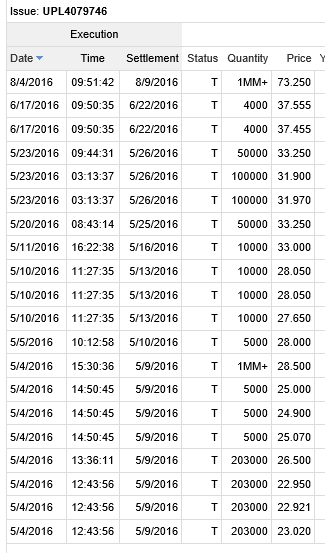 6.125% 2024 Opco Unsecured Notes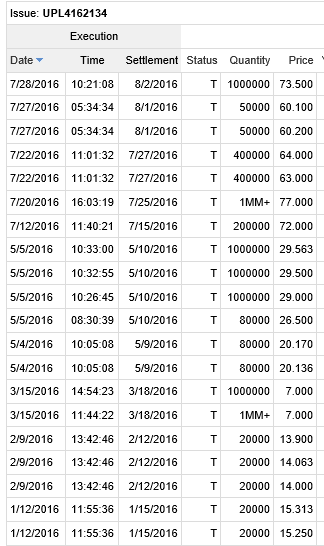 Announcements
Shareholders may have been encouraged by the announcement on August 5 that management was holding a Webcast to discuss 2nd quarter results on August 11. Frequently many companies that are in Ch. 11 no longer have Webcasts and this could indicate that management is taking a positive approach to shareholders. It will be interesting to learn about the actual natural gas production trend and CAPEX during the quarter.
Some investors may think that the requested 180 day extension by management (docket 445) for their exclusive period to create a re-organization plan until February 28 is bullish for UPLMQ shareholders. Management would also have until April 30 to solicit ballots from those voting on the plan. The clock was ticking and getting close to the end of the original exclusive period-August 29. This could be considered bullish if one is expecting rising energy prices for the next six months.
Valuation
While there have been a few pieces of positive news about Ultra the last few weeks, it does not seem to justify the surging stock price. I read comments on various websites by investors who are relying on the valuation projections that were contained in the letter (docket 252) requesting an appointment of an official equity committee by the U.S. Trustee, which she denied. Often requests for official committee include completely unrealistic projection and valuations. For example, the letter contained an estimated multiple of 11x 2017 EBITDA, which is, in my opinion, completely unrealistic. The ad hoc equity committee selected the same law firm that wrote the letter, Brown Rudnick, to be their counsel. It will be interesting to see how the market values the newly issued equity when Ultra exits Ch. 11.
The first quarter 2016 had an EBITDA of only $63.4 million because of extremely low prices. The latest figures had a one month EBITDA of $30.1 million. I think that many UPLMQ holders, including the ad hoc equity committee members, are looking past 2016 when determining the valuation of Ultra post Ch. 11.
Because of the extreme volatility in prices for both natural gas and oil it is difficult to estimate Ultra's 2017 EBITDA with a high degree of certainty. Not only weather, but geo-political events impact supply/demand. When I buy energy investments I like to think of 3-5 years when determining valuation, but when a company is in bankruptcy one has to look at near-term data conservatively. It is reasonable to estimate 2017 EBITDA to be in $400-550 million range. My estimated EBITDA is based also on a decline in actual production in 2017. CAPEX has dropped sharply over the last two years from $1.491 billion in 2014 to only $0.494 billion in 2015. This trend continued in the 1st quarter 2016 with only $77 million spent down from already low $132 million in 1st quarter 2015. This low level of CAPEX will most likely continue during bankruptcy.
Using conservative multiples of 5x and 7x, the valuation for Ultra would be $2.0 billion to $3.85 billion. These low multiple are also based upon the very low level of CAPEX for two years. Without spending money to explore, drill, and maintain production it is hard to justify using higher multiples. Even at the high figure, that would not leave much, if anything for shareholders, since liabilities with priority claims total over $3.8 billion. For shareholders to receive recovery, estimated EBITDA needs to be higher or more generous multiples are used. In addition, there could be "gifting" of some equity/warrants to shareholders from a priority class in a re-organization plan.
Conclusion
Some of the information covered in this article I already posted in the comment area of prior ULPMQ articles, but since very few SA members read the comments weeks after an article has been published I wrote this update for the broader readership. I will continue to post new information in the comment area when it becomes available.
Originally I thought that Ultra was planning a Sec 363 sale of assets because they did not arrange for DIP financing. This indicated to me that they were not expecting to need additional cash because they planned to raise cash from asset sales instead. When the price of natural gas soared in early June, Ultra may have changed plans and decided against asset sales because they had a modest positive cash-flow.
The price of UPLMQ has soared on limited news reported over the last few weeks. Are investors expecting a sale of assets at very favorable prices or do they expect to receive a significant equity position in the new company upon Ultra's exit from Ch. 11? Are they expecting the "pie" to get bigger with higher energy prices or getting a larger piece of the "pie"? Too many investors are assuming an unrealistic multiple to future EBITDA. They are not factoring in the extremely low CAPEX for two years. Unless natural gas and oil prices rise sharply over the next 6 months, I expect only limited recovery for shareholders. UPLMQ is rated a sell.
Disclosure: I/we have no positions in any stocks mentioned, and no plans to initiate any positions within the next 72 hours.
I wrote this article myself, and it expresses my own opinions. I am not receiving compensation for it (other than from Seeking Alpha). I have no business relationship with any company whose stock is mentioned in this article.
Editor's Note: This article discusses one or more securities that do not trade on a major U.S. exchange. Please be aware of the risks associated with these stocks.