American International Group (NYSE:AIG) is a much different company than it was prior to the Financial Crisis. While the company will never be able to recreate the international scale which it had achieved under the leadership of Hank Greenberg, the risks are also far lower. The late Bob Benmosche did an unbelievable job in paying the government back and delivering a nice profit, while also protecting the interests of employees and shareholders.
Current CEO, Peter Hancock is in the process of transforming the company into a more traditional, yet still vast insurance operator. What I mean by this is that AIG had a disproportionate share of its earnings coming from market-sensitive investments such as the former ILFC, PICC, and hedge fund investments. These worked out pretty well in general but they masked the fact that AIG has been an underwriting albatross.
Many of the issues were inherited by Hancock, yet I don't believe that he has yet delivered the transformative improvement needed to be able to achieve reasonable consistency in underwriting profitable business. However, I do believe that the progress achieved in the last quarter is very promising and I also applaud the aggressive cost cutting that has occurred to cut the clearly bloated corporate structure.
On August 2nd, AIG reported earnings, which exceeded analyst expectations. The company reported net income of $1.9 billion, or $1.68 per diluted share. More importantly, after-tax operating income was $1.1 billion, or $0.98 per diluted share, which was down from $1.9 billion, or $1.39 per diluted share, in the prior year quarter. Year-over-year results were impacted by an adverse change in the net loss reserve discount on workers' compensation reserves of $455MM after tax, or $0.36 per diluted share.
In addition, YoY results were also impacted by a decline in earnings from market sensitive assets of $631MM after tax, or $0.44 per diluted share. YoY net income was positively impacted by an increase in net realized capital gains of $576MM after tax, or $0.52 per diluted share.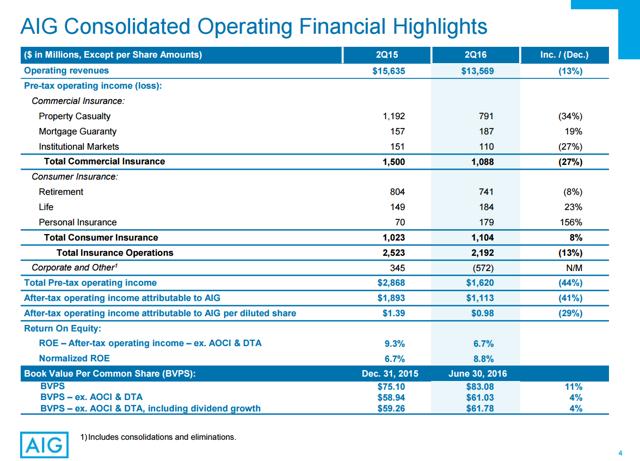 Click to enlarge
Source: AIG 2nd quarter 2016 Investor Presentation
Importantly, AIG's return on equity of 8.6% was up from 6.8% in the 2nd quarter of 2015. The normalized ROE improved to 8.8% from 6.7% in the prior year quarter. This was the result of improvement in the operating margin and a lower capital base from the reduced capital base due to AIG's aggressive returns to shareholders via stock buybacks and dividends.
I have long been a proponent of AIG's stock buyback program due to the deep discount at which the stock trades relative to intrinsic value, and ultimately I expect the stock to follow the strong book value growth to much higher levels than what it trades at today. Peter Hancock has finally made the aggressive cost cuts that have long been necessary at AIG, where a bloated corporate structure was a legacy from its gloried past. For the first 6 months of 2016, general operating expenses declined by 7% from the prior year. Excluding the impact of foreign exchange, general operating expenses on an operating basis were down by 11% from the prior year.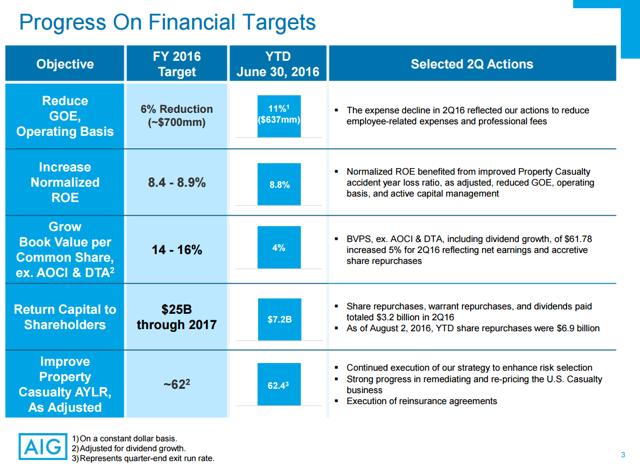 Click to enlarge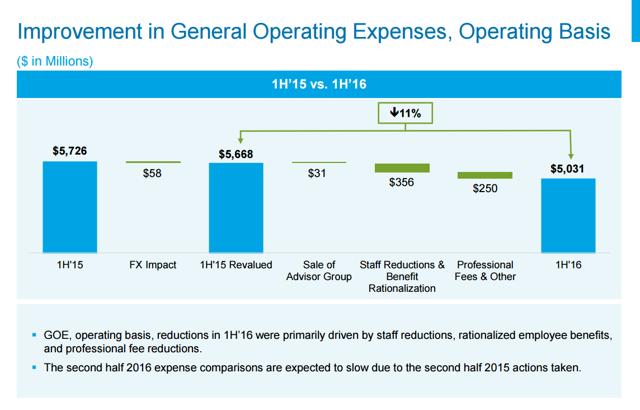 Click to enlarge
AIG's goal is to focus on diverting its resources towards lines of business, which are profitable. This seems sensible enough, but insurance companies have a long and sordid history of chasing premium growth at the expense of underwriting. Sometimes, these sins can be masked by high interest rates or explosive investment growth, but that is incredibly unrealistic given the current environment.
AIG's biggest problem has been its ineptitude in profitably underwriting its business, mostly stemming from policies written years ago in covering things such as asbestos and workers' compensation. Peter Hancock was brought in to fix these issues and while progress has occurred, I believe that we are still in the early innings of truly seeing the progression that is possible.
In today's low interest rate world, insurance companies cannot rely on explosive investment returns to propel profits, but instead must improve margins through both expense reductions and profitable underwriting. In the 2nd quarter, AIG showed some adequate improvement in what was admittedly a challenging environment from a catastrophe perspective. Higher catastrophe losses and the use of a lower discount rate for reserves contributed 11.6 points to the Commercial Property casualty ratio of 75.
However, AIG's strategic actions did result in improving the Accident Year Loss ratio, as adjusted, by 4.2 points from the prior-year quarter to 62.4, which is a 3.8-point improvement from the full year of 2015. AIG is really making an effort to continue shedding noncore assets held in its Legacy portfolio. Over the last 3 quarters, the company has monetized about $4.3 billion of assets. This allows the company to return more capital to shareholders and to focus on the core business.
While financial stocks in general are out of favor, AIG continues to aggressively grow its intrinsic value and book value, which in my opinion closely approximate one another. Via earnings growth and accretive stock buybacks, book value per share grew a whopping 6% during the quarter, to $83.08. Book value per share, excluding AOCI and DTA, including dividend growth grew 5% to $61.78 during the quarter.
These are big moves in a short period, and the company will continue to make progress here; on August 2nd, the Board of Directors authorized the repurchase of up to $3 billion in shares. This increases the remaining share repurchase authorization to approximately $4 billion. Parent liquidity is still strong at $6.7 billion as of June 30, 2016. In addition, AIG declared a quarterly dividend of $0 .32 per share.
At a recent price of $54.14, the stock yields roughly 2.36%. (The stock has moved up quite a bit since earnings so one might wait for a pullback or at least dollar-cost average.) I believe that fair value for AIG is in excess of $70 per share, but long term, this intrinsic value should grow by 10-13% per annum as the full impact of underwriting margin improvement shines through.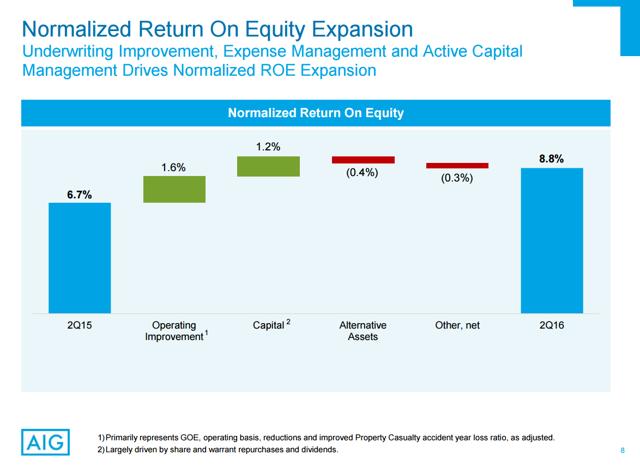 Click to enlarge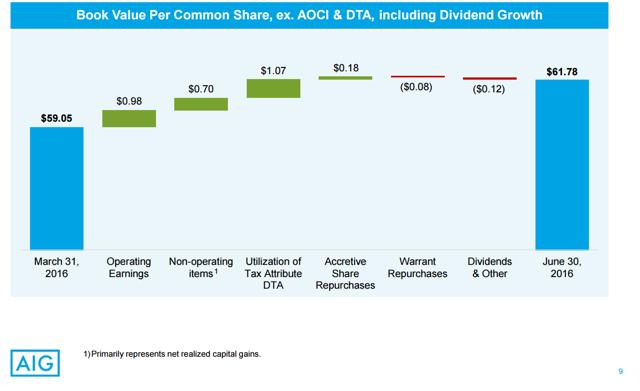 Click to enlarge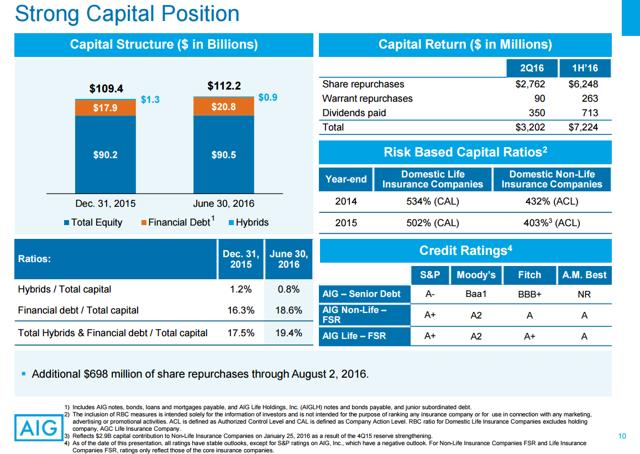 Click to enlarge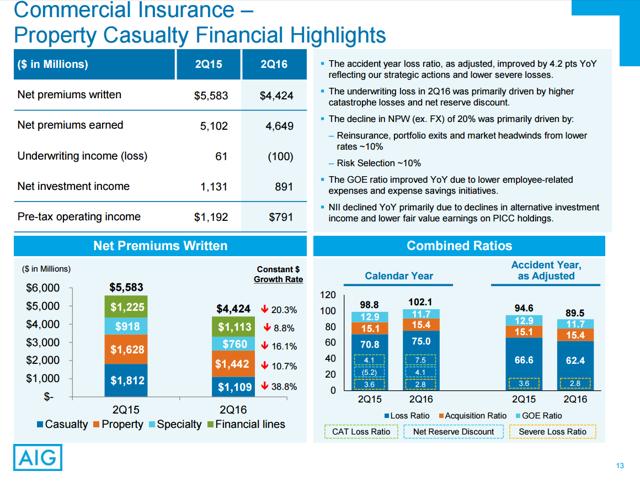 Click to enlarge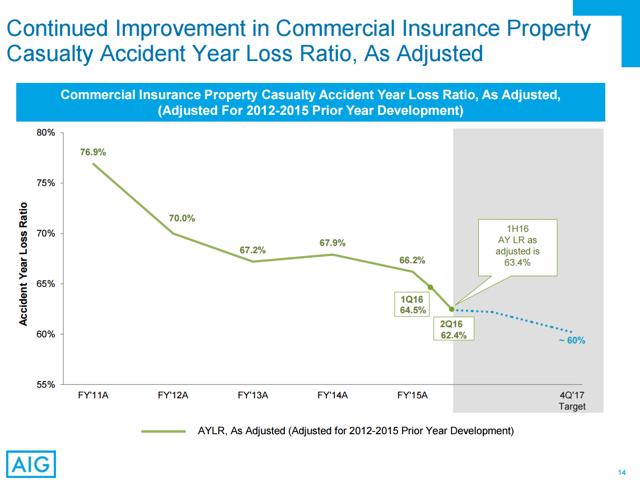 Click to enlarge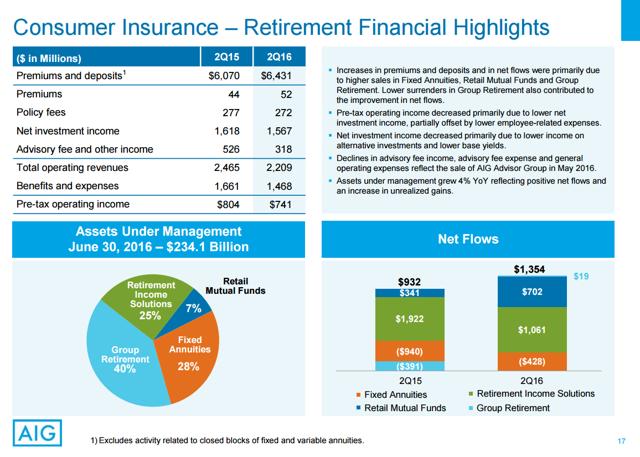 Click to enlarge
Disclosure: I am/we are long AIG.
I wrote this article myself, and it expresses my own opinions. I am not receiving compensation for it (other than from Seeking Alpha). I have no business relationship with any company whose stock is mentioned in this article.