Click to enlarge
Source: Chimera Investment Corp.
So far in 2016 greatly decreased rate-hike expectations and a desperate hunt for yield have been a boon to REITs, especially mREITs such as Chimera Investment Corp (NYSE:CIM), American Capital Agency (NASDAQ:AGNC), and Annaly Capital Management (NYSE:NLY).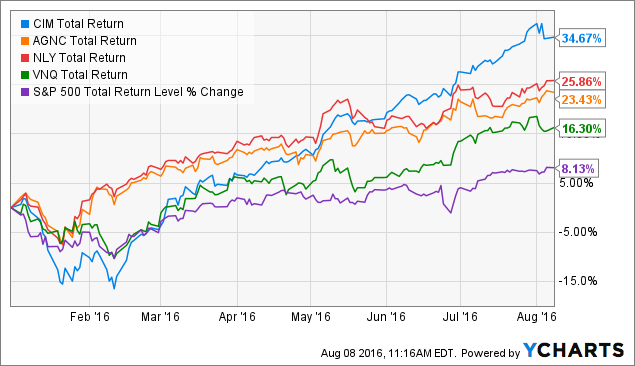 CIM Total Return Price data by YCharts
Of course with such strong increases in prices comes increased risk. Which is why I want to warn high-yield seeking investors to be very careful about this sector. Let's look at three reasons why Chimera Investment Corp. in particular represents a very risky way of generating high-yield, in the current record low interest-rate environment.
Q2 earnings not as good as they appear
| | | | | | | |
| --- | --- | --- | --- | --- | --- | --- |
| Metric | Q2 2016 | Q2 2015 | YoY Change | First Half 2016 | First Half 2015 | YoY Change |
| Net Interest Income | $137.9 Million | $149.8 Million | -7.9% | $276.1 Million | $332.4 Million | -16.9% |
| EPS | $0.39 | $0.57 | -31.6% | $0.84 | $0.89 | -5.6% |
| Core EPS | $0.51 | $0.57 | -10.5% | $1.09 | $1.29 | -15.5% |
| Regular Dividend | $.48 | $0.48 | 0% | $0.96 | $0.96 | 0% |
| Payout Ratio | 94.1% | 84.2% | 11.8% | 88.1% | 74.4% | 18.3% |
| Economic Book Value | $14.65 | $15.54 | -5.7% | $14.56 | $15.62 | -6.8% |
Chimera's latest earnings results were a mixed bag. Yes, the company covered its dividend with core EPS, however it also reported rising interest costs, and lower net investment income, or NII, due to the large shift in its underlying business model. That has resulted in core earnings and book value falling year-over-year.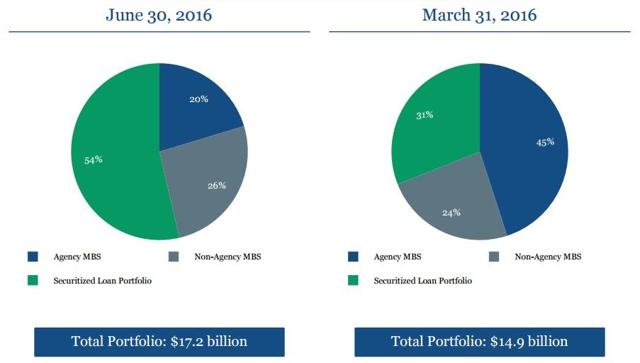 Click to enlarge
Source: Chimera Investment Corp. earnings presentation.
Specifically, Chimera's management decided to pursue a more aggressive income-generating strategy by selling $2 billion in agency MBS and investing heavily into higher-yielding secured mortgage loans. While this greatly reduced the mREIT's forward interest rate risk, it comes at the cost of higher credit risk.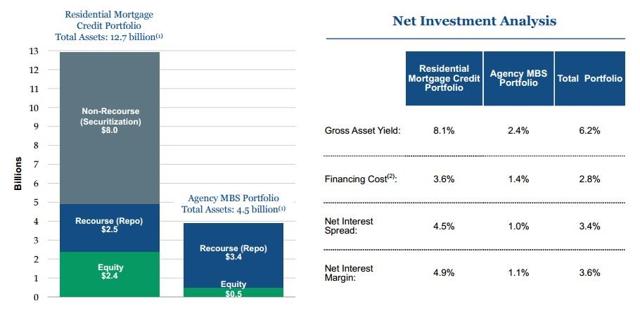 Click to enlarge
Source: Chimera Investment Corp. earnings presentation.
Now don't get me wrong, I'm not saying that Chimera's management are a bunch of wild gamblers who have forgotten the lessons of the financial crisis, in which poorly designed collateralized debt obligations and insane amounts of leverage nearly collapsed the entire global financial system.
For example, Chimera's focus on secured loans is structured similar to the Springleaf loan portfolio it acquired two years ago. This portfolio is incredibly high-quality, if still riskier than agency MBS. For example, the average secured loans that management is focusing on are over 10 years old, have an average remaining balance of $107,000, and a 7.35% coupon. Better yet, they are 90% documented, and 95% of loan holders are current over the last 12 months.
And since these are riskier loans, Chimera was able to purchase them for below par value, meaning that even if mortgage holders refinance, and pay off the loans early, the company won't face the usual risk of taking a loss on its loans, as occurs when an mREIT buys agency MBS at a premium to par, and fails to amortize the cost over the life of the mortgage due to early repayment.

Click to enlarge
Source: Chimera Investment Corp. earnings presentation.
Dividend Profile is overly optimistic
Sources; earnings releases, Yahoo Finance, Fastgraphs, Ycharts, Factset Research, Multpl.com, Moneychimp.com
| | | | | | |
| --- | --- | --- | --- | --- | --- |
| mREIT | Yield | Q2 2016 Payout Ratio | 10 Year Projected Dividend Growth | Historic Dividend Growth | 10 Year Projected Total Return |
| Chimera Investment Corp. | 11.6% | 94.1% | 4.0% | -5.8% | 15.6% |
| American Capital Agency | 11.0% | 73.9% | -1.0% | -14.2% | 10.0% |
| Annaly Capital Management | 10.9% | 100% | -0.9% | -0.1% | 10.0% |
| S&P 500 | 2.0% | 39.1% | 5.8% | 14.3% | 9.1% |
Long-term market studies show that a good rule of thumb for projecting total returns is yield + dividend growth. And while analysts are far more bullish about Chimera's ability to grow its payout in the future, keep in mind that all long-term analyst forecasts always need to be taken with a heavy dose of skepticism.
For example, while Chimera's dividends history is relatively stable over the past few years, the overall dividend growth record since its 2007 IPO leaves a lot to be desired.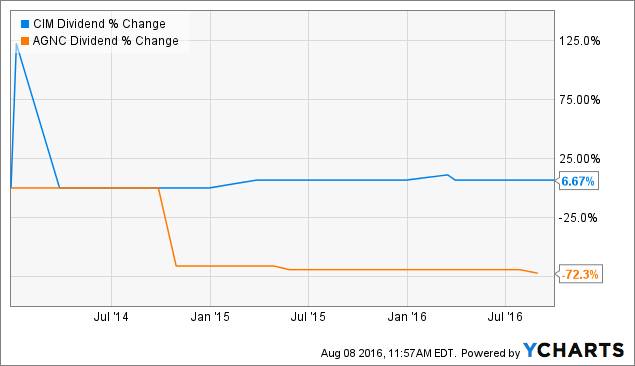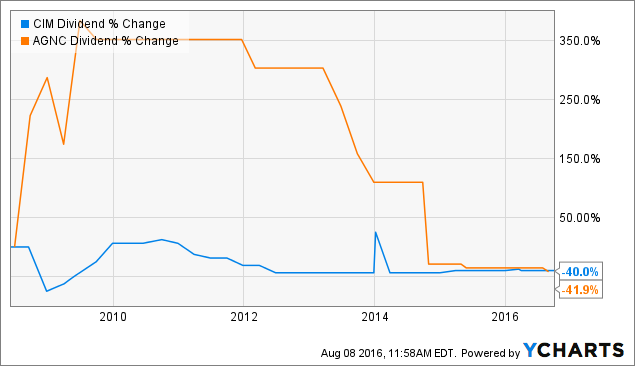 CIM Dividend data by YCharts
The bottom line is that, like all mREITs, Chimera can't be depended on to steadily grow its dividend overtime, but rather acts as a variable payout investment. That means that you need to be prepared for a lot of share price volatility.
Balance sheet is riskier than most of its peers
| | | | |
| --- | --- | --- | --- |
| mREIT | Interest Income/Interest Expense | Debt/Equity | Leverage Ratio |
| Chimera Investment Corp. | 3.00 | 4.7 | 4.7 |
| American Capital Agency | 3.52 | 0.4 | 7.7 |
| Annaly Capital Management | 4.72 | 0.7 | 6.7 |
| Industry Average | NA | 1.3 | NA |
As you can see, Chimera's balance sheet is pretty risky. While its leverage ratio isn't as high as those of Annaly and American Capital Agency, keep in mind that the vast majority of those mREITs' loan books are composed of risk-free agency debt. That allows a greater amount of safe leverage that helps generate higher returns on equity, and pays for their dividends.
Valuation is historically high, creating far more downside risk at today's share price
ColoradoWealthManagementFund made an excellent point recently in an article that highlighted the fact that Chimera's book value is currently the same as it was at the start of the year. That means that the company's intrinsic value hasn't increased along with the 34% rise in share price.
| | | | | | | | |
| --- | --- | --- | --- | --- | --- | --- | --- |
| mREIT | Yield | 5 Year Average Yield | P/BV | Historical P/BV | P/FFO | Historical P/FFO | Average Historical Premium |
| Chimera Investment Corp. | 11.6% | 13.8% | 1.05 | 0.92 | 20.5 | 9.1 | 41.2% |
| American Capital Agency | 11.0% | 15.9% | 0.90 | 0.89 | 10.5 | 4.4 | 54.1% |
| Annaly Capital Management | 10.9% | 13.0% | 0.98 | 0.90 | NA | NA | 8.6% |
This has resulted in Chimera's valuation multiples climbing to extremely overvalued levels, especially when compared to its historical yield, price to tangible book value, and price to cash flow. Essentially, any investor buying shares of Chimera today is taking on an extreme level of short-term risk. That's especially true since management will need time to prove that its new, riskier, but potentially far more profitable business model can turn around its long term-trend of declining book value -- a good proxy for shareholder value.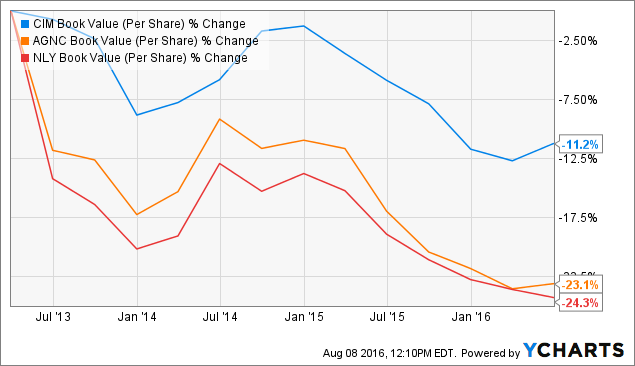 CIM Book Value (Per Share) data by YCharts
Biggest risks to watch for going forward
All mREITs are extremely sensitive to interest rate changes, which is where quality management makes the biggest difference in long-term investing success.
For example, Annaly Capital has spent the last few years diversifying away from agency MBS and towards higher-yielding, and less interest-rate-sensitive loans in the middle market, and CMBS markets.
On the other hand American Capital Agency has taken a different approach, with management choosing to double down on risk-free agency debt, but using higher leverage, and a riskier hedging strategy to maximize NII on the assumption that interest rates will remain unchanged through 2017.
Chimera's strategy of shifting away from interest-rate sensitive, but credit-risk-free agency mortgages, and towards high-yielding, riskier secured loans may end up paying off. However, investors need to keep in mind that such loans still pose two major risk factors to the company.
First, while prepayments have thus far been relatively low, especially given the high interest rate securing those mortgages, the longer interest rates stay low, the higher the risk of borrowers refinancing and repaying the loans early. And while the fact that Chimera bought these loans at below par value means that such a scenario would still result in a capital gain, it would also mean having to find more high-yield, quality loans in which to reinvest the capital.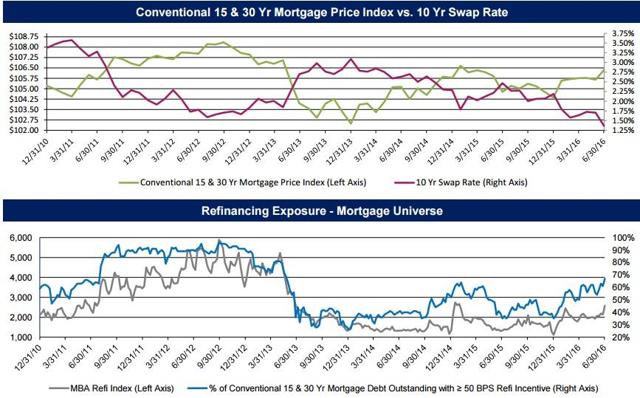 Click to enlargeSource: American Capital Agency investor presentation.
On the other side of the interest-rate coin, rising rates would put further pressure on Chimera's already falling core earnings and declining book value.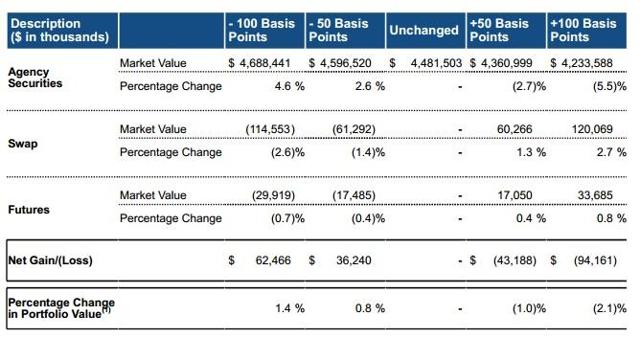 Click to enlargeSource: Chimera Investment Corp. earnings presentation.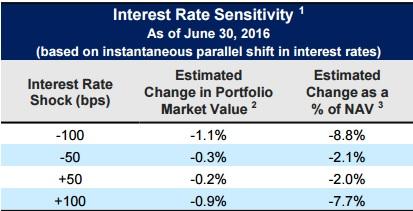 Source: American Capital Agency earnings presentation.
Now I'll admit that management's hedge book is well designed, and less risky than American Capital Agency's, at least in terms of less interest rate sensitivity. BUT with the two most recent jobs reports coming in much stronger than expected, the risk of the Federal Reserve raising rates in September, December or both, is also increasing.

Click to enlargeSource: Bureau of Labor Statistics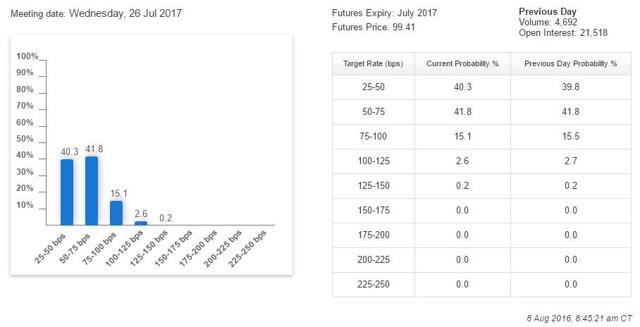 Click to enlarge
Source: CME FedWatch
In fact, the futures markets are currently putting the risk of a rate hike by July of 2017 at 60%. That may not seem overly concerning, especially given this past quarter's weak GDP growth. However, with wage growth accelerating, and consumer spending already strong, the next quarter or two is likely to see a restocking of inventories, which means higher business investment and potentially much stronger economic growth.
For example, the Atlanta Federal Reserve is currently forecasting Q3 GDP growth of 3.8%, based on the latest economic data.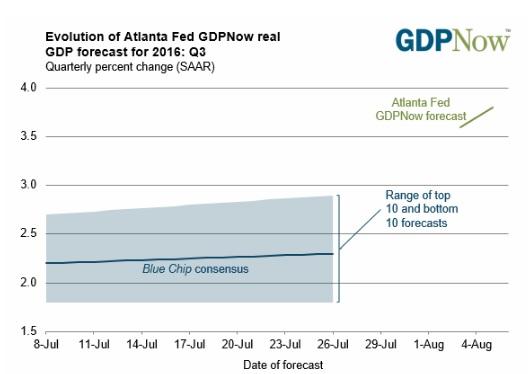 Source: Atlanta Federal Reserve Bank
Combined with the likely recovery of oil prices, this could increase inflation and give the Fed all the reason it needs to resume its monetary tightening.
In addition, while Chimera faces rising interest-rate risk in the event of an improving economy, it also faces risk should the economy fall into recession. That's because, while its securitized loan portfolio is of very high quality, the financial crisis showed us that you can never ignore the potential for consumers falling on hard times, and thus defaulting on their mortgages.
Finally, there is one additional risk current and prospective Chimera investors need to know about. As part of the funding of its new strategy, the mREIT is securitizing some of its existing loans, meaning selling a portion of their cash flows to other investors. However, these deals include warranties that require Chimera to buy back the loans should they default.
While I don't think a recession is likely, and even if one were to occur that might not necessarily blow a hole in Chimera's riskier business model, nonetheless you should be aware that in the event of a strong economic downturn, the company could be facing a perfect storm of negative factors. Not just high defaults that hurt cash flow, but also repurchase obligations of failing loans when it is likely to be most capital constrained.
Bottom line: Chimera's top notch management team is playing with fire, and dividend investors may get burned in the long run
Don't get me wrong, I'm not necessarily saying that, at the right price, Chimera Investment Corp can't make a good long-term investment for high-risk-tolerant investors. However, with management's new riskier, and still unproven, high-yielding business strategy, combined with its current massive overvaluation, at today's prices I can't recommend investing in Chimera.
Even if prices do fall back to earth, based on the risks facing the company, I would recommend only the highest-risk-tolerant income investors consider this mREIT, and even then only in a well diversified portfolio.
Disclosure: I/we have no positions in any stocks mentioned, and no plans to initiate any positions within the next 72 hours.
I wrote this article myself, and it expresses my own opinions. I am not receiving compensation for it (other than from Seeking Alpha). I have no business relationship with any company whose stock is mentioned in this article.