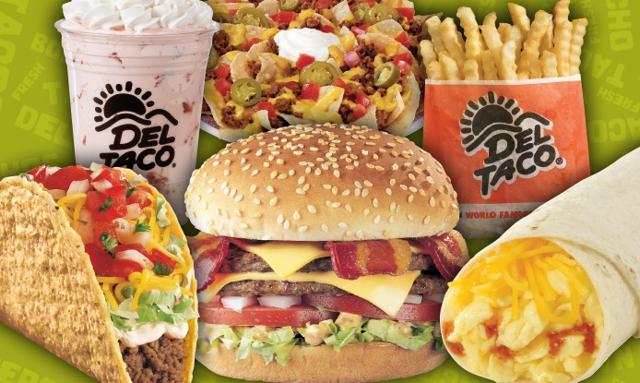 Click to enlarge
Del Taco (NASDAQ:TACO) has generally been out of favor with me since it completed its merger with Levy a little over a year ago. The company's valuation once it became the company it is today immediately skyrocketed to a ludicrous level, and I was pretty vocal about how this company simply wasn't good enough to warrant $15 or $17. Since that time, the stock was basically cut in half and I eased up on my stance on TACO a bit and even suggested that at $10 the shares may even be a buy if you believe in the long-term growth story. The stock hasn't done anything in the last few months except bounce around, but importantly, following Q2 earnings, we find TACO in excess of its 200DMA for the first time in a long time. Is this finally the base that longs need for TACO to move materially higher?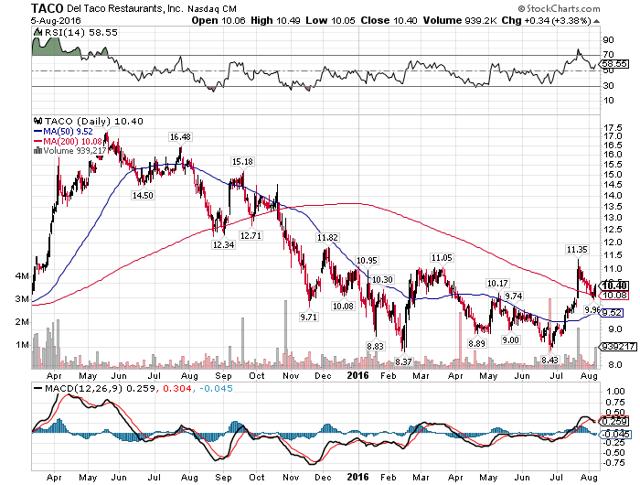 Click to enlarge
My problem with TACO is that it was assigned gigantic growth multiples in the past despite the fact that it is really an also-ran when it comes to QSR growth. There are plenty of great franchises out there, and while TACO is no slouch, I wouldn't call it great, either. TACO is huge and that scale is worth something, but it also means growth is hard to come by.
Revenue was up about 2% in Q2 so while that is certainly not torrid growth, it is fine. Again, TACO is a mature system so we are never going to see 10% or 12% top line growth. What's more important for TACO is its comp sales and while the headline number looks great, there are some cracks in the armor if you look a little deeper. Headline system comp sales came in at a very respectable +3.3% during the quarter and company stores - of which there are many - came in at +3.1%. Again, that number is fine but if we look at the composition of it, things aren't so rosy.
Average check flew higher by 4.9% as menu mix and higher spending conspired to send TACO's average ticket flying. That's great news but it also means that traffic was responsible for a 1.8% loss in comp sales in Q2. Traffic is always more important than ticket growth and while the latter is important, it is far less sustainable than traffic. For one, there is only so much people are willing to pay for any product; it doesn't matter what it is. That means that ticket growth necessarily has a cap on how high it can go. In addition, price increases tend to marginalize customers that aren't overly loyal, resulting in things like traffic decreases. The nearly 2% loss in traffic is alarming to me and the quarter would have been much stronger if traffic was even just flat. But it wasn't and that is a glaring red flag to me.
TACO used some commodity price deflation as well as the aforementioned ticket increases to boost unit-level margins by 80 bps to 20.6% in Q2. That is a strong gain on top of an already-strong number so credit should be given where it is due; TACO is a superbly profitable chain at the unit level. I'll certainly be watching margins as the company grapples with ever-rising calls for higher minimum wages, something that it is particularly susceptible to due to its high exposure to California. And even the Presidential candidates are talking about higher minimum wages so that is something that is here to stay. If TACO can keep labor costs at bay, it has the chance to continue to see incrementally higher margins but it is already very profitable. Labor deleveraged margins by 120 bps in Q2 so the impact is sizable; if it can get that under control, it could really see some meaningful growth in margins.
TACO is trading for 18.9 times this year's earnings and 17 times next year's earnings. This is the problem here; the business is fine but the price you have to pay for it suggests there is some looming spurt of growth just over the horizon when there just isn't. TACO is already a massive chain with ~$440 million in annual revenue and it simply isn't likely to get a lot bigger than that. In addition, I mentioned its margins are already very good but they also have the now-permanent headwind of higher labor costs. TACO is working through it now with lower paper and food costs but that also will not last forever. The bottom line for me is that TACO is still an okay QSR chain with an extraordinary valuation. If you want a piece of the QSR industry, you can do better. I think TACO is probably worth $8 or $9 so today's price is way too rich for my blood and Q2 didn't do anything to change that.
Disclosure: I/we have no positions in any stocks mentioned, and no plans to initiate any positions within the next 72 hours.
I wrote this article myself, and it expresses my own opinions. I am not receiving compensation for it (other than from Seeking Alpha). I have no business relationship with any company whose stock is mentioned in this article.