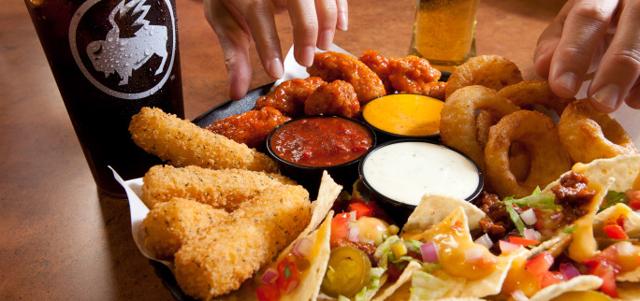 Click to enlarge
I've been both bullish and bearish on Buffalo Wild Wings (NASDAQ:BWLD) in the past as the company's stock flies and plummets based upon its earnings reports. Of late, however, there has been more of the latter than the former as BWLD's growth numbers have disappointed investors, sending shares to just $122 in May and $133 more recently before shooting higher. Shares were up massively on the Q2 report despite the fact that the numbers don't look that great; perhaps a case of BWLD stepping over a very low bar was in play. At any rate, we now find the stock back at $171; is there still time to buy or is BWLD headed back down?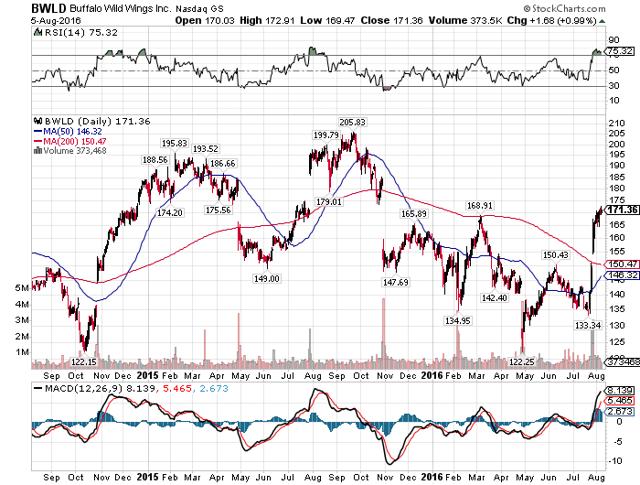 Click to enlarge
Total revenue flew 15% higher in Q2 as BWLD continues to add new stores to the system. This is already a huge chain but it continues to find ways to grow and add new stores, something that we'll continue to see for some time. What isn't quite as certain is the company's comp sales, which disappointed once again in Q2. The franchise store comp was -2.6% and the company comp number was -2.1% during Q2, ugly numbers to be sure. BWLD has struggled a bit in recent quarters with living up to the expectations it set for itself in prior years where blistering growth numbers were the norm. A big part of the reason why shares were down as much as they were leading into the Q2 report is because investors were discounting the possibility that BWLD's growth was going to slow materially. It has but the stock shot higher anyway.
Q3 will be interesting to watch because it has the return of football - a huge driver of sales for BWLD - and it also has a new Fast Break lunch program. That should help grab some traffic for lunch during the week, and if BWLD can execute and not give away a lot of meals, it should be a driver of incremental sales. Management tipped that the early results were good and I'd expect nothing else; promising a meal in under 15 minutes is likely to drive some traffic and I certainly like the idea. For BWLD's sake, I hope it works because its average weekly sales at company stores is now under $60K after steadily falling from its mid-$60K peak. That's a lot of money over the course of the year that BWLD is leaving on the table and it needs to find a way to get at least some of it back. The creativity of the Fast Break program is admirable and I applaud management for thinking outside the box to try and fix the problem.
On the margin side, BWLD took a 20 bps hit to 7.2% as a variety of factors played in. Most notably, cost of sales was up 40 bps despite lower chicken prices but labor costs saw 20 bps' worth of positive leverage despite ever-higher minimum wages and upward pressure from the industry. Lower margins are never good but given that BWLD produced a materially lower comp sales number than last year's Q2, it couldn't have come as a surprise to anyone. BWLD's resilience with respect to labor costs is impressive but with chicken prices low at this point, I wonder what would happen to margins if chicken prices were to increase materially. That certainly would not be a good situation for BWLD so to be honest, I'm concerned about the long-term margin picture here; there are simply too many things that could potentially go wrong.
The thing is that despite the fact that comp sales and margins were lower during Q2, shares have been bid up to the point where they are now going for 29.1 times this year's earnings. In addition, even with huge EPS growth expected next year, they are still trading for 25.4 times that estimate. These are gigantic numbers and portend enormous earnings growth coming down the pike. But can BWLD deliver?
Revenue growth is certainly very high with the new acquisitions the company has made in addition to simply adding new stores but comp sales continue to be very weak. Will the Fast Break program help? Perhaps, but it is far too early to tell. What about margins? I'm very disappointed that BWLD can't get its margins higher despite low chicken prices and it is hurting its ability to grow earnings. This is still a terrific chain but it is not what it used to be and that means the stock needs to be revalued, in this case, lower.
The buyback is fine but it is very small so it won't drive meaningful EPS growth and with margins so weak, I can't see paying almost 30 times earnings for BWLD. In the old days when this company was flying higher with its comp sales and margin numbers, I would have had little problem paying that much. But today, it is simply too much. There aren't any massive growth catalysts out there, and while I'm certainly not declaring BWLD dead - it is a terrific franchise - it isn't worth close to 29 times earnings. I think the exuberance coming off of the Q2 report is way overdone and that BWLD needs to come back to earth. I'd be interested in BWLD in the $140 or $150 range but nowhere near today's prices. BWLD is not a premium growth franchise the way that it used to be, but it is still being valued that way and that's just not for me.
Disclosure: I/we have no positions in any stocks mentioned, and no plans to initiate any positions within the next 72 hours.
I wrote this article myself, and it expresses my own opinions. I am not receiving compensation for it (other than from Seeking Alpha). I have no business relationship with any company whose stock is mentioned in this article.