With the stock market (NYSEARCA:DIA) at all-time highs, backed by strong July jobs numbers where 255,000 jobs were added, let's contemplate on what to expect in the coming months. Jobs numbers are considered to be a lagging indicator, so it doesn't reflect the actual situation. So I will be going over the leading indicators in this article.
First of all, each month the St. Louis Fed reports the leading index on its site. The leading indicator for June trended down. So we can predict that the economy is not doing that well. The coincident indicator is trending down as well. So the actual situation isn't that good either.

Click to enlarge
I will briefly discuss the following leading indicators and there are quite a lot of them: bond yields, ISM manufacturing PMI, lumber prices, building permits, trade deficit, consumer sentiment, art prices, employment to population ratio, fed funds rate, debt to GDP, corporate earnings, GDP output gap, yield curve, credit spread, capacity utilization, and business inventory to sales ratio.
1) Bond yields
Global bond yields have been going down and are entering negative territory, which means global GDP is collapsing. I don't see a recovery in this trend anytime soon.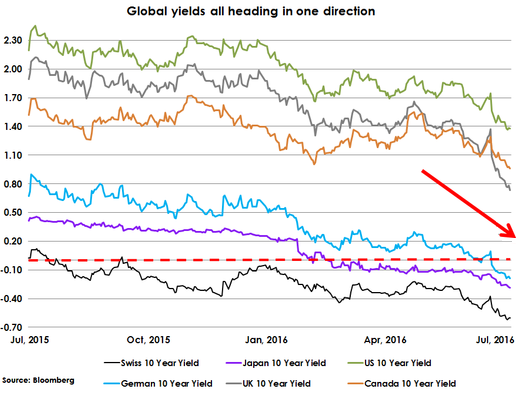 2) ISM manufacturing PMI
The ISM manufacturing PMI did come in better than expected. This means that GDP growth is getting stronger. However, the overall trend is still down.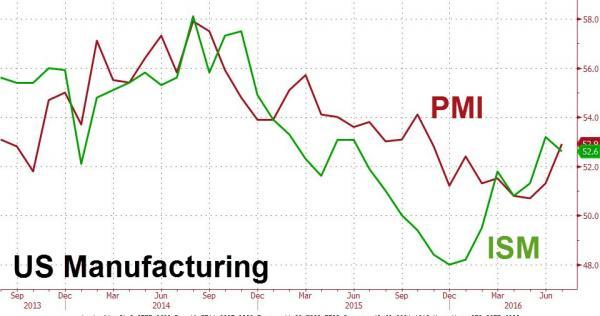 3) Lumber prices
The reason why I check lumber prices is that it is a nice leading indicator to predict where the housing market is headed to. The latest recovery in lumber prices suggest that we will have a pretty stable housing market with prices headed higher.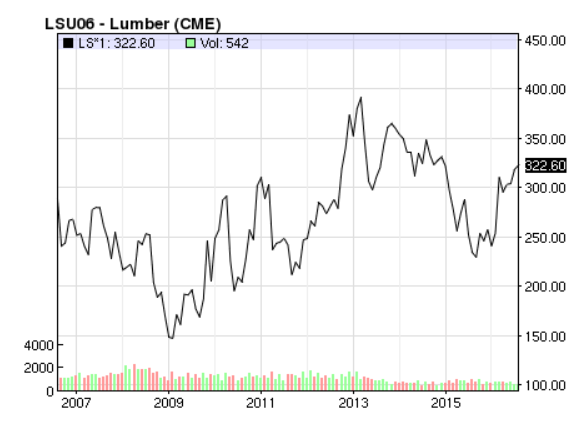 4) Building permits
Building permits continued to rise and supports the evidence of higher lumber prices. I expect housing to do well in the future.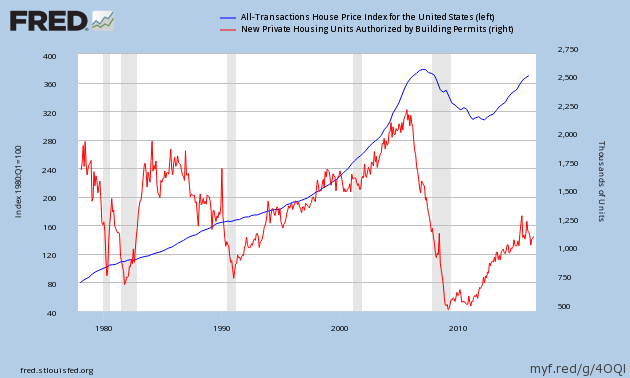 5) Trade deficit
The trade deficit for June came in at a 10-month high at $44.5 billion. This suggests that we could see a weaker U.S. dollar in the coming months.

Click to enlarge
6) Consumer sentiment
Consumer sentiment is flat and indicates that the S&P 500 could be topping out.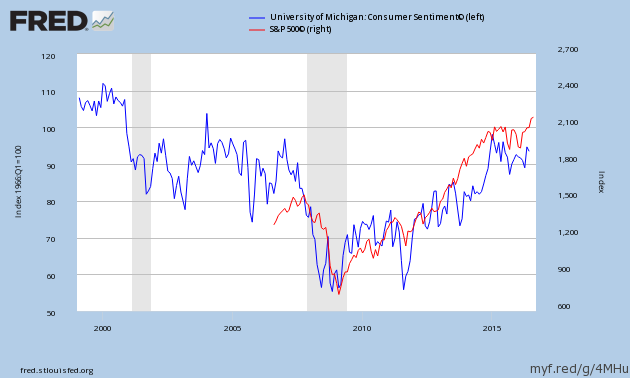 7) Art prices
Art prices are a good leading indicator for inflation (CPI). It looks like art prices are going nowhere. Latest data reports that art sales were down. So I don't expect inflation to head higher anytime soon.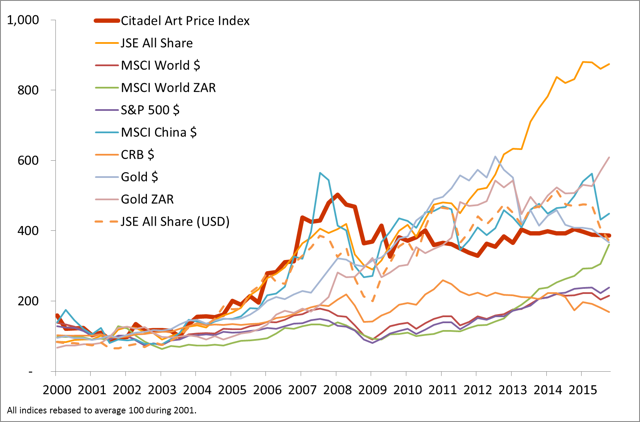 Click to enlarge
8) Employment to population ratio
The jobs numbers confirm that the employment picture is improving. The following chart indicates that wages will be going higher and could suggest that inflation is picking up.

Click to enlarge
9) Fed funds rate
The improving labor market suggests that the Federal Reserve will soon hike the fed funds rate. But the following correlation between the fed funds rate and loan delinquencies tells me that there is no remote chance that a rate hike will occur anytime soon. Historically, the Federal Reserve only hiked rates when loan delinquencies have come down to normal levels. As Q1 2016 loan delinquencies soared, we will not see any significant rate hikes happening.

Click to enlarge
10) Debt to GDP
One of the reasons why delinquencies have been soaring is because U.S. debt has been going higher while GDP growth is basically flat. A rising debt to GDP ratio is a leading indicator for more loan delinquencies.

Click to enlarge
11) Corporate earnings
Corporate earnings were trending down, but have slightly recovered. It is important to watch earnings as they are a leading indicator for employment.

Click to enlarge
12) GDP output gap
I suggested that inflation wasn't going to come back soon and this is also confirmed by a widening GDP output gap. As long as real GDP doesn't match up with potential real GDP, we won't see a rise in inflation.

Click to enlarge
13) Yield curve
The yield curve is one of the best leading indicators of a recession. Whenever the yield curve touches 0 (longer term bonds and shorter term bonds having the same yield), the banking sector starts getting in trouble as they don't have a margin to create profits. Usually it's at this point that a recession starts. As the yield curve is collapsing, this suggests that a recession is starting soon.

Click to enlarge
14) Credit spread
Credit spreads (the difference in yield between two bonds of similar maturity but different credit quality) have been narrowing, which is a good thing. This means that corporate bonds are in demand, which supports a higher stock market. Though, I need to note that we have a situation where the ECB is buying up all these corporate bonds with its QE program.

Click to enlarge
15) Capacity utilization
The capacity utilization rate predicts two things. One, it is a leading indicator for inflation. Two, it is a leading indicator for employment. As capacity utilization is deteriorating, I expect inflation to be flat and employment to be anemic.

Click to enlarge
16) Business inventory to sales ratio
The business inventory to sales ratio is soaring. Inventories can be considered a part of a group of leading indicators of business cycles. Whenever inventories surge, a possible reason could be a decrease in consumer demand. The result is that producers will cut output and sales. This will translate in a lower GDP growth. The following chart suggests that GDP growth will be weak.

Click to enlarge
Conclusion:
One of the trends I see is that inflation will not roar up its head anytime soon (flat art prices, lower capacity utilization). GDP is expected to be weak going forward with a high probability of a recession coming (lower bond yields, high inventory to sales, flattening yield curve). The ECB buying program has had its success in the credit markets and this translates in a higher stock market. The housing market shows signs of strength (higher lumber prices, building permits). And finally, the Federal Reserve will not hike rates due to high debt to GDP and high loan delinquencies.
Disclosure: I/we have no positions in any stocks mentioned, and no plans to initiate any positions within the next 72 hours.
I wrote this article myself, and it expresses my own opinions. I am not receiving compensation for it (other than from Seeking Alpha). I have no business relationship with any company whose stock is mentioned in this article.