Last Friday gave us another sign for a strong and stable U.S. economy - at least in the way the Fed would interpret it. The U.S. economy added 255K new jobs, more than expected. Following the release of the job data, the probability of a Fed rate hike in December 2016 increased to 39% from 33%. The dollar index (UUP) gained 0.5% on Friday. I expect the dollar index to continue its uptrend for several reasons.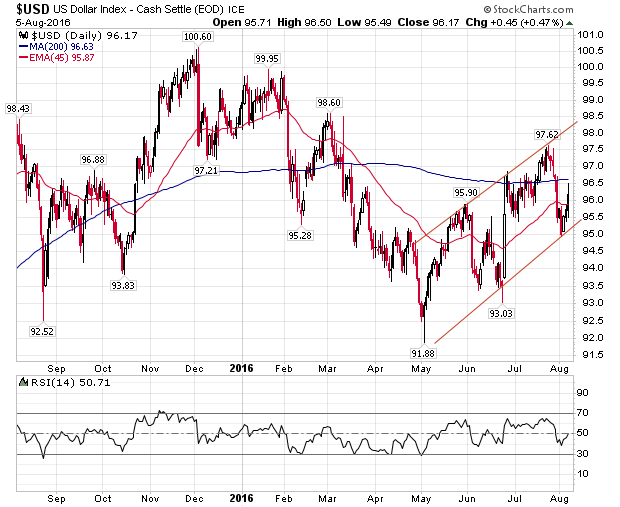 Firstly, the Fed has to respond to the strong job gains in the past two months. More than expected new jobs were added last month and prior job data was revised upward. In addition to that, the core PCE seems to stabilize - although still below the 2%-target.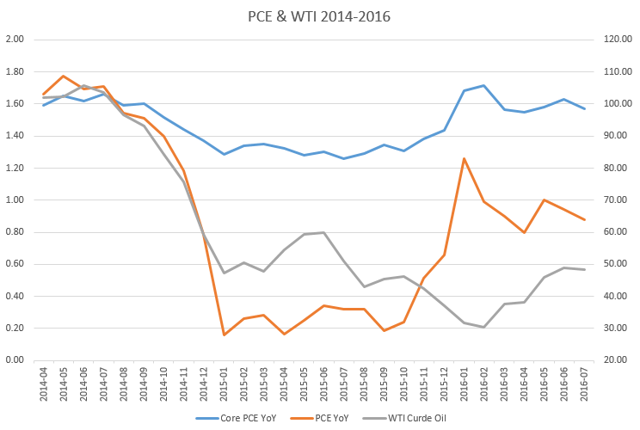 Click to enlarge
Secondly, other Central Banks continue to run a much looser monetary policy or even extend their actions. The ECB is expected to continue or increase its monetary stimulus - PMI data for July and the looming banking crisis don't point to anything else.
The Bank of England finally responded to weak economic data and announced additional easing. Probably they'll join the ECB in buying corporate debt.
However, the Fed doesn't allow the dollar to appreciate too much - any trading close to 100 will be countered by more dovish talk. Despite the Fed trying to balance rate hike expectations and the dollar, I believe there exist opportunities and short-term market inefficiencies in major currency pairs due to diverging central bank activity. To give an example, EUR/USD has lost 25% over the course of almost a year back in 2014 - GBP/USD is down 10% since the referendum and could likely move another 10%.
Disclosure: I/we have no positions in any stocks mentioned, and no plans to initiate any positions within the next 72 hours.
I wrote this article myself, and it expresses my own opinions. I am not receiving compensation for it (other than from Seeking Alpha). I have no business relationship with any company whose stock is mentioned in this article.