Temperature models show that the 15-day outlook is going to be +3.16 F hotter than normal, which resulted in lower injection forecasts for the week of August 19. Despite the mildly bullish revisions, natural gas prices did not respond.

Click to enlarge
Positioning is a big factor in why natural gas prices aren't responding to bullish revisions, and looking at the long positions, we see that most of the bullishness is baked in. For avid readers of our dailies, we have advised short-term traders that the risk/reward at being long here makes very little sense.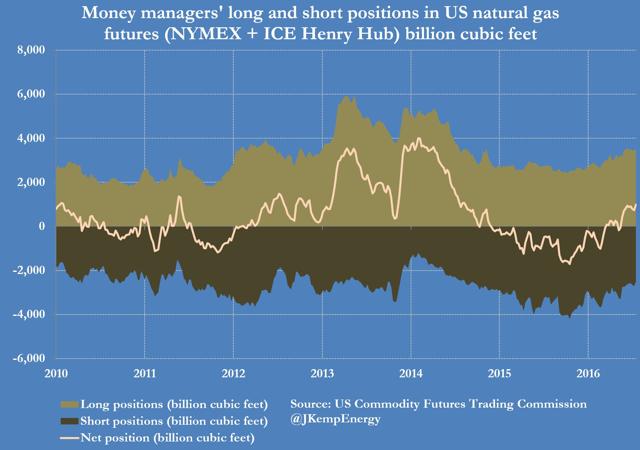 Click to enlarge
Natural gas storage remains in surplus territory despite extremely bullish relative injection figures over the last three months. EOS estimates are now literally sitting at the 4 Tcf mark, and some forecasters even predict that we will end storage below the five-year average in November. Despite these more bullish forecasts for winter time, prices likely won't respond in the short term, as August injections are expected to average around 40+ Bcf. This is far from the bullish scenario that we said was needed for natural gas prices to pop over $3+.
In addition, every single natural gas producer that we follow is pointing to delaying production to winter time. We mean literally every single natural gas producer. The list can vary from companies like Peyto Exploration (OTCPK:PEYUF) in Canada to Chesapeake Energy (NYSE:CHK). Even a low-cost producer like Peyto is choosing to delay production, as the IRR is significantly higher in winter months.
Market participants are likely waiting for September winter forecasts to come out to decide whether it's time to take on additional natural gas exposure.
We will be publishing our finalized estimates for this week's EIA natural gas storage report tomorrow.
Thank you for reading our Natural Gas (NYSEARCA: UNG) Daily. If you want to read more of our articles, please be sure to hit the "Follow" button above. For investors interested in what E&P names we are buying, please check out the HFI Research premium service. We also write a weekly HFI portfolio update for premium subscribers. You can read a sample weekly update here and view our delayed one-month portfolio update here. We hope you can join the HFI community.
8-14 Day Outlook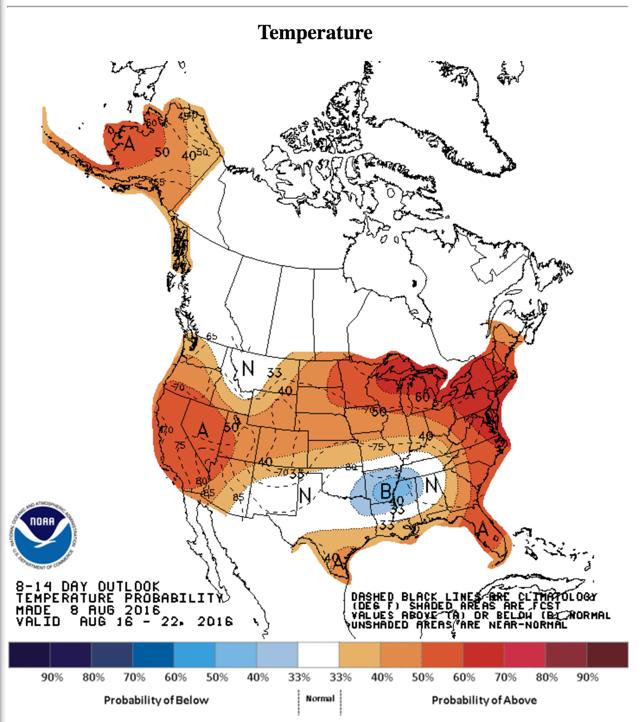 Click to enlarge
Natural Gas Prices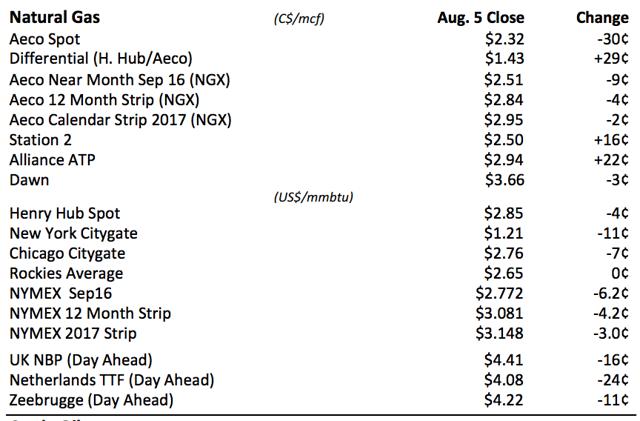 Click to enlarge
Disclosure: I/we have no positions in any stocks mentioned, and no plans to initiate any positions within the next 72 hours.
I wrote this article myself, and it expresses my own opinions. I am not receiving compensation for it (other than from Seeking Alpha). I have no business relationship with any company whose stock is mentioned in this article.