Crude oil is puzzling everybody, including the most prolific analysts. Just as talks of crude heading to $35 started gaining ground, the market seems to have upset the bears, and the price is now at $42.68 with gains of more than 2 percent.
One possible reason for the U-turn in the prices is the renewed talks of an output freeze. While the oil market is running higher with this rumor, Bloomberg reports that Russian Energy Minister Alexander Novak has said there is no reasonable basis for renewing the production freeze talks.
Novak said:
A basis for this has to develop, considering prices are still at more or less normal levels. If prices will fall, then that necessity will most likely arise.
The previous meeting in Doha in April to discuss an output freeze failed at the last moment as Saudi Arabia demanded that rival Iran also join the pact. Almost everybody knew that Iran wouldn't participate, and it looked like Saudi Arabia wanted to make Iran a scapegoat for the glut condition.
I'm not really sure if they will hold the talks or not, but more confident that Iran has no incentive to participate in the freeze even now. The expectations are low from OPEC and non-members to arrive at a coordinated process to rid the world of the oil oversupply.
To me, it looks like a big charade.
Crude oil is witnessing record bearish bets from hedge fund managers, reports Bloomberg. The short position in West Texas Intermediate crude jumped to 218,623 futures and options combined during the week ended August 2. The data compiled from the Commodity Futures Trading Commission suggests that it is the highest number of short positions outstanding by hedge fund managers since 2006.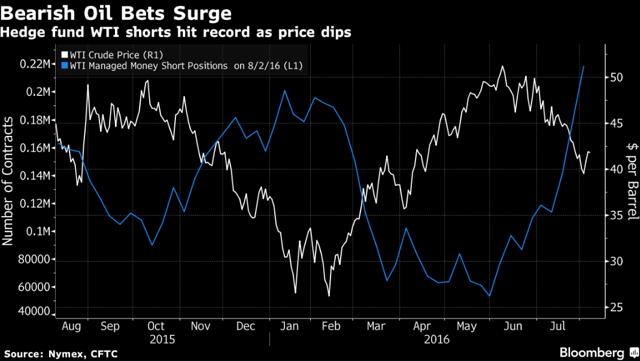 Click to enlarge
The massive short positions from "smart money" indicates that the upcoming refinery maintenance season may see prices heading lower. Money managers also are adding to short positions - their combined futures and options bets on the price falling have increased to 38,489.
There is no fundamental basis for crude to head higher considering that the global growth outlook has been trimmed, oil supplies are at record high, Brexit fallout will likely force UK into a recession, and the September effect.
I would like to touch upon the September effect here. It has been observed that crude oil has performed poorly in the month of September due to refinery maintenance or global conditions. Most analysts and market participants take this as an easy way of making money.
First, let me put some data here. In the past five Septembers, crude oil has declined. When the period is stretched to 10 years, it has only been thrice - 2007, 2009, 2010 - that the commodity has registered positive gains for September.
See the NYMEX Crude monthly price chart below.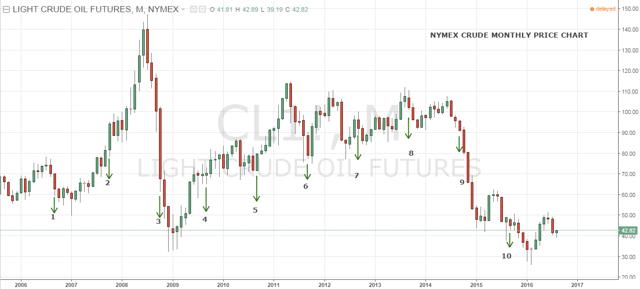 Click to enlarge
Source: TradingView
So, is it safe to assume that with a success rate of 70 percent in the last 10 years, and 100 percent in the previous five years, shorting crude is a sure shot of winning?
Well, I disagree a bit here. Instead, it is actually during times like these, when the market is very sure of something, that "surprises" play spoilsport. There is a great possibility of a massive short squeeze if any positive news hits the market. The short covering can send the prices violently higher.
The September effect may have worked if there were already not record bearish positions, but rather light. Knowing the obvious may work once or twice, but cannot work all the time. If everybody knows about the September effect, then the market knows it too, and has probably priced it in.
Therefore, market participants are advised to not follow the herd mentality and refrain from creating aggressive short positions. Working with tight stop losses is the key to this volatile market.
Disclosure: I/we have no positions in any stocks mentioned, and no plans to initiate any positions within the next 72 hours.
I wrote this article myself, and it expresses my own opinions. I am not receiving compensation for it (other than from Seeking Alpha). I have no business relationship with any company whose stock is mentioned in this article.
Additional disclosure: Thank you for your time and patience reading this analysis. If you have gained something from this, then please consider sharing it. You can also subscribe to my work via the "Follow" button above. Thank you once again!