Wal-Mart Makes It Official, Buys Jet.com
Last week, we touched on the concept that Wal-Mart (NYSE:WMT) could be interested in buying out the private Jet.com (Private:JET) for $3 billion.
That was indeed the case, with the company confirming on Monday its plans to buyout the e-commerce company for the previously stated figure in an all-cash deal. However, $300 million worth of Wal-Mart stock will also be included in the deal, for a total of $3.3 billion.
Wal-Mart already has a pretty good e-commerce experience. I've used it and haven't felt any ill will afterwards. But this is clearly a shot taken against its biggest rival, that being Amazon (NASDAQ:AMZN).
The $360+ billion e-commerce juggernaut continues to take market share, grow sales at a remarkably fast clip (despite how big it's already become) and grow its list of Prime members. At $99 per year, the membership gives users free two-day shipping, unlimited cloud storage for photos, and streaming music and video.
The fact that there are so many Prime-eligible products makes it easy for members to justify their purchases, considering how quickly they can receive their purchased items. The fact that Amazon has listed grocery items and staples products makes these even easier to forgo (or at least shrink your cart) when shopping at a traditional bricks-and-mortar location.
So, it was evident that Wal-Mart needed to something to fight back. Whether this purchase helps the company or not remains to be seen. Given Wal-Mart's deep pockets and large logistics network, one can only assume it will be beneficial to Jet and its market share.
However, how it will impact its bottom line and return on its $3 billion purchase will be another thing, considering that Amazon, which already dominates the market, has a hard enough time turning a profit as it is. Jet, I'd assume, will have an even harder time.
Speaking of Amazon, Its Japan Operations Were Raided
The Japan Fair Trade Commission has reportedly raided the offices of Amazon Japan "on suspicion of pressuring retailers to offer products at lower prices than on rival sites," according to Reuters.
"I won't say the contents are incorrect," a Japan FTC spokesperson said of the report, although they didn't confirm it either. In any regard, the impact on the stock has been pretty muted, with shares actually up slightly on Monday.
Despite the stock price's immaterial move, Amazon Japan is not immaterial to the business. In 2015, the unit recorded sales of more than $8 billion, which made up more than 7% of the company's total worldwide sales.
So, should investors be concerned?
The stock price says no, but I feel like investors should perhaps value the Wal-Mart-Jet deal and the Japan FTC raid as a bit more alarming than they seem to be doing.
Assuming a worst-case scenario, Wal-Mart-Jet.com could eat into market share, slowing (but not reversing or halting) Amazon's domestic growth, while the FTC raid turns into something significant and weighs on international sales. That would be pretty damning for a stock that trades at 190x earnings.
Seeking Alpha author Orange Peel Investments raises concerns as well.
That being said, Even if Amazon Japan's sales fell by 50% (a massive, unlikely amount), assuming the same ratio in 2016 as 2015, international sales would only decline ~3.5% before taking into account the growth of the rest of its operations.
At home, it could be a while before Wal-Mart and Jet are fully integrated and Amazon has a large and loyal following with its Prime members. Bezos's decision to build out Prime is what has given the company its moat, allowing it to fend of combinations such as this.
Still, it seems semi-concerning that there could now be hurdles on the track for a growth stock that has simply mangled its competition thus far.
New iPhone Details Supposedly Emerge
As we get closer and closer to September, more leaks and rumors continue to surface about Apple's (NASDAQ:AAPL) new iPhone. It is said that there will be just two phones (not a third, Pro model), with "overall designs [that] will be similar to the iPhone 6 and 6s."
The larger of the two phones will sport a dual camera, which will perform better in low-light environments and snap more crisp, detailed photos.
Both phones will say goodbye to the headphone jack, instead welcoming headphones to be plunged into the charging port or be connected via Bluetooth. Further, both phones will receive an updated Home button which will be pressure-sensitive, as opposed to one that needs to be physically depressed.
Apple and its investors are hoping that these features will be enough to spur sales in the coming fiscal year. The iPhone has gone through a very notable decline from last year's shipments, which has weighed on revenues and earnings.
Of course, given that this year was an "s-year" (meaning 5s, 6s, etc.) upgrades were weaker than in prior years. It didn't help that coming off the iPhone 5s campaign was the overhauled 6 and 6 Plus, which gave users a far bigger iPhone than they had ever had before.
This catapulted sales and drove upgrades, as well as the stock, to new highs in 2015, setting up for an impossibly difficult 2016. This time around, many are hoping the iPhone 7 will be enough to ramp sales in the coming year as well. If not, the stock will like become a battleground of longs versus shorts - the former arguing value, and the latter arguing Apple's dominate days are over.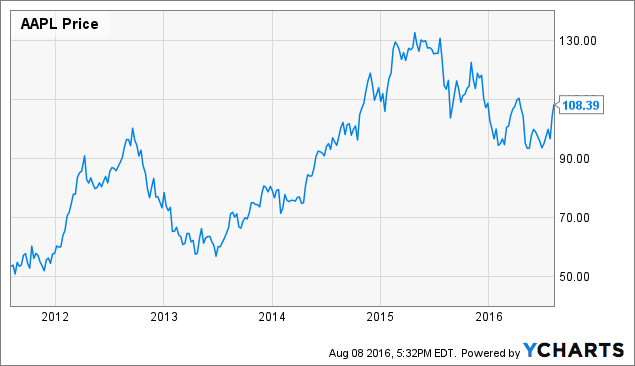 Tesla's Friday Evening 10-Q
Don't ya just love when a company waits until Friday evening to disclose an SEC filing? That's precisely what Tesla (NASDAQ:TSLA) did, drawing criticism from many in the investment community.
Seeking Alpha's news team did a great job with the summary, as written below:
It says it expects to spend about $520M during 2016; in the six months ended June 30, it says it used cash of $117.4M toward building the Gigafactory.
Tesla also notes that "during the quarter ended June 30, 2016, we reached our funding limit with a banking partner where we received cash for the full price of the vehicles, which could adversely impact our liquidity and cash position."
The company says in the filing that it anticipates adding new partners in coming months. "When market conditions are favorable, we may evaluate alternatives to pursue liquidity options to fund capital intensive initiatives."
The company also mentioned that the Gigafactory could take longer to complete, which created quite the stir, although this language was in the prior 10-Q as well, meaning it shouldn't come as much of a surprise.
In any regard, filing on a late Friday is not too pleasing to investors, even if there's nothing to hide. It raises eyebrows at the very least, though given that Tesla investors tend to be very loyal, perhaps it doesn't matter. But I'm of the opinion that it's not a good move. It just looks bad. If there's something to hide, it will be found, and if there's nothing to hide, then it looks sketchy.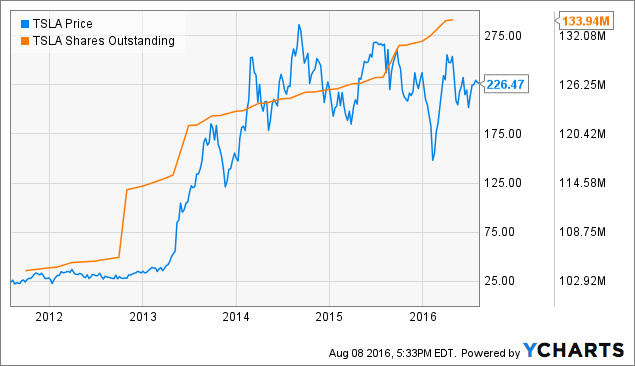 In any regard, one other key takeaway from the filing should be that Tesla looks likely to do another equity raise. Bill Maurer came out with a similar viewpoint - and not to be quote machine, but he very excellently wrote:
"If you are an investor that doesn't like dilution, then you need to stay clear of Tesla... the outstanding share count is up more than 40% in the past four years.

The end of Q2 share count was over 148 million, but that doesn't even begin to tell the whole story. The quarterly share count used for earnings per share was about 140 million, but that excluded almost 15 million shares because they were anti-dilutive. Additionally, if the SolarCity (NASDAQ:SCTY) deal goes through, that will add more than 10 million more shares to the count. If there is another equity raise before the Model 3 launch, it is quite possible that Tesla's outstanding share count could be 175 million by the end of 2017."
I'm not making a case for Tesla, and I'm not making one against it. But I don't think filing on a late Friday afternoon/evening is fair to investors, particularly when the company's financial situation is like what Tesla's is. In the future, I'm sure all investors - long, short and neutral - would appreciate a release during the week.
Tech Tidbits
Alphabet (GOOG, GOOGL) buys Orbitera for an undisclosed sum, although reports have suggested it was just above $100 million.
Pokémon GO has raked in some $200 million in its first month on Apple's App Store and Alphabet's Google Play.
Disclosure: I/we have no positions in any stocks mentioned, and no plans to initiate any positions within the next 72 hours.
I wrote this article myself, and it expresses my own opinions. I am not receiving compensation for it (other than from Seeking Alpha). I have no business relationship with any company whose stock is mentioned in this article.